The best the Tennessee Titans could do at this point of the season is win their last assignment, a showdown with the Indianapolis Colts in Lucas Oil Stadium. The Titans, however, will have to do it with Zach Mettenberger under center instead of prized rookie, Marcus Mariota. As for the Colts, they could have Charlie Whitehurst AKA Clipboard Jesus starting with Matt Hasselbeck and Andrew Luck both nursing injuries.
For more Week 17 game previews, you can also read our breakdown of Redskins vs. Cowboys.
[sc:Football ]
Tennessee Titans vs. Indianapolis Colts Preview and Prediction
Where: Lucas Oil Stadium, Indianapolis
When: Sunday, January 3, 1:00 PM ET
Line: Tennessee Titans at Indianapolis Colts – see all NFL lines
TV Broadcast: CBS
Betting on the Tennessee Titans (3-12)
[sc:NFL240banner ]The tailspin continues for Tennessee, as the Titans lost their third straight game on Sunday to Houston, 34-6. And as the score suggests, the Titans virtually did nothing good on both ends of the field.
Without Marcus Mariota, the Titans had no choice but to give the ball to Zach Mettenberger, who passed for 234 yards and a touchdown with an interception against Houston. Mettenberger was protected well in the pocket, getting sacked just once by a J.J. Watt-led Houston pass rush, but he wasted lots of opportunities, completing just 27 of his 51 passes.
That said, the Titans hope that their offensive line proves that its performance in Week 16 was a start of something good heading into their rematch with the Colts, who sacked Mariota three times in the first meeting—a 35-33 Titans loss in Week 3. The Titans have allowed the second-most sacks on the season with 50.
The Titans' backfield, meanwhile, could have better showing next Sunday following a pathetic 30 rushing-yard output against Houston, as the Colts are just 25th in the league in run defense with 123.8 yards allowed per game.
The over is 3-1 in Tennessee's last four games overall.
Create a betting account now and cash in on all the NFL regular season action.
Betting on the Indianapolis Colts (7-8)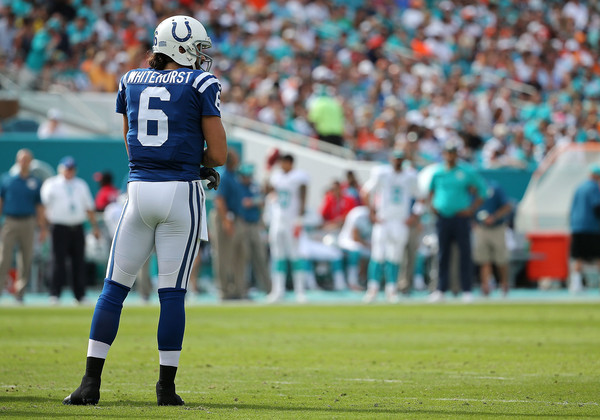 Following the Colts' 18-12 win over Miami on Sunday, Matt Hasselbeck said that he's not optimistic he'll play next Sunday after exiting the game with a right shoulder injury. The outlook of the Colts' playoff chances isn't that positive either, considering that they could still be eliminated in Week 16 should Cincy beat the Broncos on Monday night.
In any case, though, the Colts don't want to end their regular season with a home loss against Tennessee. And with Hasselbeck uncertain to play in Week 17, the ball may be in the hands of either third-string quarterback Charlie Whitehurst or Andrew Luck.
Luck, who passed for 260 yards and two touchdowns with two picks in the first meeting with the Titans, hasn't played since Week 8 because of injuries to his kidney and abdomen and could remain out next week if he's not cleared.
Whitehurst, on the other hand, passed for 78 yards on 9 for 14 completions subbing for Hasselbeck in Week 16. With a shaky quarterback situation, the Colts would need their backfield and defense to step up.
Indy is just 30th in the league with 87.4 rushing yards per game, but Frank Gore seemed unstoppable in the earlier meeting with the Titans, rushing for 86 yards and two touchdowns on 14 carries. Gore is also coming off another two-touchdown performance to lead the Colts in their win against Miami.
The Colts' defense, meanwhile, is looking to punish Mettenberger and the Titans' soft offensive line after recording six sacks in the Miami game.
The Colts are 9-1 SU and 7-3 ATS in their last 10 home game against Tennessee.
Writer's Prediction
Indianapolis wins, 32-25.
Create a betting account now and create a winning NFL parlay.
[sc:NFL490Banner ]
2,294 total views, 1 views today
Comments
comments