Last season, the Texas Longhorns began life under Charlie Strong, the former Louisville head coach and a no-nonsense guy who personifies grit and discipline. Unfortunately for Strong, those qualities weren't enough for him to lead the Longhorns into a winning season, as the team finished 2014 with a 6-7 overall record and a 5-4 conference slate. This time around, Strong is hoping that Texas takes a step closer into becoming a national title contender. Will that be the case for Texas this coming season? Or will the Longhorns trudge into another underwhelming campaign?
Read on for an overview of Texas' key player this coming season along with the team's key game, best/worst scenarios and a complete list of the Longhorns' 2015-2016 schedule.
For more about college football, click here for a preview of Ohio State's season and here for the early Heisman Trophy candidates.
[sc:NCAAFArticles ]
2015-2016 Texas College Football Preview
Overview
[sc:NCAA240banner ]The honeymoon phase of Charlie Strong's marriage with Texas football was, as expected, full of disappointments. In his first year as the Longhorns' head coach, Strong saw his team embarrass itself on the offensive end of the field, as Texas ranked ninth in Big 12 in scoring offense. Texas, priced +15,000 to win the national championship game,  had a glaring inability create things happen on offense in 2014, as evidenced by its averages of 199.9 passing yards per game (90th in the FBS) and 137.4 rushing yards per game (101st). The only silver lining that year for the Longhorns was their defense that was good for second in the conference in total yards allowed.
Even with the departures of Malcom Brown and Cedric Reed, the Longhorns' best asset this coming season should still be their defense. While Brown and Reed left some big shoes to fill in the front seven, senior Hassan Ridgeway and junior Desmond Jackson seem to be capable of replacing them. Last season,
Ridgeway had 46 tackles and six sacks. Jackson, meanwhile, will return to the field after missing the entire 2014 season because of a foot injury. Jackson had 37 tackles and two sacks in 2013.
But going back to Texas' offense, the quarterback competition between Tyrone Swoopes and Jerrod Heard is an intriguing saga worth following. Swoopes went 5-7 last season as the team's starting quarterback, finishing the season with 2,409 passing yards and 13 touchdowns and 11 interceptions. He also rushed for 262 yards and four TDs.  Redshirt freshman Heard, on the other hand, is another dual-threat quarterback, who's been receiving praises since having a great spring.
Key Player – Tyrone Swoopes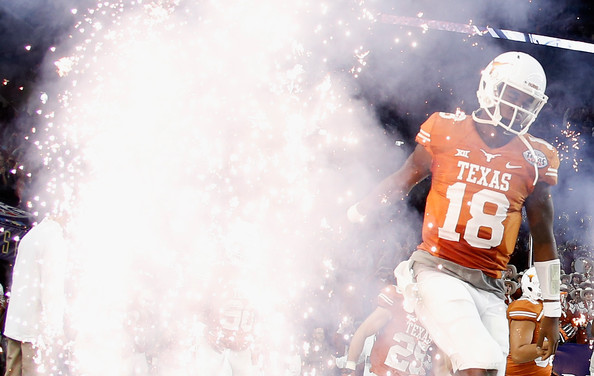 It's true that Heard is making progress in his campaign to become the Longhorns' starting quarterback. But unless Texas announces that he'll get the job, it's safe to say that Swoopes will be under center for the Longhorns come opening day.  Nevertheless, Swoopes now has chips on his shoulder, as he looks to prove that he's way better than what his late-season meltdown in 2014 suggests. Swoopes bids goodbye to the 2014 season with back-to-back atrocities, as he passed for just 257 yards with one touchdown and threw five picks in his last two games that year. That includes a forgettable performance in the Longhorns' 31-7 loss in the Texas Bowl against Arkansas, wherein he had a pathetic 57-yard passing performance to go along with four interceptions.
Create a betting account now and cash in on the upcoming college football season.
Key Game – vs. Oklahoma (Oct. 10)
Regardless of what kind of teams Oklahoma and Texas put on the field, the Red River Shootout will always be a highly anticipated matchup between two bitter Big 12 rivals. Dating back to 2005, Texas is 5-5 SU and 6-3-1 ATS in its last 10 meetings with the Sooners.
Best/Worst Case Scenario for the Season
Best Case Scenario
Swoopes rebounds from a shaky season and punishes opposing teams with his arm and legs while cutting down on his errors. Running back Jonathan Gray shows that he's 100 percent healthy after suffering an Achilles injury last season by rushing for more than 1,000 yards. That said, the Longhorns' defense remains sturdy and continues to be the team's calling card to success. That and an improved offense help the Longhorns come up with a 7-6 overall record.
Worst Case Scenario
Neither Swoopes nor Heard will play well this season. The losses of wideouts John Harris and Jaxon Shipley (combined for 1,628 receiving yards and eight touchdowns) prove too heavy for the likes of Daje Johnson, Marcus Johnson, Armanti Foreman and Jacorey Warrick to carry. With only the defense functioning well for the Longhorns, Strong's team finishes with a 4-9 overall record.
Complete Schedule
| DATE | OPPONENT | TIME |
| --- | --- | --- |
| Saturday, Sept 5 | @Notre Dame | 7:30 PM ET |
| Saturday, Sept 12 | vs Rice | 8:00 PM ET |
| Saturday, Sept 19 | vs Cal | 7:30 PM ET |
| Saturday, Sept 26 | vs Oklahoma State | TBD |
| Saturday, Oct 3 | @TCU | TBD |
| Saturday, Oct 10 | vs Oklahoma | TBD |
| Saturday, Oct 24 | vs Kansas State | TBD |
| Saturday, Oct 31 | @ Iowa State | TBD |
| Saturday, Nov 7 | vs Kansas | TBD |
| Saturday, Nov 14 | @West Virginia | TBD |
| Thursday, Nov 26 | vs Texas Tech | 7:30 PM ET |
| Saturday, Dec 5 | @Baylor | TBD |
Writer's Prediction
Texas concludes the regular season with a 7-6 and 5-4 overall and conference records, respectively—enough to earn the Longhorns a spot in the Bowl season.
[sc:NCAA490banner ]
1,772 total views, 1 views today
Comments
comments