Martial arts flicks are a big part of the film industry. Who could forget the likes of Jackie Chan and Jean-Claude Van Damme? Fighting is ingrained in our DNA; we all need it to give us a shot at survival in living on this planet. There's no better way to explore fighting than martial arts movies; just sit back, relax and let all the actors do the battling for you.
There are plenty of martial arts movies out there for your viewing pleasure. We've selected the cream of the crop below to help you in finding the best ones to get for movie night. Why exactly are we doing this? Well, mixed martial arts will have its biggest week of 2016 in the first week of July. The UFC's International Fight Week features plenty of hard-hitting action all-week round. So get your adrenaline pumping with the best top 10 martial arts movies of all time listed below.
Cash In on the Best Online Sportsbook Offers Now at TopBet!
Top 10 Martial Arts Movies of All-Time
10. Bloodsport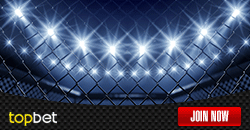 Bloodsport is a perplexing movie, especially when you see it in today's day and age. However, it still deserves a spot in this list with the way it propelled Jean-Claude Van Damme into stardom as well as placing martial arts as reliable in blockbuster action films. Van Damme would become an icon in Western martial arts flicks, and his infamous scream from Bloodsport still echoes today. When you see brute martial arts personalities on screen, just remember that Van Damme was the first of their kind.
9. Ong-Bak
At the time of Ong-Bak's release, wire work and special effects were the norm when it came to martial arts flicks. Tony Jaa's Ong-Bak proved that you don't need any high-flying fluff to succeed in cinema; all you need are insane stunts and hard-hitting action. From crazy chase sequences to insane fights, Ong-Bak delivers what counts the most—impressive displays of martial arts and physicality.
8. Kung Fu Hustle
Stephen Chow is one of the biggest names in martial arts comedy, and he thoroughly shines in Kung Fu Hustle. It's one of his most well-regarded films as both a director and actor. There's not much meat when it comes to the story of the bad guys called the Deadly Axe Gang, who terrorize the residents of a certain apartment complex. However, Chow makes up for the lack of a decent storyline with excellent martial arts action in spades.
7. Kill Bill (Vol. 1 & 2)
When it comes to combining great cinematography, choreography and storytelling, nothing comes close to Quentin Tarantino's Kill Bill Volumes 1 & 2. There's nothing quite like Volume 1, especially considering the bloody and gory tea house battle between Uma Thurman's The Bride and the Crazy 88 coupled with the claustrophobic kitchen showdown in the first half of movie.
There's also that intense face-to-face encounter between the Bride and the titular villain, Bill, in Volume 2's finale, which ultimately ended with a satisfying delivery of what they dubbed as the Five Point Palm Exploding Heart Technique. Fight scenes? Check. Evil villains? Check. Super-secret martial arts move? Super check.
6. The Karate Kid
Don't be ashamed, because we've all seen The Karate Kid. We're all also guilty of lip-syncing to "You're the Best" in the shower. There's no denying that The Karate Kid–the 1984 version, to be precise–is easily the best martial arts movie to ever come out of the United States.
The crane-legged Karate Kid would become an icon for centuries that spurred the opening of countless of dojos stateside. Plus, none of the film's subsequent reboots and knock-offs can really compare to the beloved characters of Mr. Miyagi and the evil Cobra Kai gang.
5. Drunken Master II AKA The Legend of Drunken Master
Drunken Master II, better known in the US as The Legend of Drunken Master, is by far Jackie Chan's best movie. It features everything he's known for: martial arts technique, comedic timing and athleticism. It's so much better than any of his films, even the original Drunken Master that was released in 1978. Every fight is as memorable as they come, but the final fight deserves a special mention on its own.
4. Enter the Dragon
Enter the Dragon is Bruce Lee's best and most-important film in his short career. It has everything you'd look for in a martial arts flick, from the classic tournament structure to Lee himself playing detective inside a fortress. The film has plenty of iconic moments and fights, capped off by Lee's showdown with a claw-handed villain, Han. Oh, and another legendary martial arts actor also makes an appearance, when a young Jackie Chan had his neck snapped handily by Lee.
3. Ip Man
Thought that the great Chinese martial arts films only existed prior to the 2000s? 2008's Ip Man begs to differ. It's Donnie Yen's coming out party, playing a biographical version of the legendary grandmaster in the art of Wing Chun, practiced by  many true martial arts experts, including Bruce Lee. Ip Man wanted to weather the 1937 Japanese invasion and occupation of China peacefully, but was forced into limb-shattering and face-pulverizing action—perfect for a martial arts flick.
2. Once Upon a Time in China
Tsui Hark made a masterpiece for historic movies and martial arts cinema alike with Once Upon a Time In China. The film is just filled with great, special moments right from the opening credits and beyond. Highlighting the spiritual grace and the rigorous training of martial arts in the foreground of a golden sun is a particularly lasting image. Watching Jet Li wearing a straw hat while fighting a gang of thugs with an umbrella is also another scene that's definitely worth your attention.
1. Crouching Tiger, Hidden Dragon
Nothing compares to Ang Lee's Crouching Tiger, Hidden Dragon. It's the best martial arts film to ever come out of China, and it was even universally embraced by Western audiences! Crouching Tiger is a Kung Fu flick filled with soul and plenty of romance. The talent of the lead characters were also played out very well with Chow Yun-Fat, Michelle Yeoh and Zhang Ziyi all putting together amazing performances.
Crouching Tiger won four Oscar awards in 2001, and opened the door for Chinese stars into mainstream Hollywood.
Create a betting account now and get your fix of martial arts in the world of sports.

Comments
comments