Iiiiiiiit's time for one of the biggest grudge matches in the UFC. Featherweight champion the Notorious Conor McGregor goes up all the way to welterweight against lightweight top contender Nate Diaz. It's a match made in heaven with both fighters having sharp tongues for trash talk and a never-back-down fighting style.
McGregor and Diaz will certainly shake things up in the main event. But before we get to the money fight, "the Preacher's Daughter" Holly Holm is set to make the first defense of her UFC Bantamweight Championship. She'll have her hands full with challenger and No. 2 bantamweight Miesha "Cupcake" Tate. It's going to be a dog fight one way or another.
UFC 196 is about to go down. Don't miss out on any of the amazing fights Saturday night. Read on as we take a look at the card from top to bottom. You won't regret getting everything there is to know about each of the 12 fights scheduled.
Still want some more action to complete your weekend? Check out NASCAR's Kobalt 400 at the Las Vegas Motor Speedway on Sunday with our complete race preview and feature of the top sleeper picks.
Sports News and Predictions
UFC 196: McGregor vs. Diaz Preview
Welterweight: Conor McGregor vs. Nate Diaz
Line: Conor McGregor (-450) vs. Nate Diaz (+325) – view all UFC 196 lines
Love him or hate him, you have to give UFC Featherweight Champion the Notorious Conor McGregor (19-2) props. He talks the talk and walks the walk. He's out there chasing the biggest fights possible. Before this bout was set up, McGregor was slated to attempt to become the first ever dual-weight champion in UFC history by taking on lightweight kingpin Rafael Dos Anjos. But the Brazilian champ injured his foot just two weeks off UFC 196.

$50 Free to bet on UFC! Open an account and deposit $100 to claim.
Now, instead of challenging for the lightweight strap, McGregor now moves up to the welterweight division where he takes on the dangerous Nate Diaz (18-10). One of Stockton's finest, Diaz has incredible boxing to compliment his elite Brazilian Jiu Jitsu skills. He has 11 wins by submission and another four by knockout. An avid tri-athlete, you can always count on Diaz to be in tip-top shape. He's even more dangerous when he has his head focused on the fight.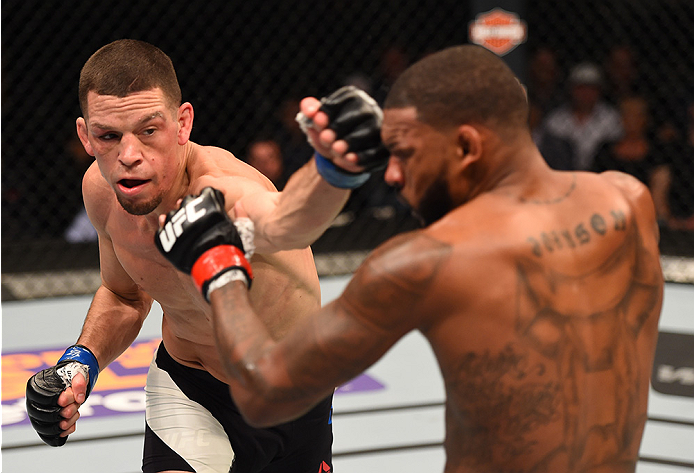 Diaz was mostly counted out in his last outing against top contender Michael Johnson. But did he prove his doubters wrong. He peppered Johnson with stinging one-twos since he found his rhythm late in the first round. He started dominating so much that he could afford to point a mocking finger at his opponent's face from time-to-time.
Diaz is easily McGregor's biggest (literally) test to date. He owns a three-inch height and two-inch reach advantage against McGregor. But the Irishman is a master of movement. He will be the quicker and faster fighter come fight night. The featherweight champ can dart in and out of Diaz' range. He can even enter his own critical distance where he can unleash his pin-point strikes.
McGregor loves to use flashy kicks to gauge the distance. He uses them either to close in on his opponents, or keep them in his reach. The Irishman will likely use a series of kicks to enter punching range, where he can unload on his big left hand on Diaz. He knocked out two stud featherweights Chad Mendes and Jose Aldo with his vaunted left hand. Then a champion, Aldo was unbeaten for almost 10 years before meeting McGregor.
Writer's prediction: Nobody can take that left hand. McGregor (-450) makes a statement but takes a little bit more time softening up the bigger Diaz. McGregor wins by fourth round TKO after a brutal left uppercut.
Women's Bantamweight Championship: Holly Holm vs. Miesha Tate
Line: Holly Holm (-340) vs. Miesha Tate (+260) – view all UFC 196 lines
Man oh man. The Preacher's Daughter Holly Holm (10-0) shocked the world with a second round knockout of former queen Rowdy Ronda Rousey. Holm took Rousey to school on the feet, nailing the former champ with crisp counters. A southpaw, Holm's left hand repeatedly forced Rousey to stumble all over the Octagon. But it was her deadly left head kick which flatlined Rowdy.
Holm now gets a shot at entering GOAT status with a date against the consensus No. 2 of the division, Miesha "Cupcake" Tate (17-5). She'll need to remain on her bicycle if she is to recreate the same dominance she showcased against Rousey. The champ will also need to make sure that the fight remains on the feet, where she owns a huge advantage.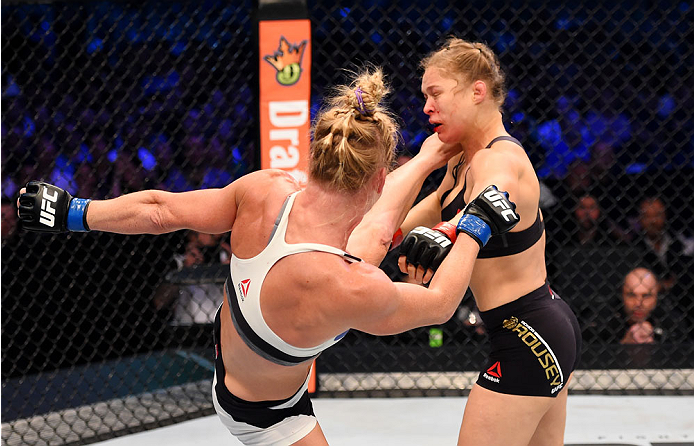 Tate is no slouch in the striking department. But Holm's years of professional boxing and kickboxing experience is just light years ahead of Tate's. Cupcake will want to make this a nitty-gritty fight. She'll need to clinch up to wear down the champion and try for takedowns. She could have some success if she can be reactive with her double leg shots. A rushing Holm will be a prime target for one of Tate's takedown attempts.
Don't count out Holm's grappling, though. She has a very good wrestling coach, Israel Martinez. Her Izzy-style wrestling was even good enough to negate an Olympic Bronze medalist judoka, Rousey. She also trains in a very good camp brimming with talent.
Jackson-Wink MMA is home for stars such as pound-for-pound kingpin Jon Jones, women's strawweight contender Michelle Waterson, flyweight contender John Dodson and former interim welterweight champ Carlos Condit. The team is just used to the championship culture, which Holm could continue Saturday night.
Writer's prediction: Holm (-340) batters on Tate. She defends her title by third round technical knockout.
Light Heavyweight: Gian Villante vs. Ilir Latifi
Line: Gian Villante (+160) vs. Ilir Latifi (-200) – view all UFC 196 lines
Ilir "The Sledgehammer" Latifi (11-4) is one of the UFC's fast rising stars in the Light Heavyweight Division. A Swedish wrestler, Latifi has found plenty of success with his bricks for fists to knock out three of his last four opponents. He faces a very hittable Gian Villante (14-6) next. Don't count out the New Yorker, though. Villante is as tough as he comes and also packs a whallop in his kicks and punches.
Writer's prediction: Cut off the Sledgehammer's head and it becomes a stick. Villante (+160) knocks out Latifi in the first round.
Light Heavyweight: Corey Anderson vs. Tom Lawlor
Line: Corey Anderson (-300) vs. Tom Lawlor (+220) – view all UFC 196 lines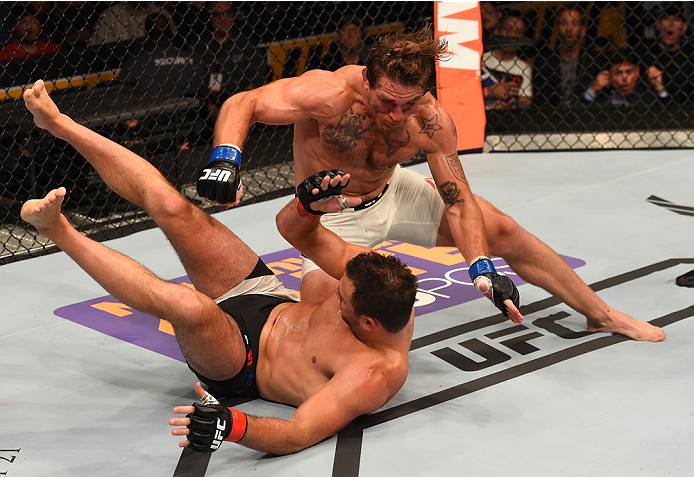 Corey "Beastin 25/8" Anderson (7-1) is climbing up the light heavyweight ladder. But not in the means which is particularly entertaining. Anderson has grinded out back-to-back victories against Fabio Maldonado and Jan Blachowicz. He has another chance to shine against journeyman Tom "Filthy" Lawlor (10-5).
Filthy is a wicked mixed martial artist, rarely going to decision. He's won four fights by knockout and another four by submission. He recently knocked out the much larger Gian Villante in July. Expect Lawlor to come out swinging against Anderson, especially when the latter has already beasted enough.
Writer's prediction: Anderson (-300) grinds out Lawlor en route to a unanimous decision victory.
Women's Bantamweight: Amanda Nunes vs. Valentina Schevchenko
Line: Amanda Nunes (-155) vs. Valentina Schevchenko (+125) – view all UFC 196 lines
If Ronda Rousey can't return to the Octagon soon, then Amanda "the Lioness" Nunes (11-4) could earn a title shot with a victory at UFC 196. She's one of the few knockout artists in the women's bantamweight division with nine victories via stoppage. But her gas tank only lasts for one round. She'll be in a world of trouble if she can't stop the "Bullet" in time.
Valentina "the Bullet" Schevchenko (12-1) is one of the premier strikers in mixed martial arts. She's a former world muay Thai champion with notable wins over strawweight queen Joanna Jedrzejczyk in all-striking contests. She has the striking ability to hang with Nunes on the feet, and incredible balance to negate the Brazilian's takedowns.
Writer's prediction: Schevchenko (+125) loses the first round. But she rallies in the second and third to earn a decision victory.
Fox Sports Prelims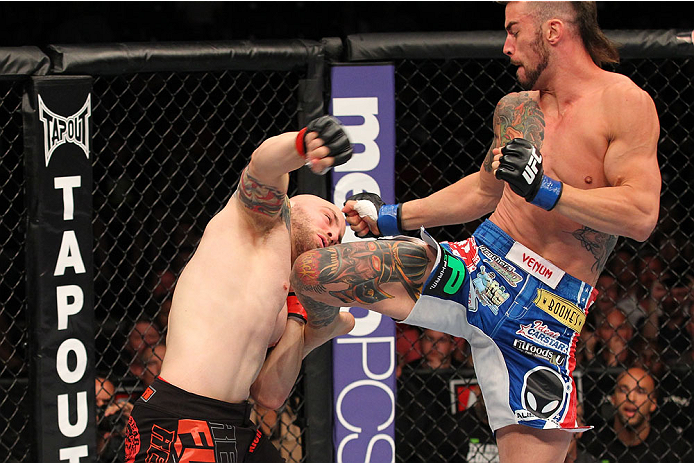 Brandon Thatch (-300) causes a "Rukus" as he unleashes his wicked muay Thai on Siyar Bahadurzada. The Afghan has plenty of power in his punches, but will be a step too slow for the younger Thatch.
Erick Silva (-220) seems to be in tip-top shape right now. He could be a nightmare for French striker Nordine Taleb in the UFC 196 prelims. All six of Silva's wins have come by first round stoppage. Silva by first round knockout.
Vitor Miranda (-300) is one scary Brazilian. At 36 years old, he's won back-to-back fights by knockout or TKO against much younger opposition. He faces a Brazilian Jiu Jitsu black belt, Marcelo Guimaraes, who hasn't been all too good on the feet. Miranda brings the pressure to knockout Guimaraes.
Darren Elkins (+125) is a scrappy wrestler. Chas Skelly sometimes gets all too comfortable in the bottom position. Elkins wins via the good old wrestling grindfest.
Fight Pass Prelims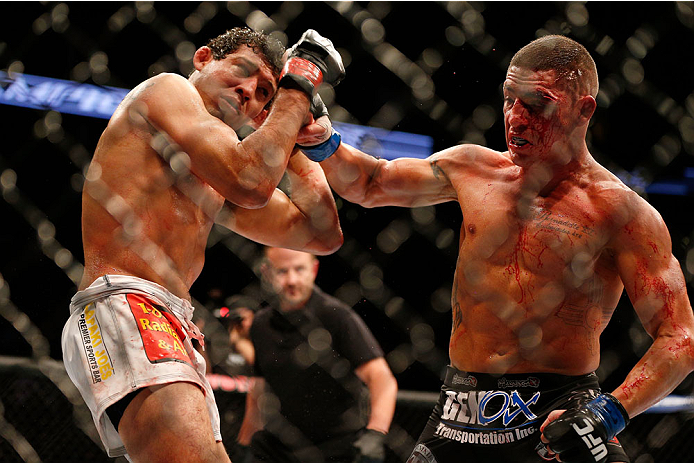 You do not want to face "the Nightmare" Diego Sanchez (+115). If you can't deal with his in-your-face pressure, then you'll probably wind up on the wrong end of a decision. Sanchez repeatedly brings it to his opponents, beating them up with windmill punches and an unlimited gas tank. He has a willing dance partner next, Jim Miller. Miller is an excellent fighter and all, but he doesn't have the gas tank to last with Sanchez for three hard rounds.
Justin Salas has bounced around the UFC for some time now. He's alternated wins and losses since 2012. He'll have his hands full against a proven finisher Jason Saggo (-200). The Canadian has won eight of his 10 victories by submission. As soon as the cage door shuts, he'll be on takedown mode all night long until he snags the submission.
Julian "Juicy J" Erosa may not be as juicy once he steps out of the Octagon in the opening fight of the prelims. He faces a Japanese finisher, Teruto Ishihara (+160). Ishihara has one motive come fight night–get the knockout. He finishes Erosa in the first round.
It's going to be a spectacular night of fights. Create a betting account now and don't miss a beat. Fireworks will surely engulf MGM Grand Garden Arena with plenty of high-level MMA action.

Comments
comments