UFC's Super Bowl weekend card had a big-time matchup in heavyweight champion Fabricio Werdum and former kingpin Cain Velasquez. But Velasquez dropped out due to injury a couple of weeks ago. A day after he pulled out, Werdum followed suit with his own injury.
What a bummer right? But instead of a pay-per-view event, we get a free night of fights in UFC Fight Night 82. It even has a splendid main event when former welterweight champion Johny "Big Rigg" Hendricks takes on surging contender Stephen "Wonderboy" Thompson.
There are also some huge matchups in the undercard. So read on and get your betting fix of MMA action to build up your bankroll for Sunday's BIG game. Check out our complete preview for Super Bowl 50 as well as our feature of fun and tasty props set for the event.
Sports News and Predictions
UFC Fight Night 82: Hendricks vs. Thompson Preview
Welterweight: Johny Hendricks vs. Stephen Thompson
Line: Johny Hendricks (-240) vs. Stephen Thompson (+180) – view all UFN 82 lines
Johny "Bigg Rig" Hendricks (17-3) was in line for a No. 1 contender fight against Tyrone Woodley in October 2015. But a kidney stone attack he suffered during his weight cut had him pulling out of the event at the last second. Now healthy, Hendricks will need a big performance if he wants to get another crack at UFC Welterweight Champion Robbie Lawler.

$50 Free to bet on UFC! Open an account and deposit $100 to claim.
Big Rigg brings a well-rounded arsenal into the equation whenever he enters the Octagon. Aside from his wrestling chops—he was a Division I All-American and former national champion in freestyle wrestling—Hendricks packs quite a wallop in his punches. He owns first round knockouts of former contenders Martin Kampann and Jon Fitch. He's even added some pretty nice kicks, showcased in his two bouts against Lawler.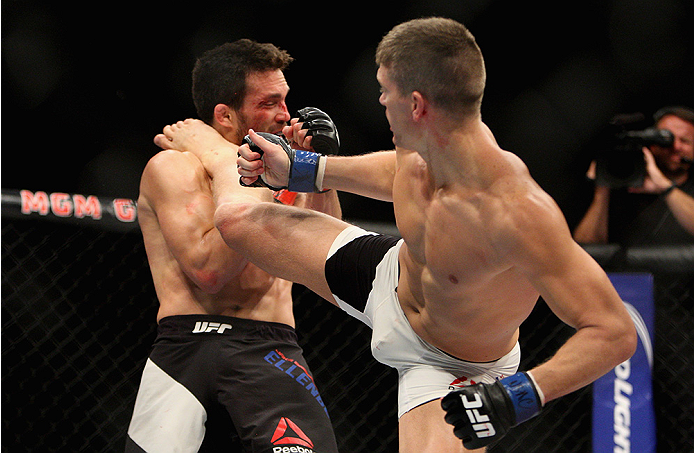 Hendricks faces quite a test against Stephen "Wonderboy" Thompson (11-1) should the fight remain standing. Thompson had an unbeaten 20-0 record in kickboxing before making his way to mixed martial arts. He's been very impressive with knockouts of Dan Stittgen, Chris Clements and Robert Whittaker.
Thompson had his biggest performance to date against former contender Jake Ellenberger last July, landing not one but two spinning heel kicks for a first round knockout victory. But he did show some holes in his game. He was knocked down by a hard right hand by Ellenberger earlier in the fight. It was a result of his hands low style which he loves to utilize. While it certainly helps disguise his strikes, it could also compromise his defense especially up close.
Wonderboy isn't just a striker. He's sharpened up his grappling and wrestling training with a beast in former UFC Middleweight Champion Chris Weidman. He showcased both his offensive and defensive wrestling chops against Patrick Cote and Ellenberger in his last two fights.
Writer's prediction: Thompson (+180) continues to get better and better each time he enters the Octagon. Expect him to put a beating on Hendricks, who may be rusty after being out for nearly 11 months.
Heavyweight: Roy Nelson vs. Jared Rosholt
Line: Roy Nelson (-165) vs. Jared Rosholt (+135) – view all UFN 82 lines
Roy "Big Country" Nelson (20-12) has lost five of his last six games. He's potentially fighting for his job when he meets up-and-comer Jared "The Big Show" Rosholt (14-2). A terrific free-style wrestler, Rosholt has used his All-American skills to win six of his seven fights in the UFC. But he's gone to decision in five of those wins. Fighting for the full 15 minutes should give Nelson enough chances to land his vaunted right hand. All seven of Big Country's wins have come by knockout or TKO.
Writer's prediction: Rosholt (+135) grinds out Nelson to a unanimous decision.
Light Heavyweight: Ovince St. Preux vs. Rafael Cavalcante
Line: Ovince St. Preux (-350) vs. Rafael Cavalcante (+270) – view all UFN 82 lines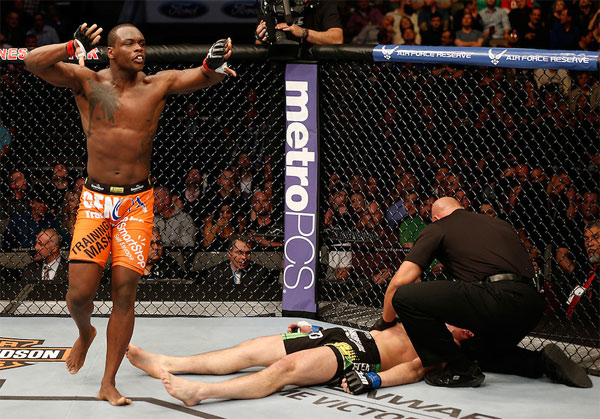 Ovince St. Preux (18-7) is the future. A former linebacker for the Tennessee Volunteers in college, St. Preux has brought his athleticism and explosiveness into the Octagon. He owns knockout wins over legend Mauricio Rua and contender Patrick Cummins in two of his last three fights. He should have the tools needed to dispatch of veteran Rafael Cavalcante (12-6).
A former Strikeforce Light Heavyweight champion, Cavalcante is currently regressing. He's dropped back-to-back fights to Ryan Bader and the aforementioned Cummins. But his knockout power still makes him very dangerous. He's won 11 of his 12 fights by knockout.
Writer's prediction: St. Preux (-350) batters Cavalcante to a second round TKO.
Flyweight: Joseph Benavidez vs. Zach Makovsky
Line: Joseph Benavidez (-450) vs. Zach Makovsky (+325) – view all UFN 82 lines
Joseph Benavidez (23-4) has only lost to two people in his career: UFC Bantamweight Champion Dominic Cruz and UFC Flyweight Champion Demetrious Johnson. He's the best flyweight to never hold a belt in the history of the weight division. He gets to put his solid grappling and striking skills to test against hungry up-and-comer Zach "Fun Size" Makovsky (19-6).
Makovsky suffered a setback against two-time title challenger John Dodson in May 2015. He gets another pretty tough out next time around in Benavidez. Makovsky is more of a wrestler than a striker, although he does possess a solid left straight. Where Fun Size excels is on the ground with his grappling. But Benavidez is no slouch on the ground either with a wicked scrambling ability and a deadly guillotine to boot.
Writer's prediction: Benavidez (-450) edges Makovsky by unanimous decision.
Light Heavyweight: Misha Cirkunov vs. Alex Nicholson
Line: Misha Cirkunov (-900) vs. Alex Nicholson (+550) – view all UFN 82 lines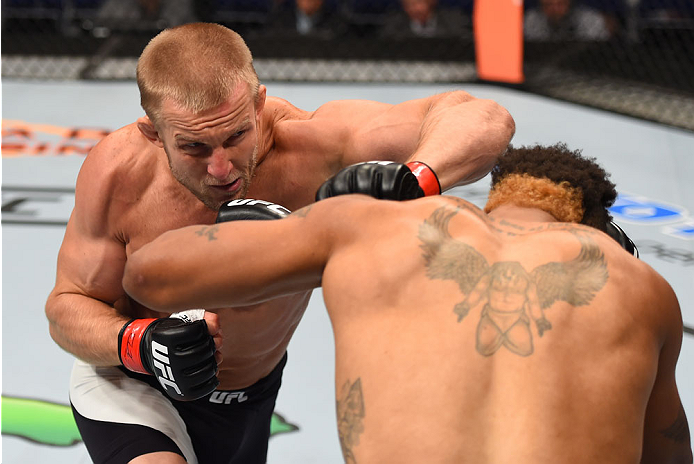 Misha Cirkunov (10-2) is one scary Latvian. He's an explosive wrestler, capable of dragging you to the ground. He won't sit around smothering you in your guard either. Cirkunov constantly looks to advance position so he can lock up submissions or get better leverage for ground-and-pound. He has four knockouts and four submissions in 10 career victories.
It's going to be one tough debut for Alex Nicholson (6-1), facing such a stud like Cirkunov. But the American only needs one shot to put opponents away. He has finished his last four fights by knockout or TKO.
Writer's prediction: Cirkunov (-900) locks up an armbar in the second round.
Welterweight: Mike Pyle vs. Sean Spencer
Line: Mike Pyle (+145) vs. Sean Spencer (-175) – view all UFN 82 lines
16 years of fighting has taken its toll. Mike "Quicksand" Pyle (26-11-1) has lost three of his last four fights, most recently back-to-back against young guns Colby Covington and Jordan Mein. Pyle is an excellent overall fighter with crisp striking and a decent top grappling game. But he may not have the tools to beat a beast like Sean "Black Magic" Spencer (12-4), whose wrestling and control should be enough to give an aging Pyle trouble.
Writer's prediction: Spencer (-175) outwrestles Pyle to a unanimous decision.
Fox Sports 1 Prelims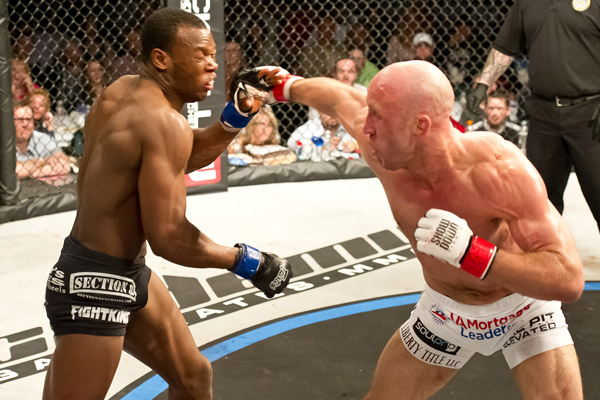 Josh Burkman is "The People's Warrior," who'd rather put on exciting fights with his striking and relentless submission attempts. He fights a blown up lightweight with dynamite for fists, K.J. Noons. Burkman (-175) is well-rounded enough to eke out a victory.
Derrick Lewis can put you in all sorts of trouble if he can get on top of you. He faces quite a solid grappler from Poland, Damian "The Polish Pitbull" Grabowski (-145). The Pole is a solid grappler in his own right. If he can gas out Lewis, then he should start his UFC career with a victory.
Ray Borg (-320) is chomping at the bits to climb up the lightweight division ladder. So is Justin Scoggins. Both are primarily grapplers, but Borg has all the tools he needs for a unanimous decision victory.
Noad Lahat (-320) has been a solid wrestler in the UFC Featherweight Division. He should outgrapple, or even outstrike TUF Latin America alum, Diego Rivas.
Fight Pass Prelims
Ask and you shall receive. Mickey Gall asked for a potential showdown with former WWE wrestler turned MMA fighter, Phil "CM Punk" Brooks. He gets his wish on one condition: Gall needs to beat UFC newcomer and pro MMA debutante Michael Jackson. Gall is an all-around fighter with a solid submission game. In a match between two green fighters, a solid ground game could go a long way. Gall(-550) by submission.
"The Russian Hammer" is coming and he wants to make a statement with his fists of fury. Artem Lobov is a powerful striker, but certainly lacks a solid ground game. He faces fellow striking specialist Alex White to jumpstart Saturday's festivities. Lobov (-135) by KO in a slugfest.
Create a betting account now and get into this big night of fights.

2,148 total views, 1 views today
Comments
comments