The horses in the Kentucky Derby sure are lucky that Alistair Overeem is fighting on the other side of the pond this weekend. Overeem used a diet of horse meat to bulk up to what he is today—a lean mean heavyweight knockout machine. He's just one step away from securing a shot at the UFC Heavyweight Championship when he goes toe-to-toe with contender Andrei Arlovski.
Arlovski had been on career resurgence. He won four straight before a knockout loss to title challenger Stipe Miocic derailed his plans for a title shot. A win over Overeem should help keep him in the top five of the division and inch him closer to a championship bout.
It's a jam-packed card for the UFC's maiden voyage to Amsterdam. Read on as we take a look at each fight on the card from top to bottom. The UFC has come a long way to bring us the mixed martial arts action we now know today. Check out our list of the top 10 fights in promotion history as we inch closer and closer to the ground-breaking UFC 200.
Sports News and Predictions
UFC Fight Night 87: Overeem vs. Arlovski Preview
Heavyweight: Alistair Overeem vs. Andrei Arlovski
Line: Alistair Overeem (-240) vs. Andrei Arlovski (+180) – view all UFN 87 lines
Alistair "The Reem" Overeem is a monster. A lot of people wrote him off after losses to Antonio Silva, Travis Browne and Ben Rothwell. But he soldiered on with three straight wins, two by knockout. He knocked out Stefan Struve in December 2014 and most recently former UFC Heavyweight Champion Junior Dos Santos in December 2015.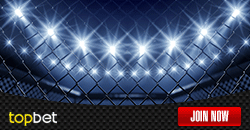 Overeem fits the bill as an athletic heavyweight. He has the size to cause anyone problems being 6-foot-5. He also packs plenty of power in his kick and punches. Don't believe it? Just ask Brock Lesnar, who took a liver kick from the Reem and retired from the sport soon after. Overeem also has a solid grappling game. His guillotine is extremely dangerous due to his long arms.
While the Reem certainly seems championship material, he has one fatal flaw—his chin. Here comes Andrei "The Pitbull" Arlovski. A former UFC Heavyweight Champion, Arlovski has revived his career on a 6-1 run. He beat new breed fighters Brendan Schaub and Travis Browne as well as established veterans Frank Mir and Antonio Silva in the UFC.
Arlovski is an incredible boxer in the UFC Heavyweight Division. He has lightning fast hands when at his best and packs quite a wallop. He's since added some kicks to his arsenal, which he could use in this striker-versus-striker matchup without a threat of a takedown. You can say that Arlovski is a glass cannon, though, like Overeem. It doesn't take much to switch off his lights when hit on the button.
Writer's prediction: Overeem (-240) is the more complete and experienced striker. The Reem gets the third round KO after a two-round feeling off process.
Heavyweight: Antonio Silva vs. Stefan Struve
Line: Antonio Silva (+165) vs. Stefan Struve (-210) – view all UFN 87 lines
Sometimes you've got to feel sorry for these two guys. Antonio "Bigfoot" Silva cannot use TRT despite needing the therapy due to his acromegaly, a condition which makes his pituitary gland to produce excess growth hormone. He has lost three of his last four fights by first round knockout. Stefan "Skyscraper" Struve has a heart condition, which has led him to lackluster fights, losing three of his last four.
Nevertheless, you have to hand it to these two warriors. They still want to slug it out in the co-main event of the evening. Of the two, Struve has way less wear-and-tear. He could use his length to keep Silva at bay on the feet.
Writer's prediction: Struve (-210) knocks out Bigfoot in the second round.
Welterweight: Albert Tumenov vs. Gunnar Nelson
Line: Albert Tumenov (-180) vs. Gunnar Nelson (+150) – view all UFN 87 lines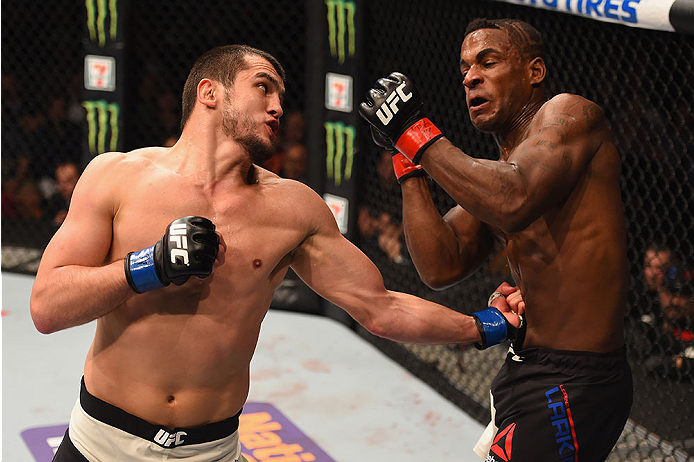 Albert "Einstein" Tumenov is a genius when it comes to stringing together beautiful striking combinations. Gunnar "Gunni" Nelson is an incredible submission specialist. These two contrasting styles should be one of the best fights on the card. Nelson is undersized and needs to get to the clinch for takedowns. Einstein should be able to use his size and strength to keep the fight on the feet.
Writer's prediction: Tumenov (-180) batters Nelson toward a unanimous decision victory.
Bantamweight: Germaine de Randamie vs. Anna Elmose
Line: Germaine de Randamie (-350) vs. Anna Elmose (+270) – view all UFN 87 lines
Germaine "The Iron Lady" de Randamie is fighting on her home soil of the Netherlands. She's set to welcome Anna "Panda" Elmose to the UFC. de Randamie is an excellent striker at heart, while Elmose is a brawler with an unbeaten 3-0 record. Elmose is aggressive, but lacks some defense. It's going to be one hell of a debut for her against a seasoned striker.
Writer's prediction: de Randamie (-350) takes a unanimous decision after putting a whooping on Elmose.
Light Heavyweight: Nikita Krylov vs. Francimar Barroso
Line: Nikita Krylov (-220) vs. Francimar Barroso (+170) – view all UFN 87 lines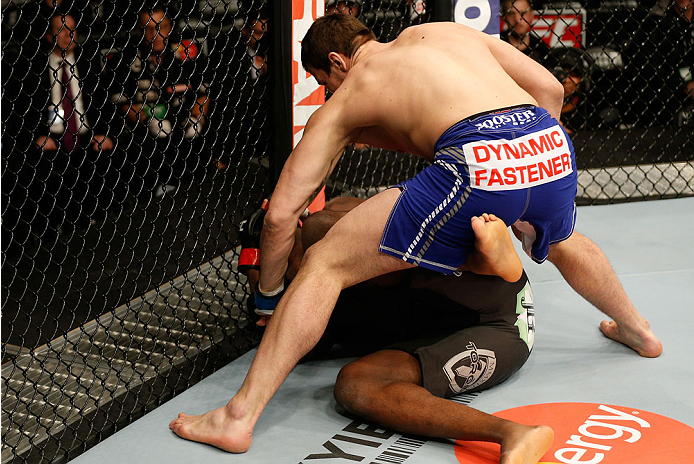 Nikita "The Miner" Krylov is an all action fighter. All 17 of his career victories (seven by knockout and 12 by submission) have come in the first round. But his aggressive search for the finish has him emptying the gas tank well before the second round begins. Francimar Barroso is a grinder. He'll tire you out and ride you out with dominant grappling positions.
Writer's prediction: Barroso (+170) is a live dog in this fight and should get the late stoppage in the third.
Strawweight: Karolina Kowalkiewicz vs. Heather Jo Clark
Line: Karolina Kowalkiewicz (-260) vs. Heather Jo Clark (+200) – view all UFN 87 lines
Karolina Kowalkiewicz had a dog fight in her UFC debut, eking out a unanimous decision against contender Randa Markos last December. She gets a chance to go 2-0 in the UFC when she takes on Heather Jo Clark. A contestant of TUF 20, Clark has won her last two fights. But she's coming off a torn ACL, which could limit her against one of the division's up-and-comers.
Writer's prediction: Kowalkiewicz (-260) outhustles Clark in a unanimous decision victory.
Fox Sports 1 Prelims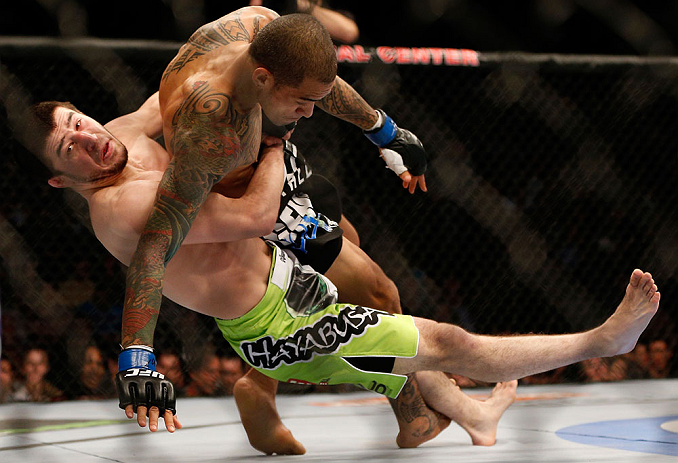 Rustam Khabilov is good, but he doesn't really find ways to dominate his opponents. Chris Wade has the grinding style to shut down the Russian's style. Wade (+160) steals a unanimous decision victory.
Garreth McLellan doesn't really look UFC level. He has a horrible gas tank but has some power in his hands. Magnus Cedenblad has quietly collected three straight wins in the UFC. Cedenblad (-300) should be able to get things done in this matchup.
Jon Tuck faces an unbeaten newcomer in the UFC. Josh Emmett is a Team Alpha Male product with good boxing and wrestling skills. Tuck has more high-level experience and has power and the submission skills to hand Emmett's first career loss.
Yan Cabral is a grappler by trade. So is Reza Madadi. While both fighters have similar skillsets, Madadi looks like the crappier fighter willing to duke it out on the feet. Madadi (+150) upsets Cabral.
Fight Pass Prelims
Kyoji Horiguchi (-550) has the potential to be champion. He should cruise to a unanimous decision victory against veteran striker Neil Seery.
Leon Edwards is an excellent striker, but he's shown that he can be taken down and controlled by good wrestlers. He faces Dominic Waters, who figures to grind him out in the fight. Waters (+200) by unanimous decision.
Willie Gates (-155) should have all the tools to dispatch of short notice replacement Ulka Sasaki. The Japanese fighter is cutting down to flyweight for the first time in his career with just about one week's notice.
Create a betting account now and win big through a big night of fights.

Comments
comments