Washington will have an opportunity to shock the world Sunday when they visit the Broncos, who are coming off their first loss of the season to the Colts this past weekend.
Betting Preview for Washington Redskins vs. Denver Broncos
When: October 27, 4:25 P.M. ET [sc:NFL240banner ]
Where: Sports Authority Field, Denver, Colorado
Odds:
Money: Redskins (TBA), Broncos (TBA)
Spread: Redskins (+13.5), Broncos (-13.5)
Totals: 58.5
Betting on the Washington Redskins:
The Redskins scored a much needed win Sunday against Chicago, 45-41, to give them a short respite from an otherwise rocky season.
Washington opened up the season dropping three straight contests before ending their winless drought in Week 4 against the Raiders, 24-14. In between that win and the victory over the Bears is their 31-16 loss to their bitter rival, Dallas.
The win over Chicago, while a cause for celebration, was also another indicator of just how weak the Redskins' defense has been all season long. Despite managing their best scoring output since 2005, Washington almost lost that game — a failure that would have fallen on their struggling defense.
The Redskins are third worst in the NFL in yielding points. They have allowed opposing teams to score an average of 30.7 points a game throughout the first seven weeks.
If defensive coordinator Jim Haslett fails to find a quick solution to the Redskins' defense maladies, he might not be that far away from delivering his farewell speech in Washington. It doesn't bode well for him that they'll be up against the league's most prolific offense in Denver. He's missing some key defensive components like safeties Brandon Meriweather and Reed Doughty.
On the brighter side, the Redskins are starting to hike up their offensive numbers over the past few games. Spiked by their 45-point output against Chicago, coach Mike Shanahan's team is now averaging 28.3 PPG.
In the last five time times the Redskins have visited Denver, they haven't lost against the spread. They made their last trip to Mile High back in 2005, losing the game 21-19, but covering the 7-point spread.
Bet now on the Washington Redskins.
Betting on the Denver Broncos: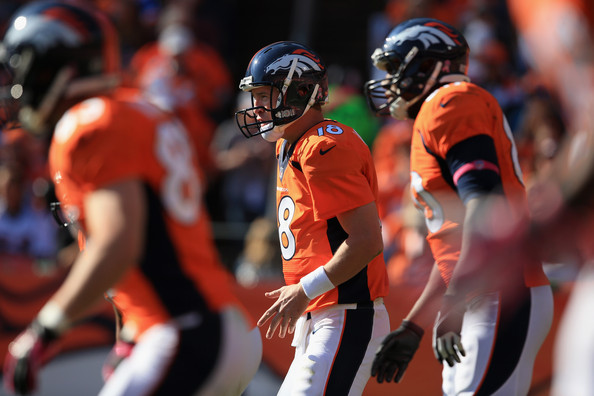 Not only was their 39-33 loss to the Colts in Week 7 their first of the season, it was also the Broncos' second defeat in their last 19 games overall – the other being their disappointing AFC divisional playoff loss to Baltimore.
Clearly, Peyton Manning and the rest of the Broncos aren't accustomed to losing, and their next assignment against the struggling Redskins is expected to be their bounce-back game – a vent to let out the week-long burden of thinking about that loss to Indianapolis.
Manning was not in his usual god-mode versus the Colts, getting sacked four times and throwing an interception, but he still finished with a decent 29 of 49 for 386 yards and 3 TD passes.
[sc:NFL490Banner ]
Though their susceptible defense was exposed by the Colts, Denver remains the best team against the rush, allowing 77.1 rushing yards per game.
Denver's offense likewise remains topnotch, showering opponents with 42.6 points per game – best in the league. It's mostly driven by the great playmaking skills of Manning and his pinpoint accuracy, tallying 361.3 passing yards a game, another league best.
The Broncos are 18-1 SU in their last 19 regular season games and are 8-0 Over in their last eight games overall.
Bet on the Denver Broncos now.
1,687 total views, 2 views today
Comments
comments