Tough setbacks on the road have the Washington Redskins and Jacksonville Jaguars coming out of Week 1 empty handed. The Redskins didn't manage to get themselves going throughout their season opener. Meanwhile, the Jaguars started hot, but collapsed late to allow Philadelphia to rush back to the win. With both teams hungry for a win early in the 2014 regular season, expect a closely-contested game.
Craving for more football action? Head over to our complete 2014 NFL Week 2 picks and predictions to view all 16 games this week. Meanwhile, read on for an in-depth view as the Jags head over to FedEx Field to challenge the Redskins.
[sc:Football ]
Washington Redskins vs. Jacksonville Jaguars Preview
Where: FedEx Field, Landover, MD
When: Sunday, September 14, 1:00 PM ET
Line: Jacksonville Jaguars (+6) at Washington Redskins (-6); total 43.5 – view all NFL lines
Betting on the Washington Redskins
The Washington Redskins outgained the Houston Texans 372-316 yards but were defeated 17-6 to start off their 2014 NFL regular season last Sunday. A return home to FedEx Field may not prove beneficial for Washington as they have lost their last four home games.
[sc:NFL240banner ]Robert Griffin III wasn't too bad in his first game of the season. The 2012 No. 2 overall draft pick went 29-for-37 for 267 yards. Despite failing to throw a passing TD, RG3 was able to put up the second-highest single-game completion rate in his career of 78.4 percent. However, he was sacked three times for a loss of 26 yards.
Washington's lone score came from Darrell Young, who scored on a one-yard TD run. Meanwhile, Morris ran for 91 yards on 14 carries and Roy Helu had 46 yards on four carries.
However, the 'Skins special teams was terrible in the season opener. They were denied an extra point when Kai Forbath's kick was blocked by the Texans. Meanwhile, one of their six punt attempts resulted in a block which was then picked up and returned for an opposing touchdown.
The Redskins' opening game against the Texans was supposedly one of the easier games on their schedule. Instead, they were repeatedly pushed around. If the 'Skins continue playing poorly, then they may be en route to another disappointing season.
The Washington Redskins are 1-6 ATS against AFC teams since September 2013.
Betting on the Jacksonville Jaguars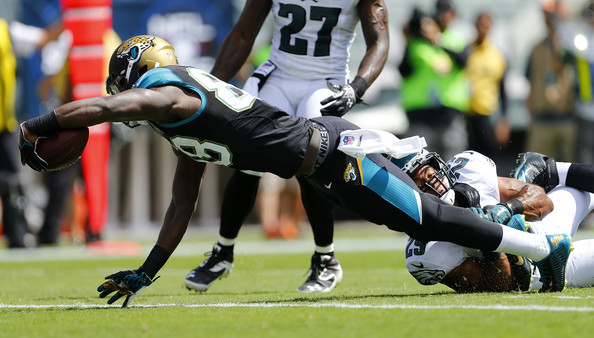 The Jacksonville Jaguars had an impressive showing in the first half of their season opener against the defending NFC East champion Philadelphia Eagles on Sunday. They jumped to a 17-0 lead in the first half, but blew their lead in the second half and eventually lost, 34-17. The Jags were 2-9 after a loss last season.
Quarterback Chad Henne completed 24 of 43 passes for 266 yards. The Jags took an early 14-0 lead courtesy of a pair of TD passes from Henne to rookie wide receiver Allen Hurns. The rookie became the first player to score on two TD receptions in the first quarter of his NFL debut, and his obvious chemistry with Henne had him headline our list of Week 2 fantasy football pick ups.
Despite their success in the first half, the Jags' passing game struggled for the rest of the game. They went 0-for-9 before converting on a third down in the third quarter. Henne also had a couple of passes batted down while he misfired on several other attempts.
On the ground, the Jags' running game wasn't able to establish itself throughout the game. Newly acquired running back Toby Gerhart led the team in rushing for 42 yards on 18 carries for an average of a measly two yards per attempt in his Jacksonville debut.
The Jags' defensive unit managed to put up an excellent showing against one of the top offensive lines in the NFL this season. They were able to sack the Eagles' QB Nick Foles five times for a loss of 47 yards, while adding 11 tackles for loss. The defense was also able to steal possession through one interception and two fumble recoveries.
Jacksonville's defense will have a critical role to play against the Redskins. Against a Washington offense that is misfiring early, the defense could keep the Jags in this one while their offense tries to find more consistency.
The total has gone over in seven of Jacksonville's last 10 road games.
Writer's Prediction
The Jacksonville Jaguars (+6) come up with the upset. Take them to win against the spread for a safe cushion as this will likely be a close, gritty game. Create a betting account now and cash in on all the football madness as the NFL goes under way.
[sc:NFL490Banner ]
1,714 total views, 3 views today
Comments
comments