All that pretty much remains before the start of the NCAA tournament is Championship Week, where conference champions will be decided to also consequently decide the order of seeding at the Big Dance.
However, and as you'll notice in our final Power Rankings installment of the regular season, the top four schools remain in their exact spots from last week. As such, are the top four seeds of the tournament all but secured as well?
And with pretty much all elite contenders seeing no major setbacks in the final week of regular season play, the rest of the top 10 teams found from last week's edition remain in our countdown, which you can check out below.
On a related note, check out our complete previews Big East and ACC tournaments after this to be on top of a couple of high-drama conference championship tournaments for even more sweet college basketball betting action.
March Madness News & Predictions
NCAA College Basketball Power Rankings: Final Four Already Set?
1. Kansas (27-4, 15-3 Big 12)
Emerging from the toughest conference with the best record in the nation, the Jayhawks are undoubtedly the favorites to secure the top seed in March Madness. Oh, and haven't we mentioned that they closed the regular season with an 11-game win streak?
2. Michigan State (26-5, 13-5 Big 10)
Previous Rank: 2
The Spartans are the collegiate equivalent of the NBA's Golden State Warriors. They have three top-caliber snipers from beyond the arc in Denzel Valentine, Eron Harris and Bryn Forbes. Sparty can't afford to take its finger off the trigger, especially after missing out on the Big Ten regular-season title.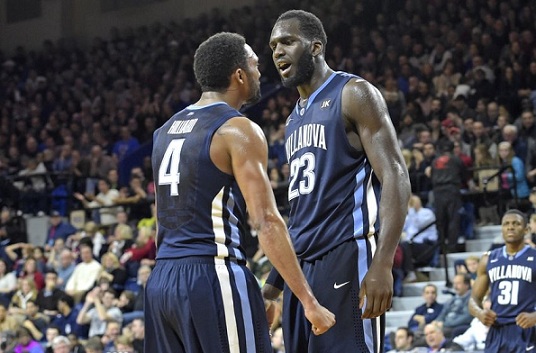 3. Villanova (27-4, 16-2 Big East)
Previous Rank: 3
If the Spartans are likened to the Warriors, then the Wildcats are probably the Spurs. Villanova uses a well-balanced offensive attack with good ball rotation – thanks in large part to senior center Daniel Ochefu, who's arguably the best passing big man in the nation right now.
4. Virginia (24-6, 13-5 ACC)
Previous Rank: 4
A week after upsetting UNC, the Cavaliers routed Louisville by 24 points to extend their winning streak at home to 20 games. Now it's time to see how head coach Tony Bennett and his boys fare away from the confines of John Paul Jones Arena. With senior guard Malcolm Brogdon playing out of his mind, though, a second ACC title in three years is well-within grasp.
5. Oklahoma (24-6, 12-6 Big 12)
Previous Rank: 6
Not only do the Sooners have the Big 12 Player of the Year by their side in Buddy Hield (22 20-plus point games in the regular season), but they also have a solid core in support of their star. Hield has played alongside starters Ryan Spangler, Jordan Woodard and Isaiah Cousins for 98-consecutive games, and their vast experience as a unit will go a long way towards beating Kansas for the Big 12 crown this week.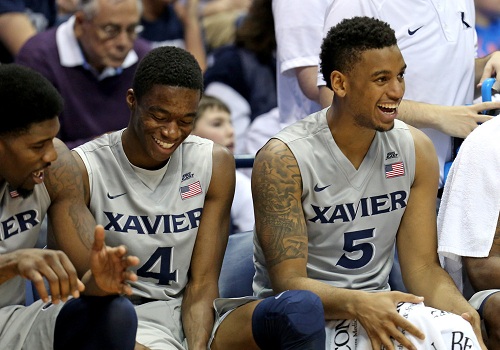 6. Xavier (26-4, 14-4 Big East)
Previous Rank: 5
The bounce-back win over Creighton after the humiliating loss to Seton Hall have the Musketeers ending the regular season on a relatively high note, especially since they just defeated top-ranked Nova prior to that Seton Hall loss. They still refuse to play defense, but their offense (88.4 PPG over their last five games) is still one to be feared.
7. Oregon (25-6, 14-4 Pac-12)
Previous Rank: 9
Defense is the key for the Ducks – still the only Pac-12 team found in our top 10. They're a perfect 16-0 whenever they hold their opponents to under 70 points. The Ducks also swept all their Los Angeles-based conference rivals in spite of the heated competition within the Pacific, so all that's left is to prove if their formula for success will indeed work on a national level in a few days' time.
8. North Carolina (25-6, 14-4 ACC)
Previous Rank: 7
A monster night from Brice Johnson (18 points, 21 rebounds) and on the battle of the boards as a team (64-29 in favor of UNC) earned the Tarheels a season-finale win over sworn enemies the Blue Devils on Saturday, and they also clinched the ACC regular season title in the process. However, defeating Duke and middling Syracuse by just nine points combined these past couple of games is rather concerning for this seemingly elite ball club heading into the Big Dance.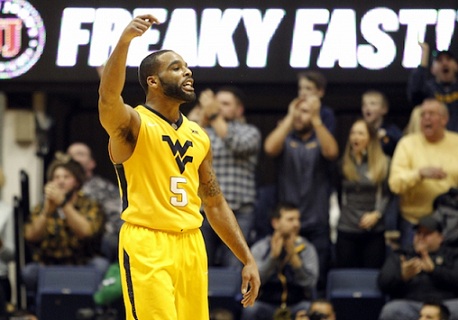 9. West Virginia (24-7, 13-5 Big 12)
Previous Rank: 10
The Mountaineers may have sealed the No. 2 seed in the Big 12 Tournament, yet they're remain quite an enigma. They were the first team in the conference this season to beat Kansas, yet they lost both of their meetings versus Oklahoma. Still, they've defied their projected conference finish at the preseason poll for the 11th time in 14 years, so there's no better dark horse pick than WVU in this her list.
10. Miami (FL) (24-6, 13-5 ACC)
Previous Rank: 8
The Hurricanes missed out on a share of the ACC title with the crushing loss to Virginia Tech in their final game of the season, yet they still had a fantastic regular season, all things considered. Can ACC Coach of the Year Jim Larranaga get his boys to snap out of that bad season-finale defeat and find redemption by winning this week's conference championship tourney instead?
Create a betting account now to start placing wagers one any of these college basketball greats as the road to the March Madness goes in full swing.

Comments
comments