All of a sudden, freshmen are winning the Heisman Award. After Johnny Manziel pocketed the trophy last season, Florida State Seminoles quarterback Jameis Winston is now poised to duplicate the Aggie's feat.
Or maybe not.
Yes, the Florida State Seminoles are undefeated and on a path towards Pasadena for the BCS National Championship in January. Yes, Winston has the FBS-topping 192.6 QB rating. And yes, Winston is eating the opposition alive. But is he really going to take home the trophy?
As it stands now, Winston is the clear-cut favorite to win the Heisman with many pundits and sports syndicates' polls all singing the same chorus. But then again, there's still a chance, however small it may be, that he will not get the award this year.
Our sportsbook has Winston as a huge favorite. The futures odds of the top 3 Heisman Trophy favorites look like this as of December 5:
Jameis Winston: -2000
Jordan Lynch: +400
Braxton Miller: +1,000
Top 3 Reasons Jameis Winston Won't Win the Heisman in 2013
1. Sexual Assault Accusation
Winning takes care of everything: it's a mantra that seems to be Winston's weapon against the erosion of his public image. It was the same axiom practiced to perfection by Kobe Bryant, whose championship rings outweigh anything that happened during that "Colorado incident" as far as the public's memory is concerned.
But even if Winston is the public's Heisman winner, is winning enough to sway the votes of the panel? Today it was revealed that Jameis Winston would not be getting charged with sexual assault, but there's no doubting the fact that his reputation has been tarnished to a certain degree. There's also reason to question the man's character and integrity given the allegations against him.
Remember, the Heisman Trophy Trust Mission Statement reads like this:
"The Heisman Memorial Trophy annually recognizes the outstanding college football player whose performance best exhibits the pursuit of excellence with integrity."
2. No Lack of Competition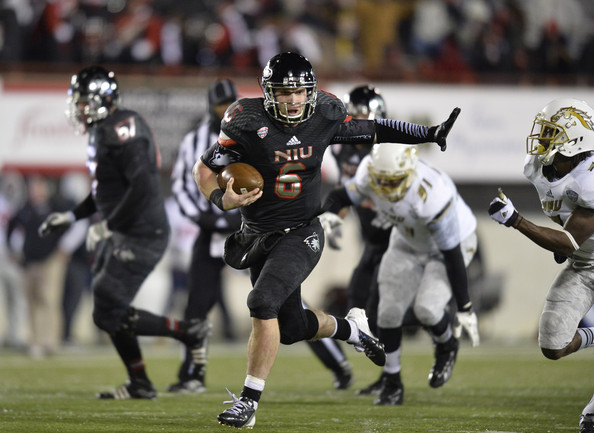 Bryce Petty has fallen out of the race. So has Marcus Mariota. But there are other names that are gaining ground in Heisman discussions that voters might take a look at.
Take for example Northern Illinois QB Jordan Lynch. Lynch has been flying under the radar for most of the season. However, his stat line deserves attention. As a quarterback, he is second in the FBS in rushing yards with a total of 1,755. [sc:NCAA240banner ]
Update: Lynch threw two picks en route to a loss to Bowling Green last night, damaging his chances even further.
Following a devastating loss to Auburn, AJ McCarron's Heisman stock took a plunge in the polls. Until that loss, the Crimson Tide QB was the picture of consistency, losing only twice in his Alabama career. In terms of stats, McCarron's pale in comparison to those of Winston, but he has a clean image that, as trivial as it may seem to some, may hold the key to the voters' hearts.
Braxton Miller is going to give it his best shot today as well, as he takes on Michigan State in the Big Ten Championship.
3. The ACC Championship Game
Like many other massive underdogs that are about to do battle against a heavy favorite, the No. 20 Blue Devils are saying they are about to shock the world in the ACC Championship. One bad night could sever Winston's strong ties to the Heisman Trophy, and Duke has the perfect opportunity to play the spoiler.
For now, we'll have to wait and see how this week's conference championship games play out before we can make any final predictions regarding who will take home the Heisman in 2013. Place your bets now over at the sportsbook.
1,894 total views, 1 views today
Comments
comments