There's no denying it. LSU's Ben Simmons will be the No. 1 pick of the NBA Draft, and Brandon Ingram will most likely be off the board immediately after as second-overall. Here's where it gets pretty messy with plenty of different options available for picks No. 3 and down. There are plenty of talent, each capable of showing off their skills on the professional stage.
We take a look at the other top prospects coming into the 2016 NBA Draft. For more on the draft, check out prospect ranking as well as our very own sleeper picks.
Cash In on the Best Online Sportsbook Offers Now at TopBet!
2016 NBA Draft Preview
Favorites
Jamal Murray
Jamal Murray is the favorite at +170 to come right after the first two picks of the draft. Why shouldn't he? He's coming from John Calipari's Kentucky Wildcats, a team that's produced NBA talents such as New Orleans star Anthony Davis and last year's No. 1 overall pick and Rookie of the Year Karl-Anthony Towns.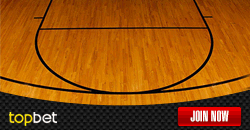 Murray was one of the best shooters in this draft class with a finely-tuned jumper. He hit 41 percent of his three-pointers on almost eight attempts per game last season. The former Wildcat is a magnificent spot-up shooter, and was impressive coming off screens. The Celtics, picking third as of this writing, have a deep roster of guards. However, none of them save for Isaiah Thomas have the scoring upside that Murray has.
Kris Dunn
Another excellent guard in this draft class is Providence's Kris Dunn. The 6-foot-4 point guard has a bright future ahead of him in the NBA. He has an elite ability to force turnovers and score in transition—he averaged three steals per 40 minutes for Providence. Dunn is proficient off pick and rolls due to his quickness.
However, the 22-year-old isn't too prolific finishing at the hoop, shooting just 47.7 percent from two-point range in his final college season. Dunn is a good guard and all as his +180 to get picked first among the favorites on this list, but he doesn't seem like the perfect fit for the Celtics or the Suns—owners of the third and fourth picks in the draft as of this writing.
Dragan Bender
First we went with the guards. Now it's time to take a look at one hell of a big man, seven-footer Dragan Bender. The European isn't just a big guy; he's also athletic, capable of flying up and down the court. His speed in transition should be on par with the elites in the NBA. Bender is also an excellent shooter with a long-range jumper—a good fit for any team looking for a big-man who could stretch the court.
It's not all offense for Bender; his agility and length make him a capable defender against guards and wings. The Croatian has all the tools that a modern big-man needs to excel in the game, one whose +250 odds offer plenty of value should he be the first off the board among the other players on this list.
Buddy Hield
The league's going crazy for threes in the modern game. The stats prove it to be true with seven of the top eight three-point shooting teams making the NBA playoffs. Nine of the top 10 teans in terms of made three-pointers were also in the playoffs. Here's where Buddy Hield comes in, a three-point threat with range out to 27 feet and beyond.
Hield is the best shooter in the draft and perhaps the best three-point specialist since Stephen Curry. He can help any team improve its three-point shooting percentage and volume without a doubt. The 22-year-old Bahamian shot at an incredible 45.7 percent from deep in his final college season despite getting the attention of opposing defenses. He even played in a power conferece, the Big 12, for Oklahoma.
With the NBA going crazy for three-point shooting, expect Hield to go much earlier that what he's worth. He pays a whole lot at +450 to be picked first among the three others highlighted above.
Wild Card
Denzel Valentine won't be getting plenty of attention, considering that he's a senior and is almost a finished product after four years playing for the Michigan State Spartans. Despite that, he's still one hell of a prospect considering he won Michigan State's first College Basketball Player of the Year Award since Draymond Green did in 2012.
What teams may be getting is a player much like Golden State's big-man Green. Valentine does it all for his team, leading the Spartans in points (19.2), rebounds (7.5) and assists (7.8) per game in his final college season. He has the size to be an excellent combo guard, thus freeing up even more space for his teammates. A well-rounded guard is a hot commodity for teams right now, but oddsmakers are sleeping in on this Michigan State product with odds set at -200 to be picked over 17.5.
With the Raptors (ninth pick), Pelicans (sixth), Nuggets (seventh and 15th) and Grizzlies (17th) all in need of a quality shooting guard, there's plenty of opportunities for Valentine to be picked under 17.5 at +160 odds.
Create a betting account now and earn some cash by making your own picks in this year's NBA Draft.

Comments
comments