---
It's on to Week 9 of the 2016 college football season. The Big Ten and Pac-12 have some fairly meaningful matchups featuring top 25-ranked teams, while there are also a couple of big rivalry games set to take place in Michigan and Florida. However, the pick of the Week 9 schedule is without a doubt the big ACC showdown between No. 3 Clemson and No. 12 Florida State.
If you need against the spread picks for all the top games in Week 9, well you came to the right place. Just read on below for all our picks and predictions.
---
College Football News and Previews
---
2016 NCAA Football Week 9 Picks and Predictions
Thursday, Oct. 27
#25 Virginia Tech (-4.5) vs. Pittsburgh (+4.5) – 7:00 PM ET
The last time Virginia Tech played on the road, it suffered a big letdown loss to Syracuse. The Hokies were likely caught looking ahead to their home game against Miami, and were punished dearly. Don't expect them to make the same mistake twice, though.
The Hokies showed just how good they are by pounding the Hurricanes, 37-16, and holding them to just 97 rushing yards (excluding sacks). Jerod Evans has quietly been one of the most effective passers in the country, while Pitt's pass defense has been pretty atrocious. The Hokies are also capable of stopping the run, which is bad news for the Panthers' ground-oriented attack.
Writer's Prediction: Virginia Tech (-4.5) takes care of business with a 30-21 road win.
California (+15) vs. USC (-15) – 10:30 PM ET
Sam Darnold has been a godsend for USC. Since the freshman took over at quarterback, the Trojans have gone 3-1, including three wins in a row. After back-to-back 350-plus yard, three-touchdown games against Arizona State and Colorado, Darnold threw five touchdowns in a 48-14 thrashing of Arizona in Tuscon.
But two-plus-touchdowns is a lot to cover against a Cal team that can score a ton on just about anyone. Top receiver Chad Hansen missed the Oregon game due to injury, and they still lit up the Ducks for 52 points. His return should only help the Bears put even more points on the board.
Writer's Prediction: Cal (+15) keeps it relatively close in a 49-38 road loss.
Saturday, Oct. 29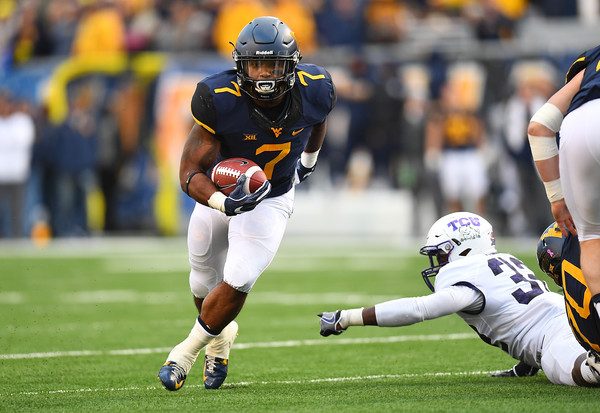 #10 West Virginia (-4) vs. Oklahoma State (+4) – 12:00 NN ET
West Virginia is by far the most complete team in the Big 12 at the moment. Dana Holgorsen knows how to coach offense, but unlike other Air Raid teams, he's finally incorporating defense, which has been a big reason why the Neers are still unbeaten. That unit has completely shut down two very explosive offenses in Texas Tech and TCU in back-to-back weeks.
Oklahoma State is another one of these Big 12 teams which can score but can't defend a lick. Holgo and co. have seemingly figured out how to play those types of teams, so they should be fine even on the road.
 Writer's Prediction: West Virginia (-4) stays undefeated with a 38-31 win.
#2 Michigan (-23) vs. Michigan State (+23) – 12:00 NN ET
Michigan State is having the season from hell. The Spartans are 0-4 in Big Ten play, and are losing (by double-digits) to the likes of Northwestern and Maryland. In short, they're the level of team Michigan has been murdering all season long.
The Wolverines have beaten their last two opponents – Rutgers and Illinois – by a combined score of 119-8. And if you thought they showed no mercy by running the score up on Rutgers, don't you dare put it beyond Jim Harbaugh to take this opportunity to absolutely demolish their state rivals in their own building, especially after last season's heart-breaking loss to Sparty.
Writer's Prediction: Michigan (-23) embarrasses Sparty, 38-10.
Georgia (+7.5) vs. #14 Florida (-7.5) – 3:30 PM ET
It hasn't been a good debut season for Georgia's Kirby Smart. His Bulldogs are getting beaten by Vandy in Athens for crying out loud! But as bad as the offense has looked at times, they could have a shot at making the World's Largest Cocktail Party a tad more competitive.
With freshman Jacob Eason's struggles passing the ball, the Bulldogs will need to run the football to stand any chance. Luckily for them, this Florida front hasn't been quite as dominant as in past years. Georgia also has a capable enough defense to make this a close, grind-it-out sort of battle in Jacksonville.
Writer's Prediction: Georgia (+7.5) grinds all the way to a close 24-17 loss.
Northwestern (+26) vs. #6 Ohio State (-26) – 3:30 PM ET
After last weekend's stunning 24-21 loss at Penn State, conventional wisdom suggests Ohio State is primed for a big bounce-back performance in its next game, which happens to be at home.
However, Northwestern is nowhere near the doormat it looked when it was losing to Western Michigan and Illinois State (at home!) in Weeks 1 and 2. The Wildcats have won three games in a row – at Iowa (38-31), at Michigan State (54-40) and vs. Indiana (24-14).
Obviously, it's hard to see Ohio State losing two in a row, but with the way Northwestern has been playing, it should be able to keep the score respectable.
Writer's Prediction: Northwestern (+26) avoids a beatdown as the Wildcats lose 35-17 to the Buckeyes.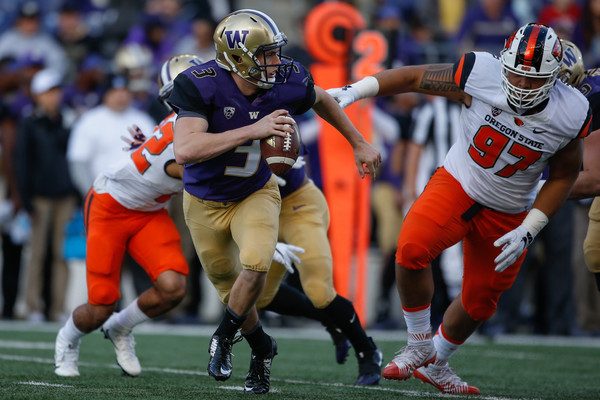 #4 Washington (-10.5) vs. #17 Utah (+10.5) – 3:30 PM ET
Is it really this easy? Since beating Arizona by a single touchdown, Washington has blown through Stanford, Oregon, and Oregon State by an average of 37 points. Utah is significantly better than those teams, though, and should put up a much tougher fight.
The grand return of Joe Williams (511 yards and five touchdowns in two games) will provide the Utes with more firepower to hang with the prolific Huskies.
Writer's Prediction: Utah (+10) pushes Washington, and covers in a 34-24 home loss.
#7 Nebraska (+9) vs. #11 Wisconsin (-9) – 7:00 PM ET
Nebraska may be the lone undefeated team left in the Big Ten West, but Wisconsin is still the best team in the division. After back-to-back close losses to Michigan and Ohio State, the Badgers beat up Iowa to claim a much-needed conference win.
But while their defense is obviously elite, they just lost top tackler Jack Cichy for the season, which is significant. And as good as they were against the Big Ten elite, that was as underdogs. Does the Badgers offense inspire enough confidence to beat a very good Nebraska team by double-digits? We have some doubts.
Writer's Prediction: Wisconsin wins, but Nebraska (+7) keeps it within a touchdown.
#15 Auburn (-4) vs. Ole Miss (+4) – 7:15 PM ET
Auburn re-announced itself as a legit SEC power in a big way by demolishing Arkansas by 53 points last Saturday. Offensive coordinator Rhett Lashlee has re-energized this Tigers offense, which just set the SEC record with 543 rushing yards. Meanwhile, the Rebels (literally) just got run over by a returning Leonard Fournette in a 38-21 loss to LSU.
The Tigers have a similar combination of terrific ground game and capable passing defense to effectively neutralize Ole Miss' explosive offense, even in Oxford.
Writer's Prediction: The Auburn (-4) rushing machine rolls along against the Rebels in a 34-28 Tigers win.
#3 Clemson (-4) vs. #12 Florida State (+4) – 8:00 PM ET
Clemson has been sleepwalking through much of this season, and really should have lost its last game against North Carolina State if not for #collegekickers. Now, the Tigers will face Florida State as a home underdog, which is a dangerous proposition. Clemson should know, as it was also home 'dog when it brought down Louisville.
This will effectively be the Noles' Super Bowl, and will be giving it everything they've got in front of a raucous home crowd in primetime. The underdog has gone 5-1 ATS in the last six meetings between these two teams.
Writer's Prediction: Florida State (+4) puts a major dent in Clemson's playoff plans as the Noles win outright, 31-27.
Create a betting account now and cash in on all the exciting college football action this 2016 season.
1,838 total views, 2 views today
Comments
comments