While fans were watching Week 4 of the NFL schedule, two of the league's best teams were enjoying their bye weeks and preparing for what should be one of Week 5's best games. The Arizona Cardinals and Denver Broncos have both looked excellent this season, and this tilt will be an important litmus test for both sides.
Read on for everything you need to know to bet on this Sunday afternoon battle, and while you're at it don't miss our complete Week 5 picks and predictions.
[sc:Football ]
Arizona Cardinals vs. Denver Broncos Preview
When: Sunday, October 5, 4:05PM ET
Where: Sports Authority Field, Denver
Line: Arizona Cardinals at Denver Broncos – view all NFL lines
Betting on the Arizona Cardinals
The Arizona Cardinals are 3-0 and they've worked their way to that record without several star players who have been lost to injury, suspension or free agency.
[sc:NFL240banner ]Defensive end Darnell Docket is gone for the season, as is outside linebacker John Abraham, while punishing linebacker Karlos Dansby left for the Cleveland Browns, and another lineback, Daryl Washington is suspended. On the offensive side of the ball, quarterback Carson Palmer has missed the last two games with a nerve issue.
And yet, the Cards don't seem phased. Back up quarterback Drew Stanton has stepped in and played serviceably, and the Cardinals defense hads allowed the sixth-fewest yards through three games, despite having played three dynamic offenses in the 49ers, Chargers, and Giants.
Stanton has completed just 51.6% of his passes but has taken care of the football, going interception free over two starts. What's more, reports are suggesting Carson Palmer will be back for Week 5, so the Cardinals will get a boost to a passing attack that has averaged just 230 yards per game this season.
Michael Floyd (252 yards in 2014), Larry Fitzgerald (107), and rookie John Brown (109 and three touchdowns) will welcome the change behind center, but the three dangerous wideouts have been able to make plays when called up so far this season. Brown in particular was clutch in Week 3, catching two second half touchdowns to pace the Cardinals comeback against San Francisco.
Andre Ellington has looked great along the ground to take the pressure off the rookie Stanton. Ellington is averaging 4.5 yards per carry so far this season.
The unit that will be under the most pressure against Denver will of course be the secondary. Patrick Peterson and company have allowed 245 yards per game through the air, but have added an interception per game for Arizona. Against Peyton Manning, who has only one interception in 2014, the Cards' secondary will have their hands full.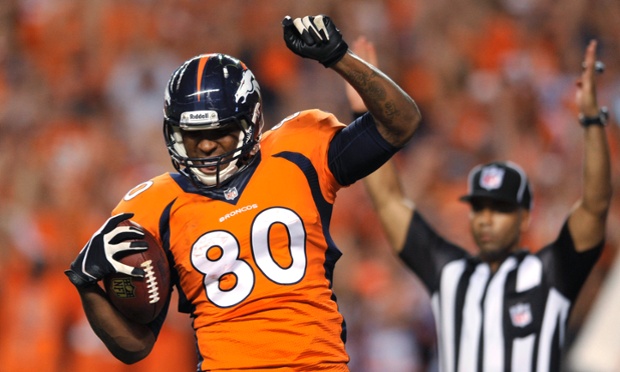 Betting on the Denver Broncos
Peyton Manning did everything he could in the fourth quarter to try and bring the Broncos back against the Seahawks, scoring in 51 seconds without a time out to tie the game, but it was too little too late as Russell Wilson took the ball in overtime and led a confident game-winning drive to seal the Super Bowl rematch.
Still, the Broncos showed an improved ability to match up against the Seahawks and despite slipping to second favorites (+450) behind Seattle to win this year's championship, remain a team that will be favored to win week in and week out.
You've heard of this passing offense. Peyton has thrown eight touchdowns already this season, a mind-blowing five of them to tight end Julius Thomas.
And yet, Thomas may not even be Manning's most popular target, as he has found Emmanual Sanders for 338 yards in three games. Sanders' ability to find space down the field and stay in bounds on corner routes has made him an ideal receiver for the reigning MVP.
But it's the passing defense that remains the issue in 2014. The Broncos have allowed the second-most yards per game through the air this season (285.3), behind only the Jacksonville Jaguars. Against a Cardinals passing game that should be significantly improved with Palmer in, this new-look secondary will need to step up.
Writer's Prediction
Peyton struggles against the Cards' elite pass defense while Palmer lights up the Broncos' as Arizona covers and moves to 4-0 in the league's toughest division.
[sc:NBA490banner ]
2,018 total views, 2 views today
Comments
comments