The Oakland Raiders showed some spunk in Week 6, going toe to toe offensively with the San Diego Chargers. Is this a sign pointing to Oakland's first win of the season next Sunday? Or will the Arizona Cardinals give the Raiders their 12th loss in a row, dating back to last season? Read on for a detailed breakdown of this game, and once you're done, you can check out our previews of Bengals vs. Colts and Panthers vs. Packers.
[sc:Football ]
Arizona Cardinals vs. Oakland Raiders Betting Preview and Prediction
Where: O.co Coliseum, Oakland
When: Sunday, October 19, 4:25 PM ET
Line: Arizona Cardinals (-3.5) at Oakland Raiders (+3.5); total: 43.5 – see all NFL lines
Betting on the Arizona Cardinals
[sc:NFL240banner ]Carson Palmer is back on the field, and so is Arizona in the win column. After picking up their first loss of the season – a 41-20 defeat versus the Denver Broncos in Week 5 – the Cardinals regrouped and whipped the Washington Redskins the following week, 30-20, as 5.5-point favorites. They improved to 4-1 and have now covered the spread in three of their last four outings.
Palmer (shoulder) showed little rust from a long layoff against the Redskins, throwing the rock for 250 yards and two touchdowns with no interception on 28 of 44 passing, which is good for a 93.9 passer rating. Palmer isn't 100 percent yet with respect to his health, but another week of practice and rest should line him up for a better performance against Oakland.
Larry Fitzgerald, meanwhile, has finally broken out of his slump, recording 98 receiving yards and a TD — his first of the season – against Washington, which can be largely attributed to Palmer's ability to find his targets under pressure and the solid job done by the Cards' offensive line. Despite a rash of blitzes by the Redskins, Palmer was only sacked once. That won't be much of a problem for the Cardinals this coming Sunday against an Oakland team that is just 29th in the NFL with a 3.2 sack percentage, a big step down from the Redskins' rate of 7.0.
The Cards, however, continue to get nominal support from its rushing crew.  Arizona, which is third worst in the NFL with only 85.6 rushing yards per game, got just 74 yards from its backfield against Washington but Andre Ellington, Stepfan Taylor, and Jonathan Dwyer could have better production on Sunday as they go up against the Raiders' pathetic rushing defense that gives up a 30th-ranked 149.8 yards per game on the ground.
Create a betting account now and cash in on NFL games.
Betting on the Oakland Raiders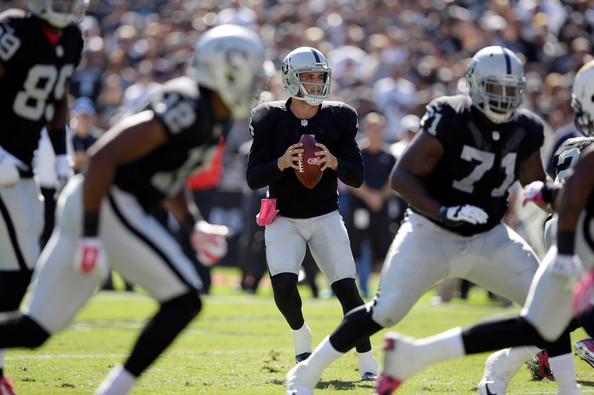 The Raiders are yet to find their first win of the season but at least they've already found out who their future quarterback is. That would be rookie QB Derek Carr, who is coming off a breakthrough performance, albeit in a 31-28 loss to the San Diego Chargers last Sunday. Carr threw for a career-high 282 yards and four TDs with one INT on 18 of 34 passing for a 107.7 passer rating, another career-best number.
Despite the loss, the Raiders got a wealth of confidence from that game. They've managed to exchange blows on offense with San Diego, a team that is ranked fifth in the league in scoring with a 27.3 PPG average.
Carr surgically sliced through the Chargers' secondary that's largely responsible for the team's fifth-ranked passing defense, which allows opponents to pass for just 209.3 yards per game. He distributed four of his TD passes to three different targets, most notable of the group was Andre Holmes who caught four passes for 121 yards and a couple of touchdowns. Carr is poised to duplicate that kind of performance against the horrible passing defense of Arizona, one that gives up 309.0 yards per game this season.
Carr isn't just expected to have a good passing game against Arizona, but is also pressured to do so because of the fact that the Raiders' backfield are set to face the third best defense against the rush. Arizona makes sure that opponents bleed first before gaining yards on the ground, as the Cardinals only surrender 75.8 rushing yards per game. That means running backs Darren McFadden and M. Jones-Drew may see more time down the field.
The Raiders are 3-2 ATS thus far this season. The over is 3-1 in their last four games, too.
Writer's Prediction
Oakland (+3.5) gets their first win of the season.
[sc:NFL490Banner ]
1,788 total views, 1 views today
Comments
comments