The toughest stretch of the Baylor Bears' season began badly for the team, as Art Briles and his boys were dealt their first loss of the season on Saturday by the Oklahoma Sooners.  The defeat threw a big wrench at the Bears' chances to make it to the College Football Playoff, as they're now expected to slide down in the rankings. The Oklahoma State Cowboys, on the other hand, would've liked it better if they'll face an undefeated Baylor squad, but they still can't afford to lose this late in the season.
Read on for more about this showdown. Meanwhile, you can click here for a breakdown of the matchup between Auburn and Arkansas.
Baylor Bears vs. Oklahoma State Cowboys Preview
Where: Boone Pickens Stadium, Stillwater
When: Saturday, November 21
Line: Baylor Bears vs. Oklahoma State– view all NCAA Football lines
TV Broadcast: ESPN
Betting on the Baylor Bears (8-1, 5-1 Big 12)
[sc:NCAA240banner ]This time, the Bears must really be missing Seth Russell. With true freshman Jarrett Stidham throwing the first two picks of his college career and Baylor looking lost on defense, the Bears suffered their first loss of the season on Saturday, 44-34, against Oklahoma.
Stidham, who threw for 257 yards and two touchdowns against the Sooners, however, will be back under center next week in Stillwater, as Baylor won't have Russell for the rest of the season because of a neck injury. With Stidham finally showing some cracks, Baylor might find it prudent to let its backfield take the keys and drive the team's offense against the Cowboys. After all, Oklahoma State presents a tough stop unit that is ranked third in the conference in passing defense and second in interceptions.
In that case, expect Baylor running back Shock Linwood to get lots of carries anew after rushing for 103 yards against the Sooners. Overall, the Bears are averaging 308.88 yards per contest, tops in the Big 12.
Of course, this is still Baylor, so Stidham will still have to go to work use his weapons downfield to throw Oklahoma State's defense off balance. Among those weapons are Corey Coleman and Jay Lee, Baylor's top two receivers. Coleman leads the team with 1,178 receiving yards and 20 touchdowns, while Lee has 568 and six.
Baylor, which averages 356.8 passing yards per game, is 9-1 SU in its last 10 road games.
Create a betting account now and cash in on all the NCAAF action.
Betting on the Oklahoma State Cowboys (10-0, 7-0 Big 12)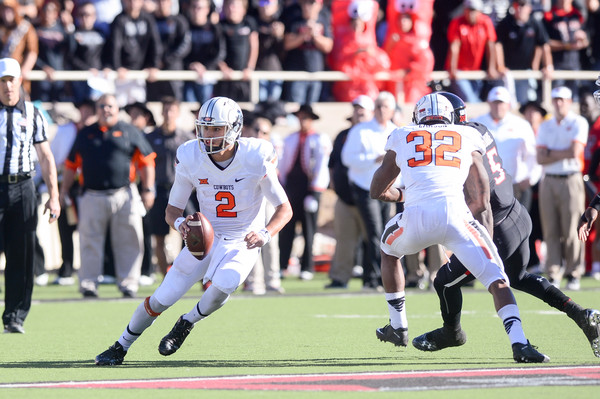 Oklahoma State has its pair of clutch quarterbacks to thank on Saturday following a gutsy 35-31 come-from-behind win over Iowa State.
Down by 10 to begin the second half, Mason Rudolph and J.W. Walsh each had their shining moments to help the Cowboys cut the Cyclones' lead and eventually take the lead in the final quarter.  Rudolph finished the game with 327 passing yards and a touchdown on 24 of 36 completions. Walsh, on the other hand, passed for a touchdown and ran for two more. Overall on offense, Oklahoma State generated 497 total yards, which is on par with the Cowboys' total offense average.
Oklahoma State, however, won't likely get that kind of victory against Baylor should the Cowboys trail big early in Waco. For one, Baylor presents a decisively tougher defense than that of Iowa State. If anything,
Oklahoma State's defense also needs some quick fixes, particularly against the run, if it is to beat the Bears. The Cowboys usually parade a stingy run defense (second in the Big 12 with 147.33 rushing yards allowed per game) but they did let the Cyclones burn rubber for 249 yards on Saturday.
Baylor has the highest scoring offense not just in the conference, but in the nation as well, so the Cowboys would have to find a way to contain Baylor's offense that produces 57.4 points per contest.
Writer's Prediction
Oklahoma State wins, 45-38.
Create a betting account now and build a winning college football parlay.
[sc:NCAA490banner ]
2,078 total views, 1 views today
Comments
comments