The NBA postsesason is at a fevered pitch, as we get set for a pair of Game 6 matches tonight. Two teams go on the road and look to advance to the Conference finals, while two other teams head back home and try to extend their respective series.
First up, the Atlanta Hawks will face the Washington Wizards at the Verizon Center in D.C. after a fiery battle that went down to the wire this past Wednesday. Following that game is the offense versus defense matchup between the Golden State Warriors and the Memphis Grizzlies at the FedEx Forum.
For a more in-depth look at both games, check out our comprehensive previews of the Hawks vs. Wizards and Warriors vs. Grizzlies.
[sc:NBAArticles ]
Atlanta Hawks vs. Washington Wizards (7:00 PM ET)
Line: Atlanta Hawks (+2.5) vs. Washington Wizards (-2.5); total: 197.0 – view all NBA lines
If Game 5 between the Atlanta Hawks and the Washington Wizards is an indication of what we could expect in Game 6, then there's a lot to be excited about. Atlanta prevailed with an 82-81 win over Washington, as the Hawks pushed the Wizards to the brink of elimination in the playoffs. Al Horford came up huge for Atlanta with the game-clinching put-back. He is averaging 17 points on 48% shooting and 10 rebounds per game for the series.
[sc:NBA240banner ]Luckily though for the Wizards, they got John Wall back for Game 5 in spite of the injury on his left hand. His presence is a must-have for the Wizards, as Wall averages 18 points, 10 assists and two steal per game at the Verizon Center. Washington is 3-2 ATS against Atlanta for the series.
Writer's Prediction
Washington (-2.5) forces a Game 7 back in Atlanta with a 99-91 win.
Golden State Warriors vs. Memphis Grizzlies (9:30 PM ET)
Line: Golden State Warriors (-5) vs. Memphis Grizzlies (+5); total: 194.0 – view all NBA lines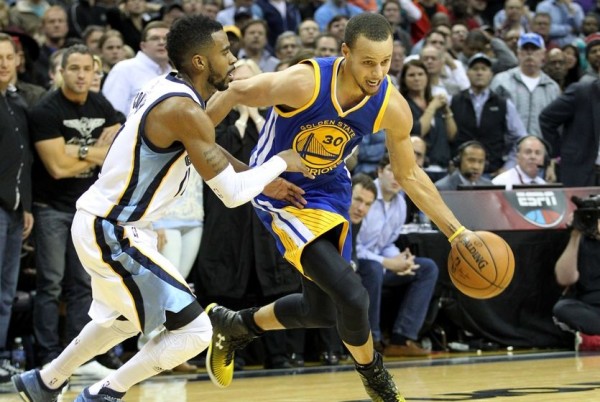 After going down 2-1 in the series, the young Golden State Warriors have overcome the tough obstacles presented by the Memphis Grizzlies, and are now one win away from a ticket to the Western Conference Finals. Led by MVP Stephen Curry, who's averaging 25.5 points and five made threes in his last two games, the Warriors look to continue their offensive barrage in Game 6. They are 5-0 in the playoffs when they score 100 points or more.
Meanwhile, the tough-as-nails Memphis Grizzlies need Marc Gasol and the rest of his team to have a superb offensive outing in Game 6. Gasol is averaging 19 points and 10 rebounds in the series against the Warriors, but Memphis as a team is only averaging 89 points per game. Memphis is 7-2-1 ATS in the last 10 home games.
Writer's Prediction
Golden State (-5) eliminates Memphis from playoff contention, 108-95.
[sc:NBA490banner ]
1,869 total views, 1 views today
Comments
comments