The Heat fly to Toronto in hopes of extending their 11-game winning streak against the Raptors, while the Lakers are in position to earn their first back-to-back wins of the season against the scorching Mavericks.
[sc:BettingArticlesShortcoder ]
Sports Betting Preview for November 5
Top Stories in Sports Today
NFL – Rodgers Hurt as Green Bay Loses to Rival Bears
Josh McCown did a terrific job of filling in for the injured Jay Cutler, throwing for 272 yards and two touchdowns to lead the Bears to a 27-20 win over Green Bay at Lambeau Field. Aside from losing to their rivals, the Packers also lost Aaron Rodgers, who hurt his left shoulder on the opening drive and did not return.
NBA – Warriors Hand Philadelphia Its First Loss
Behind Stephen Curry's second career triple-double (18 points, 12 assists and 10 rebounds) and former Sixer Andre Iguodala's career-high seven three pointers, the Golden State Warriors beat Philadelphia 110-90. The Warriors improved to 3-1 SU in the standings.
NBA – Clippers Nip Houston for Third Straight Win
J.J. Redick scored 19 of his game high 26 points in the first quarter to help the Clippers spoil Dwight Howard's return to LA with a 137-118 blowout of the previously undefeated Rockets.
Top Bet Games to Bet On
Miami Heat vs. Toronto Raptors (7:00 PM ET)
After an impressive season debut during which they spoiled Derrick Rose's return with a 107-95 win over Chicago, the Heat got shocked big time by the 10-point underdogs Philadelphia, who dealt them their first loss of the season, 114-110. It was followed by a 101-100 defeat in Brooklyn. If anything, the back-to-back losses were wake-up calls for the Heat, who many thought might have become too complacent after winning two titles. [sc:NBA240banner ]
The Heat got back to business and beat Washington last Sunday, 103-93. Miami's big three all scored at least 20 points in that game with LeBron James leading the way with a 25 points. Chris Bosh and Dwyane Wade came up with 24 and 20 points, respectively. But the real star of their latest win was their selflessness on offense.
The Heat, who lead the NBA in assists per game with 28, finished with 32 assists on 37 field goals against Washington. Miami is 5-0 SU in their last five games in Toronto. The Heat had also covered the spread in all of their last four games there.
Odds: Miami (-5.5) vs. Toronto (+5.5), O/U: 195.0
Fresh from a 97-90 win in Milwaukee, the Raptors go back to Canada for their match against Miami.
Toronto has been pinning much of their hopes to their highest-paid player in Rudy Gay, but fans are still waiting for him to play to the level he used to display back when he was still a Grizzly. So far, Gay is averaging 17 points per game but his field goal percentage is a horrific .327, shooting 10-of-37 in the Raptors' last two games. If this continues, then don't expect the rumors that he'll be traded this season to die down.
A positive aspect for the Raptors is their tenacity on the boards. Toronto is the NBA's king of rebounds, snaring down 50.0 rebounds per game.
The Raptors are 5-0 SU and 4-1 ATS in their last five home games.
Los Angeles Lakers vs. Dallas Mavericks (8:30 PM ET)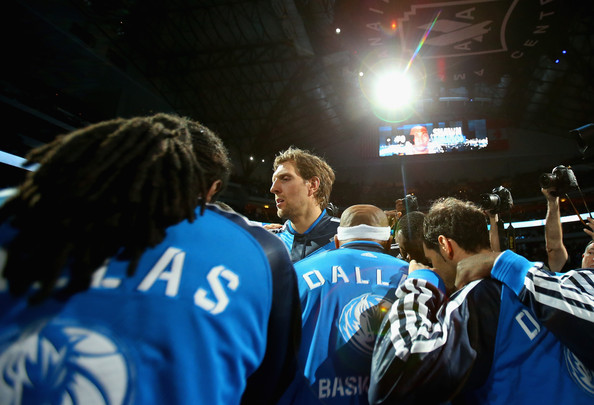 No Kobe? No problem for the Lakers.
Well, it was something like that for the Lakers who are 2-2 SU so far this season. They are coming off a hard-earned 105-103 victory against Atlanta as one-point underdogs.
Steve Nash will make a trip to Dallas with the Lakers after coming up with his best game of the season, scoring 13 points and dishing out six assists with no turnovers in 29 minutes of action against the Hawks. Xavier Henry was a revelation for Mike D' Antoni's team as the 22-year old shooting guard has taken the starting role at the No. 2 position, forcing veteran Nick Young to come off the bench. Henry is averaging 14.3 points per game, scoring 18 points against Atlanta.
The Lakers are 4-0 SU and ATS in their last four games in Dallas.
Odds: LA Lakers (+8.5) vs. Mavericks (-8.5), O/U: (213.5)
Offense has been the name of the game for the Mavericks who have scored no less than 111 points in each of their three games this season. That and a 28th ranked defense explain why the Mavs are 3-0 Over in their last three games.
[sc:NBA490banner ]
Dallas dumped the Grizzlies at home last Saturday with a 111-99 win. Dirk Nowitzki led the balanced-scoring attack of the Mavs with 24 points as four more players scored in double-digits, including Shawn Marion who had an all-around solid game. The 35-year old forward poured in 21 points, grabbed 14 rebounds, and managed four assists.
The Mavericks are 3-0 SU and ATS in their last three games at American Airlines Center.
For the most comprehensive list of NFL, NCAAF, MLB, and NHL game odds and betting lines, visit Top Bet's Sportsbook.
1,880 total views, 1 views today
Comments
comments