There are less than 50 days left before the 2016 college football season begins. And with the excitement for the new season building up, it's only right for us to check out the best games coming our way this 2016. Let's not take any more of your time, below are the five biggest, baddest, and simply the best college football matches on schedule. Also, check out our list of the best games this coming 2016 NFL season.
---
Cash In on the Best Online Sportsbook Offers Now at TopBet!
---
Best 2016 NCAA Football Matchups
1. Alabama at LSU (November 5)

Alabama's stout defense held man-child Leonard Fournette to only 31 rushing yards in a 30-16 win over LSU at Tuscaloosa last year. Well, Fournette is back for another year and he must have circled November 5 on his calendar a long time ago, as he looks to come back stronger this time around. The fact that this game will be played in Baton Rouge only adds to the appeal of the matchup.
2. TCU at Baylor (November 5)
TCU and Baylor have engaged in some high-scoring affairs in the past. Expect more of that when the Horned Frogs make a trip to Waco for a showdown with Baylor. TCU no longer has the tandem of Trevone Boykin and Josh Doctson while Baylor have two quarterbacks coming off surgeries, but look for the offensive juggernaut continue for these two teams that give more premium on offense than stopping the other squad from moving the chains.
3. Clemson vs. Florida State (October 29)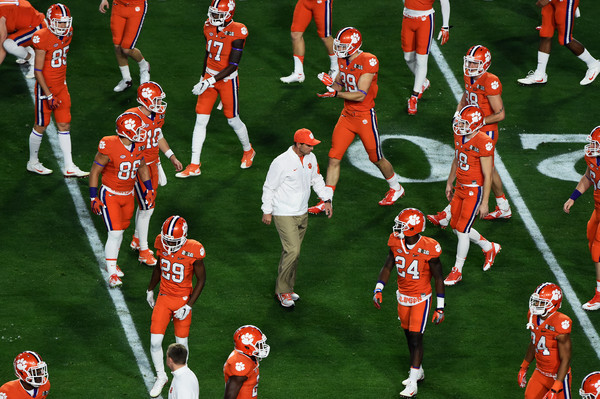 Florida State ruled the ACC from 2012 to 2014, a streak interrupted only by Clemson when Dabo Swinney and his boys won the 2015 conference title and made their way to the national title game. This late October meeting at Tallahassee could very well determine which school will win the ACC. After all, the last five winners of this matchup went on to win the conference title.
4. Michigan vs. Ohio State (November 26)
It doesn't matter how Michigan and Ohio State fared in the previous season. This game catches attentions of football fans on the rivalry narrative alone. The Buckeyes have won all of the last four meetings with Michigan and they'll look to extend their dominance with a new regular starting quarterback in J.T. Barrett.
Michigan, meanwhile, will test its ground game that is hoping for tighter protection from its offensive line that returns four starters. Perhaps nothing highlights a big progress for Michigan under second-year coach Jim Harbaugh than a win over the Wolverine's fierce rivals.
5. Stanford vs. Oregon (November 12)
It's not an ACC nor an SEC game, but any true football fan from the East Coast should pay attention when Stanford squares off with Oregon in the Pac-12. Both schools have combined for five conference titles. Moreover, four of the last five winners of this matchup have gone on to capture the Pac-12 North championship. There are a lot riding on in this game for Stanford and Oregon.
Create a betting account now and cash in on the upcoming NCAA football season.

2,545 total views, 1 views today
Comments
comments