And you thought Week 5 was a great week to get in on the action at Top Bet Sportsbook? There are still a few unbeaten teams heading into Week 6 of the NFL, which has prompted the oddsmakers to set some rather interesting spreads.
The winless Giants are 8-point underdogs against the Bears; the unbeaten Chiefs are 9.5-point favorites against an improving Raiders team; Texans are still favored against the Rams after all the madness Matt Schaub had given us; the surprising Titans will face the heavily favored Seahawks; the Cards, even though they are doing well, come in as 11-point underdog against the Niners; and of course, the Jaguars vs. Broncos game is about as lopsided as it gets.
Here are the 5 best NFL teams to bet on this week:

Carolina Panthers vs. Minnesota Vikings – Sunday, 1 PM ET
The Carolina Panthers and the Minnesota Vikings are both sitting at 1-3 SU and may be a loss away from a season in ruins.
The Panthers may have one of the best defenses in football right now, yet they have the most inconsistent offense in the game. After destroying the Giants in Week 3, they were helpless against the Cardinals. The Vikings are coming off a bye week after a win against the hapless Steelers in London during Week 4.
The Vikings are happy to be back in Minneapolis, where they come in as a 2.5-point favorite and at 4-1 ATS in their last 5 home games. The Panthers, however, are 4-1 ATS vs. a team with a losing record, so this game presents them a good chance to bounce back.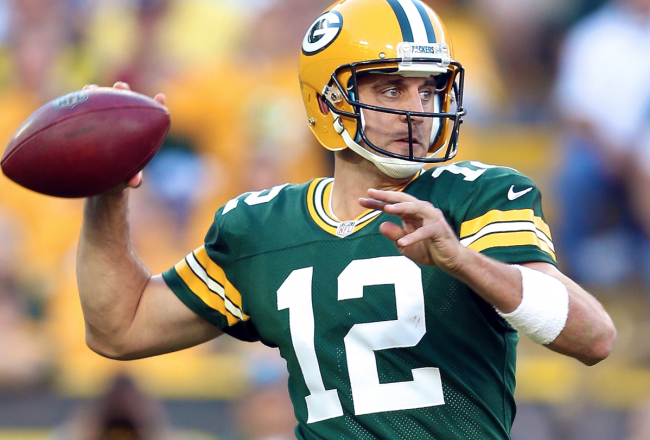 Green Bay Packers vs. Baltimore Ravens – Sunday, 1 PM ET
Aaron Rodgers vs. Joe Flacco will be a good match-up between the two QBs leading their teams to a win last week and hoping they can build from there.
The Green Bay Packers used their Week 4 bye to perfection, beating the Lions last week and got their running game going finally, finishing with a 180 yards. Having a healthy Eddie Lacy helped that cause. The Baltimore Ravens just came from surviving the Dolphins via a missed field goal by Miami.
The Packers have an edge in this meeting, coming in as 3-point favorites and at 4-1 ATS in their last 5 meetings.  However, the Ravens are very comfortable at home, being 4-0 ATS in their last 4 home games.

New Orleans Saints vs. New England Patriots – Sunday, 4:25 PM ET
Unfortunately, the possible hype of this game got swept away when the Patriots lost their first game last Sunday. Like a great quarterback that he is, Tom Brady can still work his magic with his rookie receivers despite not scoring a touchdown pass for the first time in 52 games, making him fall short of the league record.
Coincidentally, the record is held by Drew Brees. He went in 54 consecutive games with a touchdown pass. Brees continues to lead a potent Saints offense with the help of tight end Jimmy Graham and running backs Pierre Thomas and Darren Sproles.
New Orleans is 4-1 ATS in its last 5 games while New England is 9-2 SU in its last 11 games at home. Since the Pats are only favored by 1-point, this is basically a toss-up between two great teams.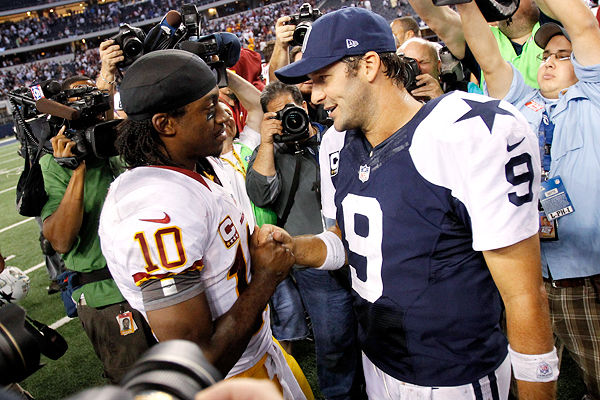 Washington Redskins vs. Dallas Cowboys – Sunday, 8:25 PM ET
The greatest rivalry in football, if not in all of sports, is our feature game on Sunday Night Football.
It is remarkable that the Washington Redskins are only a game behind the division lead and it is fortunate for them that they had a long time to plan for this game and to fix their problems on both ends.
Since the 'Skins were on their bye week, they must have watched the Dallas Cowboys firing rockets last Sunday. Tony Romo's 506 yards and five touchdown game almost beat the Broncos.
The Redskins and the Cowboys are only a game apart for the NFC East lead, which makes this Sunday's game a big one and also, a fun to watch. Dallas comes into this intense rivalry game as a 6-point favorite at JerryWorld.
The Redskins have done very well in the Big D, as they are 6-0 ATS in their last 6 meetings in Dallas. However, judging by last Sunday, the Cowboys can light fireworks for their fans and be successful in it, as they are 4-1 ATS in their last 5 home games.

Jacksonville Jaguars vs. Denver Broncos – Sunday, 4:05 PM ET
On Sunday afternoon, the 5-0 Denver Broncos face the 0-5 Jacksonville Jaguars.
That makes you laugh knowing that the Broncos are dominating opponents and the Jags are consistently getting dominated. In fact, it could be a foregone conclusion that the Broncos will give the Jags an old-fashion butt-whooping.
It won't be pretty as it is, but for the sports bettors out there, this game should be fascinating.
Denver is favored by 28 points over the putrid Jaguars.
According to ESPN, the number ties the highest point spread of all time. It was reported that prior to the AFL-NFL merger; the Colts were favored 28 points over the Falcons in 1966. It's the highest point spread since 1970.
Amazingly, the Jaguars have fared well against the Broncos, carrying a 4-1 ATS record in their last 5 meetings. However, the Broncos are all-business no matter how bad the team they go up against, being 5-0 ATS vs. a team with a losing record.
On a historical note, the Falcons lost by only 12 points back then, so the Jaguars may have a chance. But as we have seen from the Broncos this year, their offense has no remorse.
Come on, Manning. Daddy needs a new pair of shoes.
Bet on the NFL at Top Bet Sportsbook.
2,504 total views, 1 views today
Comments
comments