Carolina preserved its unbeaten record this season with an impressive 27-22 victory over division rivals New Orleans on Sunday. The Panthers will look to keep their hot start going this coming Sunday when they take on the Tampa Bay Buccaneers in an intriguing matchup at Raymond James Stadium.
Who will emerge victorious in this important clash? Read on below for a preview of this NFL showdown and while you're at it, you can check out our previews of Atlanta vs. Houston and Oakland vs. Chicago.
[sc:Football ]
Carolina Panthers vs. Tampa Bay Buccaneers Preview
Where: Raymond James Stadium, Tampa
When: Sunday, October 4, 1:00 PM ET
Line: Carolina Panthers (-3) at Tampa Bay Buccaneers (+3); total: 40.0 – view all NFL lines
TV Broadcast: FOX
Betting on the Carolina Panthers
The Carolina Panthers will head to their showdown with Jacksonville with momentum on their side after eking past the New Orleans Saints, 27-22, on Sunday. It was another solid victory for the Panthers, who are 3-0 for the first time since their Super Bowl season back in 2003.
[sc:NFL240banner ]Just like in their opening two games against Jacksonville and Houston, it was Cam Newton who stole the show for the Panthers against the Saints. The star quarterback completed 20 of 31 passes for 315 yards and two touchdowns. Newton also displayed his dual-threat ways, running for a 13-yard touchdown on a bootleg in the fourth quarter.
Pro Bowl tight end Greg Olsen was Newton's favorite target once again, catching eight passes for 134 yards and two touchdowns. Tedd Ginn Jr. also benefited from Newton's masterful performance, grabbing four receptions for 93 yards.
That being said, the Panthers need to improve on their defense if they are to extend their winning streak against the Bucs. The Carolina defense that came in ranked fifth in the NFL gave up way too many big plays in the win against New Orleans. They allowed the Saints to rack up a total of 380 yards, with Saints backup QB Luke McCown passing for 318 yards.
They will fancy their chances, however, against a Tampa Bay side that has struggled mightily on the offensive end this season. The Bucs are fifth-worst in the NFL in total offense this season, averaging just 303.0 yards per game this campaign. The Panthers will also take comfort in the fact that they have dominated the Buccaneers in their recent meetings. The team haS won its last four games against the Bucs.
The Panthers are 4-5-1 SU and 5-4-1 ATS in their last 10 road games.
Create a betting account now and put your NFL predictions to the test!
Betting on the Tampa Bay Buccaneers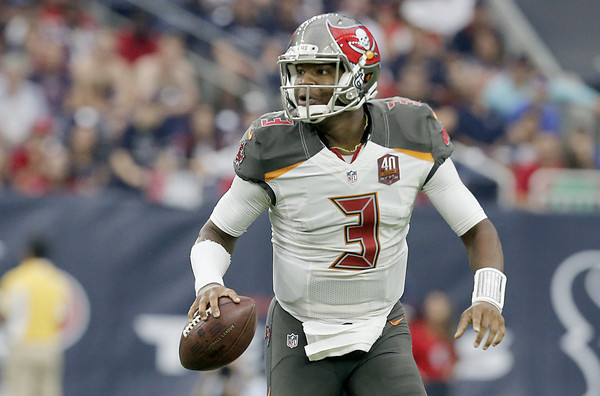 The Tampa Bay Buccaneers were sent crashing back to earth on Sunday with a deflating 19-9 loss to the Houston Texans. The Bucs had an excellent chance to record their second straight road victory, but several missed opportunities on the offensive end denied them a 2-1 slate. Kicker Kyle Brindza was the main culprit for the Bucs' loss, missing three field goals and an extra point. The Bucs' kicking team left 10 points on the field, which happened to be the margin of victory for Houston.
For the Bucs to return to winning ways against the Panthers, they need to do a much better job on their third-down opportunities. They converted just one of their 12 third-down attempts against Houston on Sunday. The onus then is on Jameis Winston to improve on his passing accuracy. He completed just 17 of 36 passes against Houston for a measly rating of 69.3.
It's important for Tampa Bay as well to improve on its faltering ground game against Carolina. The Bucs rushed for just 57 yards on 20 carries against the Texans on Sunday, and the team is currently 20th in the NFL in rushing offense this season, averaging just 96.0 yards per game. It won't get any easier for them against a Carolina defensive line that's allowing just 75.7 rushing yards per game this season, fourth-best in the entire league.
The Bucs are 0-10 SU and 2-8 ATS in their last 10 home games.
Writer's Prediction
Carolina (-3) extends its winning streak to four games with a commanding 31-14 victory.
[sc:NFL490Banner ]
2,164 total views, 1 views today
Comments
comments