Defensive woes haunted the Chicago Bears and the Carolina Panthers in Week 4 as they both suffered humiliating defeats and fell to 2-2 on the season. The Panthers continue to struggle on defense, an area they were expected to excel in 2014, while the Bears have swung from a team that couldn't stop the run to a team that can't defend the pass.
Which defense can get it figured out first? Read on for a complete preview of this NFL showdown and while you're at it check out our preview of the Sunday Night Football tilt between Cincinatti and New England.
[sc:Football ]
Chicago Bears vs. Carolina Panthers Preview
When: Sunday, October 5, 1:00 PM ET
Where: Bank of America Stadium, Charlotte
Line: Chicago Bears (+2.5) at Carolina Panthers (-2.5); total: 45.5 – view all NFL lines
Betting on the Chicago Bears
The Chicago Bears defense has plenty of questions to answer after a horrendous showing against the Green Bay Packers last Sunday in which they allowed 38 points in a one-sided contest.
[sc:NFL240banner ]Quarterback Aaron Rodgers had a field day completing 22 of 28 passes for 302 yards and four touchdowns while finding receiver after receiver in space. His 151.2 passer rating was the best rating recorded against the Bears since 1965.
Much of the blame should go to the Bears' pass-rush which recorded zero (!) quarterback hits on Rodgers as they had problems solving the Packers' no-huddle offense. It didn't help that star pass rusher Jared Allen missed week 5 with pneumonia, but even without him the Bears should have been able to do more against a Packers offensive line that has real issues.
Because of the lack of defensive pressure, wide receivers Jordy Nelson and Randall Cobb were able to dominate, becoming the first Packers duo to have two touchdown receptions and exceed at least 100 yards in the same game since 1969.
Through four games this season, the Bears are 20th in the league in passing defense allowing 372.8 yards per game. It won't get much easier for them this coming Sunday when they travel to Charlotte to face the Panthers, as Cam Newton has looked dangerous this year, leading Carolina to 13th in the league in passing offense with an average of 256.8 passing yards per game.
Although the Bears' defense committed plenty of lapses the entire game, the offense has to be held accountable as well. Before the game against the Packers, the Bears were averaging 25 points per game. They were limited to just 17 in this game.
Cutler completed 22 of 34 passes for 256 yards and two touchdowns but also threw two picks as he had difficulty breaching the Packers passing defense that is fifth-best in the NFL this season. He will have a much easier time this coming Sunday although the Panthers are still 12th in the NFL in passing defense this season with opponents averaging 233.0 yards against them.
Chicago has won both of their road games this season. The Bears are 2-2 ATS this year.
Create a betting account now and cash in on all the NFL action in a power-packed Week 5.
Betting on the Carolina Panthers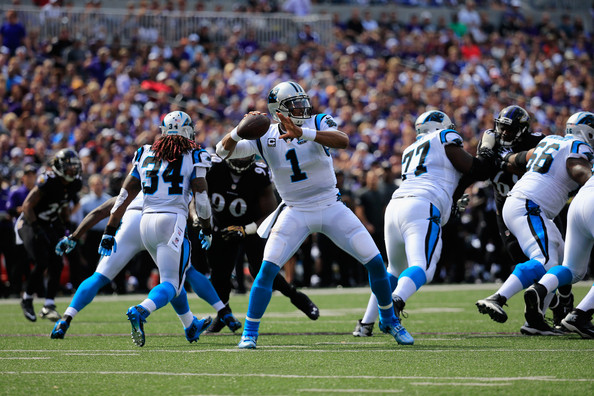 For the second-consecutive week, the Carolina Panthers defense was ripped into shreds as they were blown out 38-10 by the Baltimore Ravens.
Ravens wide receiver Steve Smith came back to haunt his former team with seven catches for 139 yards and two touchdowns as he led a Baltimore attack that had a total of 454 yards during the game.
The Panthers have now allowed an average of 37.5 points in their last two losses. That is a far cry from their first two games where their opponents averaged just 10.5 points per outing.
It's not only the defense that is having some problems now. Quarterback Cam Newton had a miserable showing against the Ravens as well, completing just 14 of 25 passes for 197 yards and a touchdown.
It surely didn't help things that his rushing attack was decimated with injuries. Leading rusher Jonathan Stewart was out with a knee injury while DeAngelo Williams left in the second quarter with an ankle sprain.
The Panthers rushed for a total of 67 yards, a disappointing number considering that the Panthers were only 27th in rushing defense with opponents averaging 140.8 yards against them. It will only get tougher for them next game as the Bears are a much better defensive team against the rush this season allowing just 122.5 rushing yards per game this year.
With Stewart and Williams injured, undrafted rookie Darrin Reaves will carry the rock for Carolina in this one. The former University of Alabama-Birmingham running back rushed for 2,343 yards on 496 carries in college, and has rushed for an average of 2.2 yards per carry on 26 touches this season. Behind a suspect offensive line, Reaves could be in for a long day in his rookie debut.
In their last two games, the Panthers have only scored a total of 29 points and have been outscored by their opponents by an average of 23 points. The onus then is on Cam Newton to improve on his play, particularly on his passing game this coming weekend.
Newton is 16th among starting quarterbacks in the passing yards department with an average of 242.7 per game. His passer rating of 98.2 is just good enough for 20th place in the entire league. He will need to attack Chicago more as the Bears are only 22nd in total defense with teams averaging 372.8 yards against them through their first four assignments.
The Panthers are 2-2 ATS this season.
Writer's Prediction
The Bears (+2.5) roll to their third away win of the season.
[sc:NFL490Banner ]
1,529 total views, 2 views today
Comments
comments