To some, Aaron Rodgers is the baddest man on the football field. That perception has been way off, though, the last two weeks with the Green Bay Packers getting their butts kicked by the Denver Broncos and the Carolina Panthers. The Packers now look to end their slump when they welcome NFC North doormats Detroit Lions in a showdown at Lambeau Field. Will the Packers annihilate a struggling Detroit squad? Or will the Lions have some surprise in the bag after a long layoff?
For more Week 10 game previews, you can also read our breakdown of Bills vs. Jets and Browns vs. Steelers.
NFL News and Previews
Detroit Lions vs. Green Bay Packers Preview and Prediction
Where: Lambeau Field, Green Bay
When: Sunday, November 15, 1:00 PM ET
Line: Detroit Lions vs. Green Bay Packers – see all NFL lines
TV Broadcast: CBS
Betting on the Detroit Lions (1-7)
The latest example of Detroit's ineptitude came in Week 8, when the Lions were handed a 45-10 beating by Kansas City. Detroit's offense has been particularly ugly in that game, as Matthew Stafford threw for 217 yards and a touchdown with two interceptions, while also being sacked six times. The Lions backfield was also toothless, compiling just 81 yards and no touchdowns.
Green Bay's defense has been a letdown of late, but it's going to be hard for the Packers to respect Detroit's offense, especially if the Lions' offensive line continues to suck. Stafford has been offered a pathetic protection this season, as he's been taken down 22 times this season (13 in the last two games). Give Stafford enough time in the pocket and something may happen to Detroit's passing offense that has the likes of Calvin Johnson and Golden Tate waiting for targets downfield. Johnson has 659 receiving yards and three touchdowns this season, while Tate has 377 yards and a couple of scores.
A sturdier O-line may also translate for better production from Detroit's backfield that averages just 69.6 rushing yards per game. Perhaps matchup against Green Bay's run defense that allows 125.1 yards per game would bring spark to the likes of Ameer Abdullah and Joique Bell, who made some people laugh by combining for 73 yards on 12 carries in the Kansas City game.
Detroit is 2-1 SU and ATS in its last two meetings with the Packers.
Create a betting account now and cash in on all the NFL regular season action.
Betting on the Green Bay Packers (6-2)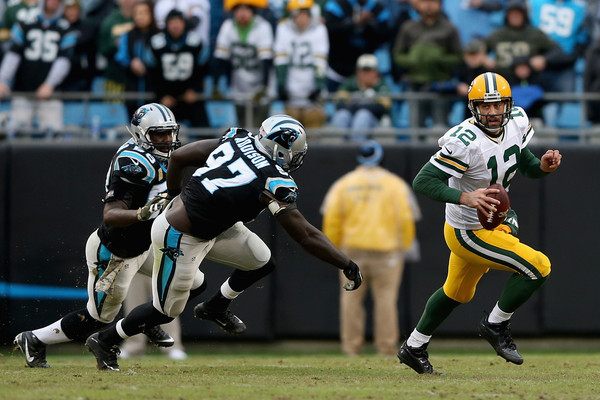 Suddenly, the Packers aren't looking like world-beaters anymore. After beginning the season like a ball on fire, winning six games in a row, Green Bay has now dropped two-straight contests, which includes a 37-29 loss to Carolina on Sunday. That said, the Packers look good enough to slice and dice a Detroit team that is fast careening out of playoff contention. For one, the Packers are 20-0 SU and 14-5-1 ATS in its last 20 home games against Detroit.
Fancy-trends aside, Aaron Rodgers and company should be able to power through Detroit's defense. The last two losses of Green Bay came against the top rated defenses of Denver and Carolina, both of which are the complete opposite of the Lions' whack job of a defense that ranks last in the NFL with 30.6 points allowed per game.
Rodgers bounced back from a sorry 77-passing-yard output in the loss to the Broncos by throwing for 369 yards and four touchdowns against Carolina. He was sacked five times, though, by the Panthers and that's something Green Bay has to improve on moving forward. While Detroit's defense has been attracting tons of criticisms, it pass rush manages to look decent by ranking 11th in the league with 20.0 sacks.
The Lions' backfield, meanwhile, appears to be in a urgent need of a slap in the face, Eddie Lacy in particular. Lacy has been a disappointing component in the Packers' offense this season. He rushed for only 10 yards on five carries against Carolina, thus extending his search for a 100-rushing-yard game this season.
Writer's Prediction
Green Bay wins, 32-20.
Create a betting account now and create a winning NFL parlay.

1,322 total views, 1 views today
Please follow and like us:
Comments
comments