To say that the Detroit Lions are having a bad season is an understatement. The Lions are clearly on their way to being flushed out of the playoff race and are merely hoping to get as many wins as possible to gain some respectability. The Kansas City Chiefs' situation isn't as morose, but they have to start stitching some wins together if they intend to catch the boat to the postseason.
For more Week 8 game previews, you can also read our breakdown of Vikings vs. Bears.
[sc:Football ]
Detroit Lions vs. Kansas City Chiefs Preview and Prediction
Where: Arrowhead Stadium, Kansas City
When: Sunday, November 1, 9:30 PM ET
Line: Detroit Lions vs. Kansas City Chiefs – see all NFL lines
TV Broadcast: FOX
Betting on the Detroit Lions (1-6)
[sc:NFL240banner ]November is just a few days away and yet the Lions still have only a win to show. Following a 28-19 loss to Minnesota on Sunday, the Lions look to avoid adding to their embarrassment when they take on Kansas City for their Week 8 assignment. The Lions are 2-2 ATS in their last four road games.
The Vikings game was another highly frustrating loss for Detroit, which held a 14-3 lead at the end of the first quarter. But no thanks to the Lions' sputtering offensive line, Detroit was only able to put up five points the rest of the way.
Matthew Stafford passed for 256 yards and two touchdowns but could have done more if it weren't for Detroit's porous O-line that couldn't stop Minnesota from sacking Stafford seven times. Kansas City's pass rush isn't as productive as it was in previous seasons, but Detroit can't afford to relax with the Chiefs' tandem of Justin Houston and Allen Bailey always a threat.
Detroit's need to protect Stafford becomes even more apparent when considering just how barren the team's backfield has been this season. While the Lions are fourth in the league in passing with 292.2 yards per game, the team's rushing attack is only mustering 66.5 yards per week, the worst in the NFL.
Neither Ameer Abdullah nor Zach Zenner has been dependable in handling the rock, as both running backs have combined for only 239 rushing yards and one touchdown thus far this season.
If there's good news for Detroit, it's that Eric Ebron has returned to action after missing Week 6 with a knee problem. Ebron produced his best game of the season against Minnesota, as the tight end caught all five targets for 89 yards and a touchdown.
Create a betting account now and cash in on all the NFL regular season action.
Betting on the Kansas City Chiefs (2-5)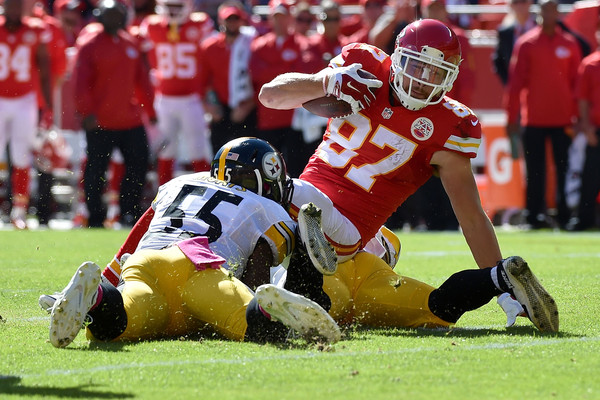 Albeit against a Pittsburgh team sans Ben Roethlisberger, the Chiefs' 23-13 win over the Steelers on Sunday was a satisfying one for Kansas City, which was in desperate need for a victory.
What made the win even sweeter for the Chiefs was the emergence of Charcandrick West as a dependable replacement for the injured Jamaal Charles. West blew up Pittsburgh's defense for a season-high 110 rushing yards to go along with his first touchdown of the season. The confidence West got in that game should serve him well against Detroit, which is giving up 123.4 rushing yards per game—25th in the NFL.
West's ground game was a solid complement for Kansas City's passing attack. Alex Smith passed for 251 yards and hooked up with Travis Kelce for a score against Pittsburgh. Smith has 1,573 passing yards and six touchdowns this year, while Kelce has 489 receiving yards and two touchdowns.
Hopefully for Kansas City, though, Jeremy Maclin will be fully recovered from a concussion by the time the Chiefs host Detroit this Sunday. Maclin is the Chiefs' top receiver, as he leads the team in receptions (39) and receiving yards (531). Considering the Lions have a weak pass defense that surrenders 268.9 passing yards per game, Smith and Kelce are likely to continue their blossoming chemistry.
Kansas City is 7-3 ATS in its last 10 home games.
Writer's Prediction
Detroit wins, 25-21.
Create a betting account now and create a winning NFL parlay.
[sc:NFL490Banner ]
1,751 total views, 1 views today
Comments
comments