Is there any better way to cap off another tiresome start of a working week than with a stellar Monday Night Football game between two of the best offensive forces in the NFC? We think not.
The Seattle Seahawks finally got on the win column this season with an emphatic drubbing of the Bears, while the Detroit Lions are still seeking their first 'W' after a disheartening loss to the Broncos in Week 3. Will the Lions finally get on the board next Monday, or is it already time for another one of Seattle's unstoppable runs toward another Super Bowl appearance?
Read on as we break down this upcoming compelling matchup. For more coverage on Week 4's best games on tap, head on over to our previews for Baltimore vs. Pittsburgh and New York Jets vs. Miami afterwards.
[sc:Football ]
Detroit Lions vs. Seattle Seahawks Preview
Where: CenturyLink Field, Seattle
When: Monday, October 5, 2015 8:30 PM ET
Line: Detroit Lions (+10) at Seattle Seahawks (-10); total: 43.0 – view all NFL lines
TV Broadcast: ESPN
Betting on the Detroit Lions
Uh-oh, there's a lot of turmoil in the Motor City right now with the Detroit Lions still failing to notch their first win of the season after falling at home to the Denver Broncos, 24-12, on Sunday night. Before we start pointing all our fingers at head coach Jim Caldwell, let's try to list down all of Detroit's problems seen in the game against Denver.
[sc:NFL240banner ]First off, Matthew Stafford has continued to be an erratic playmaker. The seven-year Lions QB connected on 31 of his 45 passes against the Broncos, but did also throw two boneheaded picks and finished with just 282 yards (considering that a 300-yard game is all but a given for him on a nightly basis). Stafford now has six interceptions for the season, which is just as much as the number of touchdowns that he has thrown.
And how can Stafford get Detroit's passing game going if the run doesn't improve? Running backs Ameer Abdullah and Joique Bell have combined for a ghastly 40 rushing yards on 23 carries over the past couple of games.
Even worse, the Lions are travelling to CenturyLink Field, where the Seahawks take top-flight on almost any given game. Detroit has lost six of its last seven road games, and four of the last five games against teams from the NFC West.
However, the Lions were the winners in their last bout with Seattle, albeit a 28-24 thriller back in 2012 played in Michigan against Russell Wilson in his inaugural season as a pro. A lot of things have to go Detroit's way next Monday night, and a little of Seattle's tough luck from Weeks 1 and 2 this season would hurt either.
Create a betting account now to start wagering on every spectacular Monday Night Football battle and all the other regular season games on tap.
Betting on the Seattle Seahawks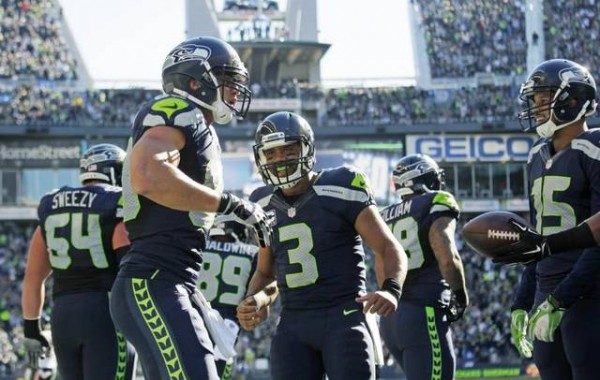 A 26-0 shutout of the Chicago Bears is exactly the type of shot in the arm that the Seattle Seahawks needed to break out of their unexpected funk to start off the young 2015 season.
Russell Wilson's slowly finding his elite form again after throwing for 235 yards on 20-of-30 passing against the Bears this past Sunday. Even more promising is that his main target in that game was Jimmy Graham, who showed a hint of frustration towards the Seattle organization after his one-reception game in Week 3. In Week 4, however, Graham paved the way for the Seahawks' revived passing game by leading the team with his seven catches and 89 yards to go with a trip to the end zone.
What's also uplifting for Seattle is that its ground attack kept on chugging along even with Marshawn Lynch having to call it a day by halftime after having a problem with his hamstring. Leave it to undrafted rookie, Thomas Rawls, to pick matters up where Lynch left off. Rawls finished the game with 104 yards on 16 carries, with 98 of those yards coming in the second half.
Speaking of overcoming injuries, losing defensive tackle Brandon Mebane (groin) in the first quarter of Sunday's game with the Bears didn't faze Seattle's D at all. The unit still managed to limit Chicago to just 63 yards in the air (granted that it was just to Jay Cutler's backup in Jimmy Clausen) and 74 yards on the ground behind Matt Forte's 20 rushing attempts.
The key for Seattle's secondary would be to limit Detroit's Matthew Stafford to under 300 passing yards next Monday night. Stafford has failed to hit the 300-yard barrier in all of his games this 2015 and as a result, the Lions are still winless. To add, and to go back to that Detroit game against Seattle in 2012 we mentioned earlier, Stafford torched the Seahawks then for 352 yards and four touchdowns (three of them through the air) en route to a victory for the boys from Michigan.
Writer's Prediction
Make it two wins in a row for Seattle (-10), 27-20.
[sc:NFL490Banner ]
2,294 total views, 1 views today
Comments
comments