The Dallas Cowboys were given the nickname "America's Team" thanks, in part, to their massive following in the United States.
They are loved by many and hated by more. Around the country, it is fine to flaunt their fandom in Cowboy country, but there are places where they should never go.
5 Places Dallas Cowboys Fans Should Avoid:
1. All NFL Stadiums except AT&T Stadium
We start with the most obvious.
Every NFL football city has a rabid dislike towards the Cowboys.
Dare to step foot in any stadium and its parking lot outside Arlington with a Cowboys jersey?

2. Austin Avenue Sports Grill & Bar in Plano
A bar near metro Dallas where the Burgundy and Gold Club, the Washington Redskins' official fan club, meet every Redskins game. Not where you want to spend your NFL viewing pleasure unless you are wearing a Redskins jersey.
3. Fred's North Texas Café in Fort Worth/ The Bar in Plano
Both bars are meet-up places for the Eagles' Nest, the Dallas-based official fan club of Philadelphia Eagles. Like going to a Redskins' bar, be careful going in there when there is an Eagles game—if you're a fan of the Cowboys.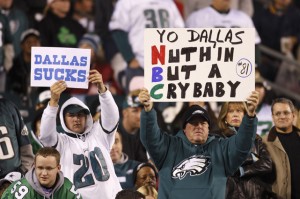 4. Philadelphia
The City of Brotherly Love is not very brotherly towards the Cowboys. If you plan on going around the city in silver and blue, you'll be better off in West Philly (where there are known Cowboys bar).
Philadelphia is home to some of the most notorious fans in pro sports. If you are a Cowboys fan in Philadelphia,you're probably hoping Lincoln Financial Field still has the Eagles' Court.
5. Washington, D.C.
Other than Hill Country (a D.C. bar that supports the Dallas Cowboys), anywhere in the nation's capital is red zone for a Cowboys fan.
The rivalry between the two teams has developed a burning hatred between  fans.
For any Cowboys fan in the District, best way is to stay away from any of the tourist spots with a Cowboys jersey or your jersey will be haven for the Hogs.
If you're a Dallas Cowboys fan, these are the places to avoid. At least here at Top Bet, we greatly appreciate you betting on your favorite team in any Dallas Cowboys game.
More on the Cowboys:
6,597 total views, 3 views today
Comments
comments