Xavier Rathan-Mayes has been an instant hit during his first eligible season on the court for the Florida State Seminoles. The All-ACC Freshman Team member has led the way for the Noles offensively in the absence of Aaron Thomas, at times almost single-handedly carrying the team on his back.
Can the talented young guard pull off another awesome performance and carry the Noles past Clemson in the second round of the ACC Tournament? Read on for our break down of that game below. And for more ACC action, check out our preview of Pitt vs. NC State.
March Madness News & Predictions
Florida State Seminoles vs. Clemson Tigers Preview
Where: Greensboro Coliseum, Greensboro
When: Wednessday, March 11, 12:00 PM ET
Line: Florida State Seminoles at Clemson Tigers – view all NCAA Basketball lines
Betting on the Florida State Seminoles
Florida State halted its three-game slide by beating Pitt, 61-52, in its regular season finale last Saturday. Freshman guard Xavier Rathan-Mayes once again led the way for the 'Noles with 19 points, four rebounds and five assists.
Rathan-Mayes should continue to be the main man in the 'Noles' third meeting with Clemson. He was instrumental in each of their first two meetings against Clemson, where he averaged a team-high 16 points.
Look for Rathan-Mayes to be aggressive in driving to the paint against Clemson's undersized frontcourt missing that intimidating rim protector. The freshman has been in attack mode recently, going to the line 10 or more times twice in his last three games.
But in order to advance in the tournament, the 'Noles will need more production from his backcourt partner, Devon Bookert. The junior guard had 14 points in FSU's 59-55 win at Clemson on Jan. 19, but was limited to just six shots and 10 points at home in a 62-56 loss against the Tigers.
Bookert, though, has been mired in a significant slump to end the regular season. He's averaged just seven points and shooting a miserable 19 percent in his last four games.
Florida State was terrific as an underdog away from home this season. The 'Noles covered their last six road games, five as underdogs.
Betting on the Clemson Tigers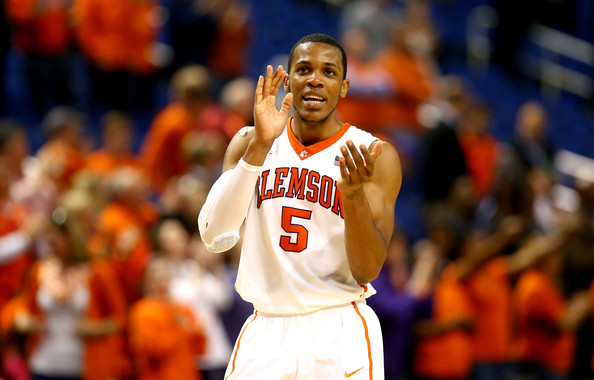 Clemson closed out conference play much like how it started – on a losing streak. The Tigers lost their last two games to North Carolina State (66-61) and Notre Dame (81-67), and dropped four of their last five ACC games overall.
Leading scorer Jaron Blossomgame (13 points, eight rebounds per game) bounced back from his worst shooting night of the season – a 2-of-12 stinker at home against NC State – with 22 points and 10 rebounds against the Irish. He also led the Tigers with 19 and nine in their 70-63 overtime win over Georgia Tech.
Blossomgame is the team's most consistent offensive weapon, and he'll need another solid outing against the 'Noles. He's played very close to his season norms against FSU, averaging 12 points and 7.5 rebounds in the first two meetings this season.
The key for Clemson, though, will be which other Tigers step up to help Blossomgame score. The starting backcourt of Jordan Roper (6.5 points) and Rod Hall (8.6 points) each had rare double-digit scoring games against FSU this season, but they've averaged a combined 12 points per game over their final five games.
Wiht scoring options limited, freshman forward Donte Grantham could once again be called upon to do some damage against Florida State. Grantham scored double figures in just six ACC games this season, but two of those games came against the Noles.
Writer's Prediction
Rathan-Mayes leads Florida State to an upset win over Clemson. Create a betting account now and start profiting off of the many upsets that Championship Week brings.
1,299 total views, 2 views today
Please follow and like us:
Comments
comments