Don't look now, but the mighty Golden State Warriors are in big trouble. The Memphis Grizzlies have taken control of their second round series with the West's No. 1 seed after a 99-89 Game 3 win. For the second straight game, the Grizzlies ground the Warriors' high-octane offense to halt and battered them inside. The Grizz now have a golden opportunity to go 3-1 up at the Grindhouse in Game 4 on Monday.
The Splash Brothers, especially MVP Stephen Curry, have been ice cold from beyond the arc in the last couple of games. Can they heat up in time to tie the series up? Read on below for our preview of this critical Game 4.
Monday's other Game 4 also sees the Atlanta Hawks, the East's No. 1 seed, trying to avoid a 3-1 hole against the Washington Wizards. Check out our preview of that game here.
[sc:NBAArticles ]
Golden State Warriors vs. Memphis Grizzlies Game 4 Preview
Series Scores & Schedule
Game 1 — May 3 – Memphis Grizzlies 86 at Golden State Warriors 101
Game 2 — May 5 – Memphis Grizzlies 97 at Golden State Warriors 90
Game 3 — May 9, Golden State Warriors 89 at Memphis Grizzlies 99
Game 4 — May 11, 9:30 PM ET, Golden State Warriors (-5) at Memphis Grizzlies (+5); total 196.5 – view all NBA lines
Game 5 — May 13, Time TBD, Memphis Grizzlies at Golden State Warriors
Game 6* — May 15, Time TBD, Golden State Warriors at Memphis Grizzlies
Game 7* — May 17, Time TBD, Memphis Grizzlies at Golden State Warriors
* if necessary
Betting on the Golden State Warriors
The Golden State Warriors have a fight on their hands. After basically breezing through the regular season, the Warriors are getting their first real taste of adversity all year long against the Grizzlies, who are straight up bullying the No. 1 seed.
[sc:NBA240banner ]MVP Stephen Curry is off his game. His scoring has dropped from 34 points per game in the Pelicans series to just 21 against the Grizzlies, while his three-point shooting has plummeted from nearly 41.7 percent to a woeful 27.6 percent.
Klay Thompson hasn't been much better at 17 points and 35 percent from three. The Splash Bros. are shooting a combined 8-of-33 (24.2 percent) from three-point range in the past two games.
Meanwhile, Draymond Green has struggled mightily offensively over the last two games (20 points on 4-of-19 shooting) because of his size disadvantage coupled with the sheer beating he's taking trying to guard Zach Randolph and Marc Gasol.
Green has been playing a lot of center as head coach Steve Kerr has tried going small to jumpstart his team's fading offense, but to no avail. Backup big man Marreese Speights injured his calf in Game 3, which could mean even more minutes for Green.
It seems overly simplistic, but the Warriors just need to make shots. They certainly did during the regular season, as they had the second-best offense in the league (109.7 points per 100 possessions). As good as the Grizzlies' defense is, it's hard to imagine them holding Curry and Thompson to 24 percent three-point shooting for much longer. The Warriors have not lost three straight games all season.
Betting on the Memphis Grizzlies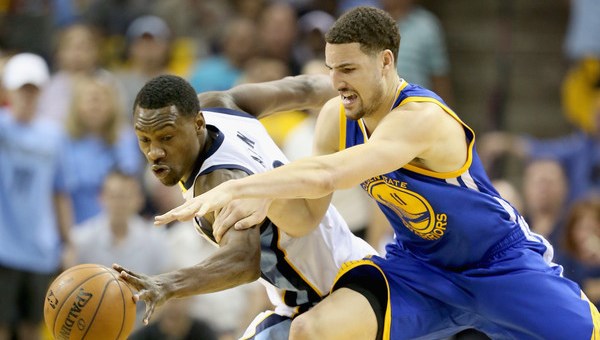 The Memphis Grizzlies are straight up imposing their style of play – and their will – onto the No. 1 seed Warriors. On paper, the Grizzlies pose some bad matchups for the Warriors, and those have manifested themselves on the court in the past two games.
It starts inside, with Zach Randolph and Marc Gasol doing work. The Grizzlies' bruising frontcourt combined for 43 points and 23 rebounds in the Game 3 win as they dominated down low against the overmatched Draymond Green. Randolph, in particular, has been feasting on the smaller Green. He's averaging 20.7 points on 54.3 percent shooting through two games.
Meanwhile, their trademark physical defense is just flat out suffocating one of the best offenses in the league. After holding the Warriors to 90 points at Golden State – and condemning them to just their third home loss all season – the Grizzlies did one better by limiting them to 89 points in Game 3. It's only the third time the Warriors have scored less than 90 points this year.
Mike Conley didn't have the same impact offensively in Game 3 (11 points, 3-10 FGs) than in Game 2 (22 points, 8-12 FGs), but he and Tony Allen continued to make their presence felt on the defensive end.
Allen, in particular, had another "First Team All-Defense"-type night on Klay Thompson. He finished with four more steals, giving him 11 in the first three games. He and Conley have rattled the Splash Brothers so hard that Thompson and Curry – who are excellent free throw shooters – both missed a pair of free throws in the fourth quarter of Game 3.
After discovering the blueprint to beat the Warriors, the challenge now is to keep their intensity up. The energy from the Grindhouse was excellent in Game 3, and will be crucial in providing that extra spark in Game 4. Since getting blown out by the Warriors on March 27, the Grizzlies are 8-1 (7-1-1 against the spread) in their last nine home games.
Writer's Prediction
Curry and Thompson rediscover their deadly shooting strokes as the Warriors gun down the Grizzlies, 105-92, in Game 4. Create a betting account now and discover your passion for handicapping basketball with the NBA playoffs.
[sc:NBA490banner ]
2,218 total views, 1 views today
Comments
comments