How about them Redskins? The Washington Redskins won NFC East, using a four game win streak to end the regular season. The Redskins now get to host a Wild Card Playoff game against the reeling Green Bay Packers.
Having home-field advantage is crucial for the Redskins. They generally play better at home, while the Packers thrive at home. But it's the playoffs in which Green Bay's Aaron Rodgers has plenty of experience. Washington's Kirk Cousins only has 11 snaps worth of postseason experience.
Can the Packers get past their hurdles to beat Washington? Or will the Redskins surprise as they enter the Divisional Round? Read on for everything you need to know heading into this game. Dive deeper into the NFL Playoffs experience with our complete previews for the Seahawks vs. Vikings and Chiefs vs. Texans.
[sc:Football ]
Green Bay Packers vs. Washington Redskins Preview
Where: FedEx Field, Landover
When: Sunday, January 10, 4:40 PM ET
Line: Green Bay Packers (-1) at Washington Redskins (+1); total: 45.5 – view all NFL lines
TV Broadcast: FOX
Betting on the Green Bay Packers (10-6)
The Green Bay Packers looked bad. First they were blown out 38-8 in Week 16 at Arizona. Then, they lost 20-13 at home to the Minnesota Vikings in the de facto NFC North Championship Game. Quarterback Aaron Rodgers has looked very human in both games, registering a quarterback rating of 9.4 against Arizona and 33.6 against Minnesota.
[sc:NFL250 ]The backfield has also struggled. Eddie Lacy has run for just 94 yards in the past two games, while James Starks has 35 yards with a lost fumble. Both Lacy and Starks could shine in this matchup against the Redskins, though. Washington is allowing 4.8 yards per carry this season and ranks 26th in the league with 122.6 yards allowed per game.
Threatening on the ground could help Green Bay utilize Rodgers' arm even more in this matchup. The Redskins have a pretty leaky passing defense, allowing 258 yards per game and 30 touchdowns in the regular season. Rodgers still has plenty of weapons to utilize in the receiving trio of James Jones, Randall Cobb and tight end Richard Rodgers.
Jones and Cobb have put on plenty of yardage, combining for 1,719 yards receiving. They've also been solid scorers combining for 14 touchdowns in the regular season. Richard Rodgers has also been a pretty solid target for his quarterback, especially in the red zone. He's tied for the team lead with eight receiving touchdowns in the regular season.
The Packers have a pretty good shot at stalling Washington's aerial attack with a pair of pass-rushers. Linebackers Julius Peppers and Clay Matthews lead the pass-rush with 10.5 and 6.5 sacks respectively. Peppers has been hot recently with 3.5 sacks in his last three games, while Matthews ended the season on a high note with a sack against Minnesota quarterback Teddy Bridgewater.
Peppers and Matthews should be solid. That is if they can get past Washington's solid offensive line, which has given up the fourth-least sacks (27) in the regular season.
The Packers are 7-3 ATS in their last 10 on the road, including a come-from-behind loss in last season's Divisional Playoff game at Seattle.
Betting on the Washington Redskins (9-7)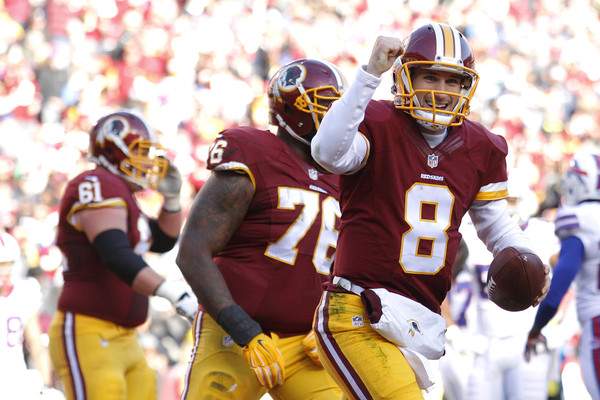 Washington Redskins quarterback Kirk Cousins set the franchise's record for passing yards in a season (4,166) along with 29 touchdowns after a big 34-23 win at Dallas. Cousins finished with 176 yards and three touchdowns before leaving late in the first half. He seems perfectly tuned up en route to meeting the Green Bay Packers at home in the Wild Card Round of the Playoffs.
Having home field advantage is very important for the Redskins, owning a 6-2 record at FedEx Field in the regular season. Cousins has also played much better at home than on the road. He has 2,170 yards with 16 touchdowns and two interceptions with a passer rating of 117 at home. In the meantime, he has 1,996 yard, 13 touchdowns and nine interceptions with a passer rating of  83.9 on the road.
Cousins still has to pick his shots against Green Bay, though. The Packers ranked ninth in the league with 16 interceptions in the regular season. Despite facing a pretty tough defense, Cousins will have the perfect set of weapons to lead him to another solid performance.
Tight end Jordan Reed has been reliable all-season long with team-highs of 952 yards and 11 touchdowns. Wide receivers Pierre Garcon, Jamison Crowder and DeSean Jackson have all been solid, combining for 1,909 yards and 12 touchdowns. But what could really fire up the Redskins' offense against Green Bay is the running game headed by Alfred Morris.
The Redskins may be licking their chops at the prospect of torching Green Bay on the ground after seeing Minnesota rack up 151 yards rushing on Sunday night. Morris is ready to go to spearhead Washington's rushing offense after going off for 100 yards on 19 carries in the regular season finale.
Washington will need their offense to put on as many points on the board against Green Bay. Doing so will help mask their patchy defense, which allows 380.6 yards (28th in the league) and 23.7 points per game (16th in the league).
The Redskins are 6-2 SU/ATS in their last eight games.
Writer's Prediction
Green Bay's trending down, while the Redskins are surging up. Cousins puts on a solid performance as he leads Washington to the Divisional Round. Create a betting account now and get plenty of intense NFL Playoff action.
[sc:NFL620 ]
2,351 total views, 1 views today
Comments
comments