The beat down served by the Golden State Warriors unto the Houston Rockets in Game 1 of their first-round playoff series was inevitable. What we didn't see coming was a health scare for Golden State's Steph Curry, who is doubtful to return to action for Game 2 this Monday.
But with or without Curry, do the Rockets still stand a chance to win the next game against the mighty Dubs, let alone the entire series? Let's get to know more about what's in store for us this Monday night.
For even more coverage of the NBA Playoffs, check out our previews for the other upcoming and equally intriguing Game 2 showdowns in Indiana vs. Toronto and Oklahoma City vs. Dallas right after this.
NBA News & Predictions
Houston Rockets vs. Golden State Warriors Game 2 Preview
Where: Oracle Arena, Oakland
When: Monday, April 18, 10:30 PM ET
Line: Houston Rockets (+13) at Golden State Warriors (-13); total: 218.0 – view all NBA lines
Betting on the Houston Rockets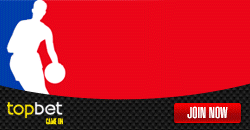 Even when the Houston Rockets got a lifeline in the form of a Steph Curry injury, they still failed to lift off in Game 1 on Saturday, and fell to the Golden State Warriors again, 104-78. The Rockets shot just 35.7 percent from the floor in Game 1, and an even worse 6-for-22 (27 percent) from beyond the arc.
You'd expect that kind of outcome from the team when its star player in James Harden struggles to get his game going. Harden scored just 17 points on 7-of-19 shooting in a game that never saw him take a shot from the charity stripe. Harden's game revolves around his slashes to the basket for and-one plays, but the Warriors effectively neutralized Houston's go-to guy from doing what he does best.
Not only that, but Harden also committed a game-high six turnovers as his team amassed 24 of them as compared to just 15 for Golden State.
Apart from Harden getting his act together, perhaps Houston would be better off slowing the pace down with a bigger lineup in Game 2 and fight for loose balls. The Rockets hung in with the Warriors in the rebounding battle last Saturday (53-51 in favor of Golden State), with Dwight Howard securing a solid double-double of 14 points and 11 boards. Howard tends to excel in the postseason, so he has to catch fire from second-chance buckets and easy looks from the paint now more than ever.
Then again, even if Houston's stars break out, how will its reserves respond? The team's bench just got outscored by Golden State's own mob squad in Game 1, 43-33, and that's with the lengthy fourth-quarter garbage time for both clubs already factored in.
In essence, there are still a lot more "ifs" for the Rockets than the Dubs entering Game 2, Curry's involvement or lack thereof in the upcoming contest aside.
Create a betting account now to win big from all the exciting action from the NBA Playoffs.
Betting on the Golden State Warriors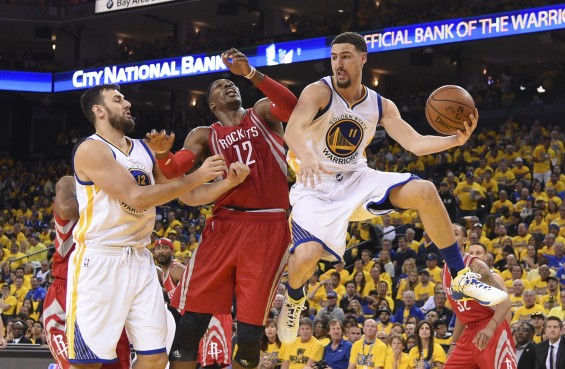 While the Golden State Warriors will gladly take the 26-point rout of the Houston Rockets this past Saturday, they still paid a very hefty price for that blowout.
Stephen Curry scored 24 points in the first half alone as Golden State leading by as much as 27 points already before halftime, but the reigning MVP tweak his ankle before the break and made a brief return in the third quarter before opting to sit the rest of the game out considering the nearly insurmountable lead.
The silver lining to Curry's injury is that the Warriors still kept their composure for a full half even without their star player on the floor and maintained that huge lead for the remainder of the contest. Key contributions across the lineup –from Draymond Green (12 points, 10 boards) to Marreese Speights off the bench (tied a career playoff high 12 points) – still put the Dubs in prime position for another win this Monday.
And it's not as if Golden State did not have success without Curry in the starting five. The team beat the Rockets sans Steph on December 31 at Houston (114-110), with Green hauling in a triple-double and Klay Thompson blowing up for 38 points.
Furthermore, the Rockets have simply not found a sure solution for the Warriors, period. The Dubs have won five-straight against James Harden and co. in Oracle Arena, and nine of their last 10 meetings overall (6-4 ATS).
Writer's Prediction
Make that another (yet relatively mild) blowout for the Warriors, 112-97.

Comments
comments