The Dallas Cowboys have accomplished something they haven't done since 2008: start the season with a 3-1 record. And they did so with moxie, punishing one of the Super Bowl preseason favorites New Orleans Saints for a huge win in Week 4. The Houston Texans, meanwhile, are also sporting an identical 3-1 record after defeating the Buffalo Bills last Sunday.
Read more about this Week 5 matchup below and while you're at it, you can also check out our preview of Jets vs. Chargers.
[sc:Football ]
Houston Texans vs. Dallas Cowboys Betting Preview and Prediction
Where: AT&T Stadium, Arlington
When: Sunday, October 5, 1:00 PM ET
Line: Houston Texans (+4) at Dallas Cowboys (-4); total: 46.0 – see all NFL lines
Betting on the Houston Texans
[sc:NFL240banner ]Is there nothing J.J. Watt can't do on the football field? Watt was everywhere when the Texans rolled over the Buffalo Bills in Week 4 for a 23-17 win, which improved their record to 3-1. They also covered their 2.5-point spread as home faves to score their third win against the spread this season.
Aside from wreaking havoc on defense by recording a career-high nine quarterback hits on Manuel and five tackles, Watt also made his presence felt on offense when he converted a pick into an 80-yard touchdown. The Texans were lucky that they have Watt in that game, since they appear to have a hard time coming up with something on offense.
The Texans only got 37 yards on the ground, a very disappointing output coming from a running attack that ranked fifth in the league prior to Week 4 with 140.7 yards per game. Arian Foster, who sat out the game against the New York Giants, was activated against Buffalo but only produced six rushing yards on just eight carries.
Instead of pounding the rock to their backfield, the Texans decided to rely on quarterback Ryan Fitzpatrick, who threw for 268 yards with two interceptions. Somehow, it was a logical move for Houston as the Bills were ranked third in the NFL in rushing defense, allowing just 71.5 yards on the ground per game prior to the contest. But on the flipside, Fitzpatrick has been too erratic of a QB to give the passing game total control of the offense, as evidenced by his league-worst five interceptions.
Next week against the Cowboys, Houston must give its running backs, particularly Foster, more workload, as the Cowboys' rushing defense is an easier one to crack than that of the Bills. Dallas is 15th-ranked in the NFL with an average of 108.5 rushing yards allowed per game.
Create a betting account now and cash in on NFL games.
Betting on the Dallas Cowboys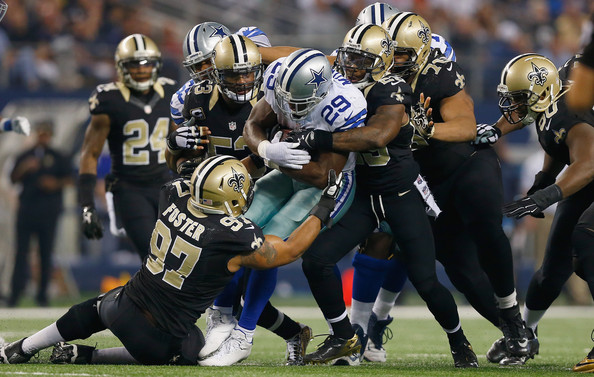 A lot of bad things have been said about the Cowboys' defense but things are about to change with their win against the New Orleans Saints on Sunday night. The Cowboys limited their high-scoring visitors to just 17 points, their lowest output this season.
With the Cowboys' 38-17 win, Dallas are now tied with the Philadelphia Eagles atop the NFC East standings with both teams carding 3-1 records. The Cowboys also improved to 3-1 ATS in their last four games.
Despite their success, the Cowboys' defense still needs to improve, especially against the pass. This was obvious when Dallas allowed Drew Brees to throw for 340 yards and two touchdowns.  Next week against Houston, though, the Cowboys will have to worry more on stopping the run as mentioned earlier.
Defense aside, the win over the Saints showed that Dallas has an explosive offense that should no longer be overlooked. Tony Romo, Terrance Williams, and DeMarco Murray relentlessly tore apart the Saints' hapless defense. Romo threw for 262 yards with three touchdowns; Williams had 77 receiving yards with two TDs on six catches; and Murray rushed for 149 yards with two touchdowns to underscore the Cowboys' prolific two-way attack that surely has sent a very strong message to the Texans.
The Texans have limited opponents to just 16.8 points per game, but they have yet to face an offense as dangerous as that of Dallas which averages 28.75 points per game so far this season.
Writer's Prediction
J.J. Watt and the Texans' pass rush will put pressure on Romo throughout the game, but Cowboys' rushing attack will be too much for Houston. Dallas wins. Houston covers.
[sc:NFL490Banner ]
2,300 total views, 1 views today
Comments
comments