In the last five years, a total of seven teams seeded between No. 5 and No. 10 in the NCAA Tournament have made it to the Elite 8: No. 8 Davidson in 2008, No. 5 Michigan State and No. 6 Tennessee in 2010, Butler as a No. 5-seed in 2010 and then as a No. 8 in 2011, No. 7 Florida in 2012 and No. 9 Wichita State in 2013.
So what have we learned? Which teams will sleepily challenge for the Elite 8 in 2014? Read on for our analysis of the characteristics that have helped teams pull off upsets in years past and what to look for when picking your sleepers in 2014. 
Traits of March Madness Sleepers
1. An Undervalued Mid-Major
[sc:NCAAB240banner ]There will always be a few mid-major schools that get undervalued in the March Madness seedings. Wichita State, last season's No. 2 team in the Missouri Valley conference, was a no. 9 seed despite having the same record as the no. 8 team in the old Big East. It pays to look at these win-heavy teams that are being penalized by the conference they play in.
New Mexico figures to be one of those teams this year. The Lobos are pushing San Diego State all the way for the no. 1 seed in the Mountain West Conference, but are only being projected as a no. 7 seed in the tournament.
2. Elite Stars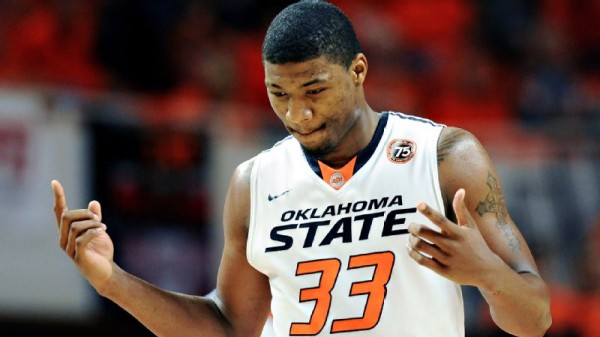 When in doubt, follow the stars. '10 Davidson rode Stephen Curry's star all the way to the Elite Eight, and Butler's Gordon Hayward was a carom away from carrying his team to the national championship. Having a star that can take over a game at any given moment can be the difference maker in catching a higher-seeded team off-guard.
Oklahoma State has been in disarray for most of conference play, but the Cowboys have arguably the most talented college point guard today in Marcus Smart, who's ready to restore his reputation and his draft stock after a nightmare regular season.
3. A Great Head Coach
What did '10 Michigan State, '10-'11 Butler and '12 Florida have in common? Exceptional, mastermind head coaches. Tom Izzo and Billy Donovan have led their programs to national championships, while Brad Stevens is now in the NBA. Despite possessing inferior squads, the quality of their coaching shone through.
The SMU Mustangs have already made some noise in the American this season, and figure to make some more with legendary head coach Larry Brown leading the school to its first NCAA Tournament since 1993.
Bet the Lobos, Cowboys and Mustangs with Top Bet's college basketball lines and odds all the way to championship this March.
[sc:NCAAB490Banner ]
1,884 total views, 1 views today
Comments
comments