Indianapolis, Houston and Jacksonville all lost on Sunday, which gives the Jaguars a very off chance for a playoff spot. But climbing up AFC South would be difficult. The Jags trail the Texans and Colts, who both have 6-6 records. Beating the Colts at in Week 14 is a step in the right direction for Jacksonville in this crucial AFC South showdown.
The playoff chase is on in the NFL. Check out the complete previews for the Falcons vs. Panthers and Seahawks vs. Ravens.
[sc:Football ]
Indianapolis Colts vs. Jacksonville Jaguars Preview
Where: EverBank Field, Jacksonville
When: Sunday, December 13, 1:00 PM ET
Line: Indianapolis Colts at Jacksonville Jaguars – view all NFL lines
TV Broadcast: CBS
Betting on the Indianapolis Colts (6-6)
Things are going from bad to worse for the Indianapolis Colts. They looked absolutely horrible in a 45-10 beatdown on the road against the Pittsburgh Steelers. Quarterback Matt Hasselbeck finally looked his age (40 years old), throwing for just 169 yards with a touchdown and two interceptions. He also lost a fumble before leaving the game with a neck and shoulder injury.
[sc:NFL240banner ]Hasselbeck's injury may have Charlie Whitehurst starting in this game against the Jaguars. Whitehurst wasn't much better against the Steelers defense, completing 4 of 8 passes for 51 yards in garbage time. He was also sacked three times for a loss of 20 yards.
Having shaky quarterback play has kept the Colts' receivers at bay. No. 1 receiver T.Y. Hilton has been limited less than 40 yards in two of his last three games. He had 36 yards against Pittsburgh. Donte Moncrief also didn't churn out big numbers against Pittsburgh with just one catch for 33 yards.
If the Colts turn to Whitehurst against the Jags, expect them to run the ball more with Frank Gore. The Indianapolis running back has failed to reach 46 yards in three straight games. He finished with 45 yards on 13 carries against the Steelers on Sunday night. Things don't figure to get much easier against Jacksonville. The Jags are second in the league in rushing defense, allowing opponents an average of 3.6 yards per carry.
Gore struggled to move the chains against the Jags in the first matchup in Week 4, rushing for just 53 yards on 17 carries. Expect him to continue struggling especially if Hasselbeck can't return to give the Colts a solid threat through the air.
The Colts are 5-1 ATS in their last six against Jacksonville.
Betting on the Jacksonville Jaguars (4-8)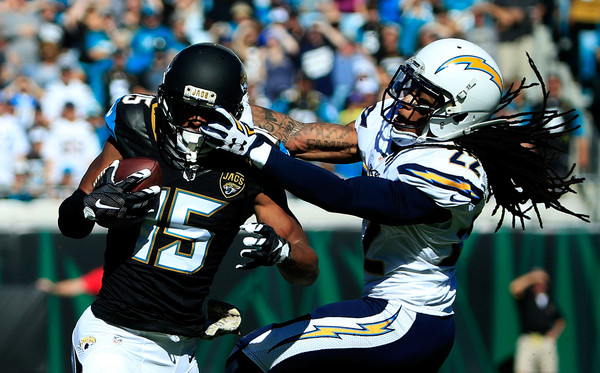 Quarterback Blake Bortles had a huge game against the Tennessee Titans on Sunday. Bortles threw for 322 yards and five touchdowns, three to Allen Robinson, in a 42-39 loss to Tennessee. But he did set the franchise record for the most touchdown passes in a season (27). Bortles and his big arm could have a big day ahead in a matchup against the Colts' horrible passing defense.
The Colts' passing defense was badly burned by Ben Roethlisberger and the Pittsburgh Steelers. Indianapolis conceded 364 yards passing and four touchdowns to the Steelers. They did not record a sack throughout the entire game.
Bortles has all the weapons he needs to carve up Indianapolis' secondary. Wide receiver Robinson was spectacular against the Titans, catching 10 passes for 153 yards and three touchdowns. Tight end Julius Thomas has also been a reliable red zone target with a touchdown reception in each of his last three games. A possible return from Allen Hurns (concussion) could further give the Jags weapons). Hurns has been a solid deep threat receiver, ranking second in the team with 758 yards and seven touchdowns.
The Jags could also balance their offense with T.J. Yeldon. The rookie running back hasn't run for 100 or more yards in his last five games. But he could break out against an Indianapolis front seven he already burned for 105 yards in Week 4. Count on Yeldon to go off for 90-plus yards against Indianapolis in this game.
Jacksonville had a pretty good day on the pass rush in the first matchup between the two teams. Ryan Davis (1.5 sacks), Aaron Colvin (one) and Telvin Smith (0.5) found ways to get their hands on quarterback Matt Hasselbeck in Week 4. Smith also had a big game Sunday, leading the team with two sacks against Titans quarterback Marcus Mariota.
The Jags are 4-1-1 ATS in their last six games.
Writer's Prediction
The Jags take a closely-contested game against an injury-ravaged Indianapolis team. Create a betting account now and dive deep into these heated divisional rivalries in the NFL.
[sc:NFL490banner ]
2,131 total views, 1 views today
Comments
comments