Another promising matchup in the NFL is bound to take you on a roller coaster ride this coming Sunday, as the Jacksonville Jaguars and the New Orleans Saints lock horns for the first time since the 2011 season. Both teams' playoff dreams are over but that surely won't stop them from trying to end their respective campaigns on a positive note. Who will come out on top in this one?
Read on below for a detailed breakdown of this AFC South battle. And while you're at it, check out our other Week 16 previews: 49ers at Lions and Steelers at Ravens.
[sc:Football ]
Jacksonville Jaguars vs. New Orleans Saints Preview
Where: Mercedes-Benz Superdome, New Orleans
When: Sunday, December 27, 4:05 PM ET
Line: Jacksonville Jaguars at New Orleans Saints – view all NFL lines
TV Broadcast: CBS
Betting on the Jacksonville Jaguars (5-9)
[sc:NFL240banner ]Following an impressive 51-16 triumph over the Indianapolis Colts, the Jacksonville Jaguars couldn't muster the same kind of effort last Sunday as they fell short to the Atlanta Falcons, 23-17. The Jaguars were simply overwhelmed by the incredible performance from star wide receiver Julio Jones, who recorded nine receptions for 118 yards and a touchdown.
This loss was undoubtedly a tough one to swallow especially since the Jaguars' playoff hopes were at stake. But those hopes have now been completely squashed and the postseason drought in Jacksonville reaches its eighth-straight year. Nevertheless, they'll have to keep moving forward and take care of business for their final two regular-season games with the first one being on the road against the New Orleans Saints this weekend.
The Jaguars' confidence should be pretty high in this impending matchup. They'll be trying to breakthrough a Saints defense which allows 413.5 total yards of offense per game, the second-most in the league right now.  That being the case, Blake Bortles is bound to take advantage of this weakness through their passing game and he'll have the pair of reliable targets in Allen Robinson and Allen Hurns to help him do so.
Robinson has been held to just 61 yards on four catches in the past two games, but he still owns team-highs of 1,141 receiving yards and 13 TDs across 14 games. He's also eclipsed the 100-yard mark four times during that stretch. Hurns, meanwhile, has been almost just as good with 907 receiving yards and eight scores under his belt through 13 games.
If the Jaguars do struggle in executing their passing game, they could always resort to their ground attack as well via T.J. Yeldon or Denard Robinson. The two backs have combined for 964 yards rushing and three touchdowns this year.
Jacksonville is 1-4 SU and 3-1-1 ATS in its previous five road games.
Create a betting account now and put your NFL predictions to the test!
Betting on the New Orleans Saints (5-9)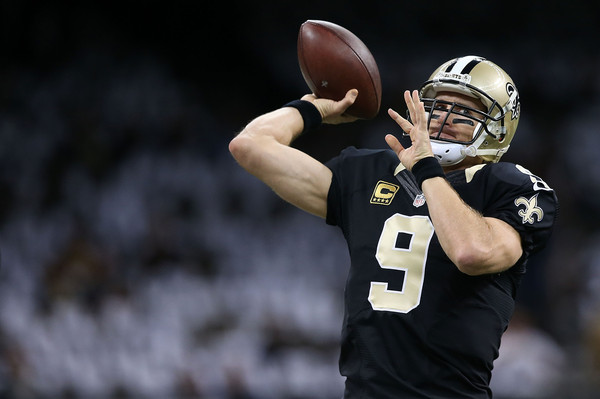 Facing a 28-3 deficit to the Detroit Lions in the early part of the third frame on Monday night, the New Orleans Saints refused to raise the white flag and responded with a run of their own. They chopped the lead to 28-20 with 10 minutes remaining on the clock thanks to Drew Brees' pair of touchdown passes to Brandin Cooks and Marques Colston.
But those efforts were unfortunately laid to waste as the Lions, who were guided by Matthew Stafford's clutch plays, found a way to hang on with the final score of 35-27.
Despite the loss, Brees' efforts were definitely worth taking into account especially since the 36-year-old veteran became only the fourth quarterback in league history to surpass 60,000 yards while also eclipsing the 4,000-yard line for 10 straight seasons.
Moving forward, Brees and co. will now turn their attention towards the Blake Bortles-led Jacksonville Jaguars, who'll be paying them a visit this coming weekend at the Mercedez-Benz Superdome.
Expect the Saints to remain loyal to their formidable passing game, which is currently No. 1 in the NFL with a staggering 303.2 yards per contest, versus the Jaguars porous secondary unit (260.5 yards given up per game). That said, Brees is really going to make sure that his wideouts in Brandin Cooks and Willie Snead get a lot of touches.
Cooks, who holds team-bests of 993 receiving yards and eight touchdowns this campaign, is fresh off a spectacular performance in Monday night's defeat to the Lions, during which he caught 10 of his 13 targets for a season-high of 124 yards and a score. Snead, meanwhile, had 76 yards on 10 receptions in the same game and has a total of 248 receiving yards in his past three contests.
New Orleans is 2-3 SU and 2-2-1 ATS in its last five games at home.
Writer's Prediction
New Orleans wins, 37-30. Create a betting account now and cash in on all the NFL regular season action.
[sc:NFL490Banner ]
2,057 total views, 1 views today
Comments
comments