It took a goal line stand for the Kansas City Chiefs to preserve its 10-3 lead in the dying seconds of their Sunday afternoon game against the visiting San Diego Chargers. But the Chiefs had their elite defense bail them out to extend their win streak to seven-straight games. Kansas City has a good chance to further extend its streak in a meeting against the struggling Baltimore Ravens, who ended their run of close losses in a 35-6 blowout loss to the Seattle Seahawks that same afternoon.
Get more hard-hitting football action with our complete previews of Broncos vs. Steelers and Lions vs. Saints.
[sc:Football ]
Kansas City Chiefs vs. Baltimore Ravens Preview
Where: M&T Bank Stadium, Baltimore
When: Sunday, December 20, 1:00 PM ET
Line: Kansas City Chiefs (-7.5) at Baltimore Ravens (+7.5); total: 41.5 – view all NFL lines
TV Broadcast: CBS
Betting on the Kansas City Chiefs (8-5)
When the Kansas City Chiefs' offense failed to get going against San Diego on Sunday, they at least had their defense to bail them out. The Chiefs put on a sound defensive performance, with linebacker Dee Ford having a big day filling in for injured All-Pro Justin Houston. Ford had his first three sacks of the season on Sunday, and also led his team with seven tackles for the day.
[sc:NFL240banner ]The pass rush as a whole had a strong outing, totaling five sacks against San Diego quarterback Philip Rivers. Aside from Ford, Ron Parker and Jaye Howard each had a sack as well as the Kansas City D routinely disrupted the Chargers' passing game (linebacker Derrick Johnson also had an interception). And it wasn't just the front seven disrupting their opponents' aerial attack; the secondary also had a great day shadowing San Diego's receivers downfield.
The sound defensive performance masked a horrible outing from the offense, specifically the passing attack. Quarterback Alex Smith threw for just 191 yards with a touchdown and an interception. Wide receiver Albert Wilson, who caught Smith's lone touchdown pass, led the team with just 87 yards receiving, while Jeremy Maclin – the team's most dependable wideout this season – was a step behind with 68 yards.
Although the passing game struggled, at least the Chiefs had a strong rushing performance. They racked up 150 yards on the ground on 25 carries, as Charcandrick West led the way with 54 yards on 10 carries, and Spencer Ware added 52 yards of his own on eight carries. Smith even contributed with his overlooked scrambling ability, rushing five times for 40 yards.
The Chiefs' passing game may step up for this coming Sunday's game against the Ravens. Baltimore allowed the Seahawks to throw for 301 yards and five touchdowns at home on Sunday, and Smith should have a solid outing against that struggling defense against aerial attacks, which has allowed 248.3 passing yards per game (21st in the league).
The Chiefs are 6-1 ATS in their win streak.
Betting on the Baltimore Ravens (4-9)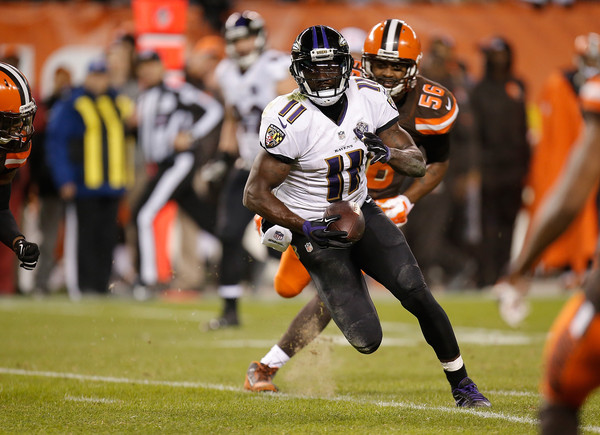 It's been a quite a headache of a season for the Baltimore Ravens, particularly because they've been absolutely ravaged by injuries. Steve Smith Sr., Joe Flacco and Justin Forsett are already all gone for the season. Matt Schaub was also injured last week, which prompted the Ravens to start Jimmy Clausen against the Seahawks on Sunday. And as expected, Clausen struggled to run Baltimore's offense as he went 23-of-40 through the air for 274 yards and an interception.
The Ravens finished without a touchdown as they struggled to run the ball with just 28 yards on 14 carries. Godd thing that at least one member of the receiving corps did an swell job. Wide receiver Kamar Aiken had a solid outing with a team-high 90 yards on five catches, yet ultimately, still failed to reach the end zone. If Schaub misses this coming Sunday's game as well, expect Clausen to continue struggling against a solid Kansas City defense.
Baltimore will have a chance of winning if it can get the ball in the hands of its receivers. The Chiefs aren't bad at defending against the pass, but they're not very good at it either. They remain in the middle of the league in passing defense with 240.9 yards allowed per game.
The Ravens could do a much better job on defense as well. They saw that Kansas City's offense isn't firing on all cylinders after putting on just 10 points against the struggling San Diego Chargers. However, the Ravens don't inspire too much confidence after their defense failed to contain Seattle on Sunday. They finished the game without a sack or a turnover, and also allowed 424 yards of total offense.
The Ravens could have some success on the pass rush, though. The Chiefs have allowed the fourth-most sacks in the league this season (41). That being said, take note that Baltimore has some solid pass rushers from this season in Elvis Dumervil (six), C.J. Mosley (three) and Daryl Smith (three), who could rack up their respective sack totals against Kansas City.
The Ravens are 0-5-1 ATS at home this season.
Writer's Prediction
Baltimore hangs tough to cover, but ultimately falls to the Chiefs. Create a betting account now and win big on exciting smash mouth football.
[sc:NFL490banner ]
1,951 total views, 1 views today
Comments
comments