It's crunch time. There are just four games left for the No. 6 Michigan State Spartans' regular season. Every win is precious with the Big Ten Tournament and the National Tournamet drawing nearer and nearer. Michigan State is just a half-game behind the fourth-placed Ohio State Buckeyes in conference play, which makes this game even more crucial.
Can the Spartans get one up over their conference rivals? Or will they leave Ohio disappointed? You simply can't miss this Big Ten game. March Madness is approaching. Don't miss out on plenty of college basketball action with our complete previews for Kansas vs. Baylor and Dayton vs. Saint Louis.
March Madness News & Predictions
Michigan State Spartans vs. Ohio State Buckeyes Preview
Where: Value City Arena Schottenstein Center, Columbus
When: Tuesday, February 23, 9:00 PM ET
Line: Michigan State Spartans (-6.5) at Ohio State Buckeyes (+6.5) – view all NCAA Basketball lines
Betting on the Michigan State Spartans (22-5)
Defense and rebounding have been a staple for Tom Izzo's Michigan State Spartans. They've taken it up a notch this year by being one of the best scorers in the nation. The Spartans are scoring 79.4 points per game ahead of their game against Ohio State. That's the highest they're averaging during Izzo's reign as head coach.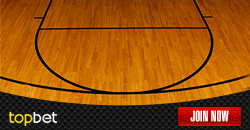 Jack-of-all-trades senior guard Denzel Valentine embodies the Spartans' approach. He's been stellar in the past seven games. He's averaging nearly 23 points, nine assists and eight rebounds over that span. Michigan State has also caught fire from beyond the arc.
The Spartans are making 8.8 three-pointers per game. Valentine is one of Michigan State's sharpshooters. He gets plenty of help from Bryn Forbes, Eron Harris and Matt McQuaid, who are each making at least 40 percent of their attempts beyond the arc.
Matt Constello offers a change in pace for the Spartans. He's the team's go-to guy inside, averaging 10.1 points and 8.2 rebounds per game. He's just one game removed from a big 22-point and 11-rebound outing. Expect Constello to have some good looks against Ohio State.
The Spartans are 7-0 ATS in their last seven games.
Betting on the Ohio State Buckeyes (18-10)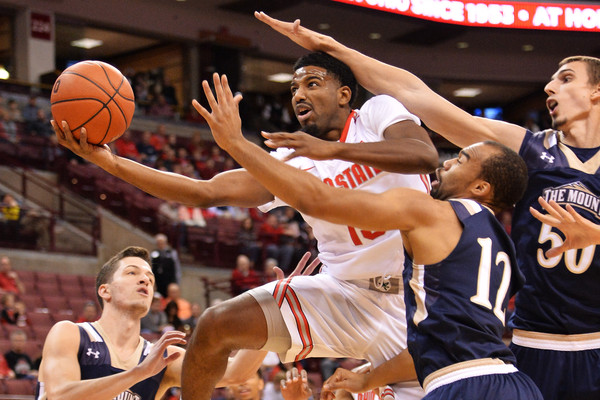 Defense has fuelled the Ohio State Buckeyes' four-game win streak. They've held their opponents to 27.4 percent from beyond the arc, which should come in handily against sharpshooting Michigan State. They're also fifth in the Big Ten when it comes to defense. They're allowing opponents to shoot just 32.6 percent from the field.
The Buckeyes will have to rely on their defense heavily in this game. They haven't been pretty dominant scoring this season. They rank 235th in the nation with 70.9 points per game. Ohio State relies on a handful of players to put points on the boards.
Marc Loving leads all Buckeyes with 12.6 points per game. He's scored 28 in his last two games combined. Meanwhile, JaQuan Lyle has been a solid playmaker with 10.3 points, 4.3 assists and four rebounds per game. Lyle took center stage in Ohio State's 65-62 overtime victory at Nebraksa on Saturday. He scored all 19 of his points after halftime.
The Buckeyes have won nine of their last 10 at home, going 6-4 ATS.
Writer's Prediction
The Spartans have the blend of offense and defense which make them hard to beat. Michigan State (-6.5) beats the Buckeyes.
Create a betting account now and gear up for an enormous March Madness.

Comments
comments