One thing's for certain: the Detroit Red Wings are hot, and the Montreal Canadiens are not.
Montreal, who once was the league's indomitable force for the better part of this season, is having a power outage this entire December. On the other hand, Detroit's nipping at the Habs' heels all of a sudden for the top spot in the Atlantic with an offensive outburst of their own.
Which amongst these two teams will prevail with a crucial win? Read on as we break down this riveting divisional matchup below. And for more NHL coverage for this Thursday night, check out our previews for Flyers vs. Blues and Blackhawks vs. Predators right after this.
[sc:NHLArticles ]
Montreal Canadiens vs. Detroit Red Wings Preview
Where: Joe Louis Arena, Detroit
When: Thursday, December 10, 7:30 PM ET
Line: Montreal Canadiens (+1.5) at Detroit Red Wings (-1.5); total: 5.5 – view all NFL lines
TV Broadcast: FSDT/RDS
Betting on the Montreal Canadiens (19-7-3)
Just when we thought that the Montreal Canadiens would run the table with their impressive early season record, they go on to drop three-straight games this month.
[sc:NHL240 ]The Habs were the highest-scoring team in the league by end of November with a 3.54 goal-per-game average, but they haven't scored more than two goals in each of their last five contests. Now they have the unenviable task of avoiding a fourth-straight game without recording a point by taking on the surging Red Wings.
In spite of its recent offensive slump, Montreal still ranks in the top six of all major statistical categories. The team remains fifth in the league in goals per game (3.3), fourth in goals against (2.2), sixth in power plays (22.2 percent) and third in penalty kill percentage (86.3). In general, this Canadiens team is still top-heavy on talent and would need its key players to get their mojos back.
Luckily, the Habs have had great success against Detroit of late. They have won the last seven contests against their Atlantic rival, including their first meeting of this season, a sound 4-1 victory on October 17.
Create a betting account now to get in on all the fast-paced action from the NHL.
Betting on the Detroit Red Wings (15-8-5)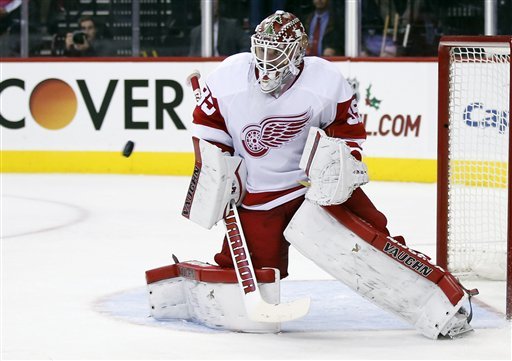 Everyone almost assumed that with a 1-5-1 record to start things off, the Detroit Red Wings' season can already be left for dead. And yet, over the past 11 games, the boys from Motown are suddenly en fuego.
The Red Wings recorded at least a point during that 11-game run (7-0-4) and had seven contests where they scored at least three goals. And for better or for worse, the team has also found its success in the clutch, with eight of those 11 games going into overtime and the Red Wings coming out victorious in five of them.
Part of Detroit's success can also be attributed to goalie Jimmy Howard. Howard has solid numbers of a 2.25 GAA and a .921 save percentage this season, and is even fresh off a season-high 38 saves on Tuesday against the mighty Capitals (albeit in a 3-2 loss in OT to snap the team's three-game win streak).
And speaking of goalies, the Red Wings offense will definitely make every opportunity count on Thursday when they face Montreal's Dustin Tokarski, who is starting his first game of the season in place of injured star, Carey Price. Tokarski has appeared in just one contest to date this entire season: a 6-1 defeat to the Avalanche on November 14 where he allowed two goals and made just 11 saves.
Writer's Prediction
The tide has finally turned as Montreal beats Detroit, 3-2.
[sc:NHL490 ]
1,852 total views, 1 views today
Comments
comments