Solo leadership in the AFC East is at stake this coming Sunday as the New England Patriots and the Buffalo Bills square off in an all-important division showdown. Both teams are coming off morale-boosting victories in their respective Week 5 matches and a win this coming Sunday would go a long way in shaping their playoff chances this season.
Read on for a complete analysis of this crucial AFC East matchup and while you're at it, you can check out our preview of the Green Bay vs. Miami game.
[sc:Football ]
New England Patriots vs. Buffalo Bills Preview
When: Sunday, October 12, 1:00 PM ET
Where: Ralph Wilson Stadium, Buffalo
Line: New England Patriots (-3) at Buffalo Bills (+3); total 45.0 – view all NFL lines
Betting on the New England Patriots
Now that's the Tom Brady we know. A week after suffering the second-worst loss of his career, the three-time Super Bowl winner rebounded in a big way as he led the New England Patriots to a commanding 43-17 win over the Cincinnati Bengals on Sunday night.
[sc:NFL240banner ]After a week of non-stop criticism from New England doubters, Brady responded with his best game of the season so far, completing 23 of 35 passes for 292 yards and two touchdowns. In the process, he also became the sixth quarterback in NFL history to pass for at least 50,000 yards. Not bad for a QB that some said was showing his age after his humiliating performance last week against the Chiefs.
What made Brady's performance even more impressive, however, was that he did it against the previously unbeaten Bengals. Cincinnati came in as the top-ranked pass defense in the league, having allowed just 11 points per game in their first three games, but they proved to be no match for the Patriots offense which was incredibly sharp right from the get-go. New England scored on their first two possessions and led the rest of the way. The Bengals had trailed for just 48 seconds in their first three games this season.
If Brady had his way against a solid defensive squad such as the Bengals, he might be able to keep that quality coming against a Buffalo team that is just 21st in the league in terms of passing defense with a 251.8 yard clip.
The Patriots are 9-1 in their last 10 games with the Bills dating back to September 2009.
The Patriots are 2-3 ATS this season.
Create a betting account now and cash in on all the NFL action.
Betting on the Buffalo Bills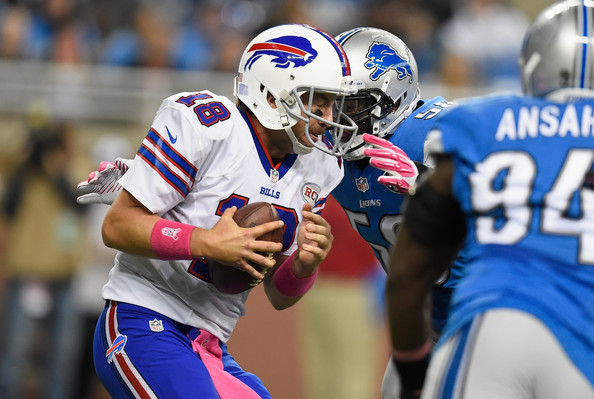 Quarterback Kyle Orton made an impression in his first start for the Buffalo Bills, doing just enough to lead them to a 17-14 comeback win over the Detroit Lions to find themselves tied with the New England Patriots at the top of the AFC East standings.
Orton completed 30 of 43 passes for 308 yards, a touchdown and a pick as the Bills snapped a two-game losing rut and improved their record to 3-2. Their victory have been without the game-winning performance of kicker Dan Carpenter who hit a long 58-yarder with four seconds to go to give the Bills the upset victory.
Orton may be enough to keep the Bills in contention for the AFC East title, and this game will be a critical element in that battle. Even prized wide receiver Sammy Watkins has already spoken highly of Orton, who replaced the ineffective EJ Manuel as the Bills' starting quarterback just this past week.
"Orton demands what he wants out of us," Watkins said, "he's more of a veteran guy. The way he talked, the way he handles business, the way he looks at plays and breaks down defenses, it's kind of different than EJ. He reads it quicker, the ball is coming out faster."
Those leadership attributes will be put to the test, though, when they host the Pats this coming Sunday. The Patriots have the best passing defense in the league this season, allowing just 185.5 passing yards per game. That is certainly not good news for a Buffalo team that is just ranked 20th in passing offense with a 217.6 mark.
Just like they did against the Lions though, the Bills will probably have to rely on their defense once more to grab another upset win. They are eighth in the league in total defense with opponents averaging just 322.8 yards against them.
In the win against the Lions, they were able to limit quarterback Matthew Stafford to just 18 of 31 passing for 221 yards, a touchdown and one interception. They will have to do the same against a rejuvenated Tom Brady who had a monster passer rating of 110.7 in the game against the Bengals last time out.
Buffalo's defensive pressure enabled them to sack Stafford six times, a career-worst for him. Bills defensive tackle Marcell Dareus had three of those sacks, a career-best mark, and he will play a vital role in stopping Brady and the Patriots this coming Sunday.
The Bills are 3-2 ATS in their last five home games. They are also 3-2 ATS in their first five games this season.
Writer's Prediction
The Patriots (-3) win by two touchdowns to grab the solo lead in the AFC East.
[sc:NFL490Banner ]
2,214 total views, 1 views today
Comments
comments