[sc:NFL-AFC250 ]It's going to be Tom Brady vs.  Peyton Manning 17 when the New England Patriots and the Denver Broncos meet in the AFC Championship game. The Patriots halted the red-hot Kansas City Chiefs in the Divisional Round to enter the AFC title game, while the Broncos had a hard-fought win against the Pittsburgh Steelers.
It's going to be a blockbuster game between these two stellar quarterbacks. Don't miss out on this enormous matchup, so read on and get ready for a treat.
For more on the NFL Playoffs, check out our complete picks and predictions for the Conference Championships as well as our preview for the NFC Championship game for everything you need to know heading into the next round.
[sc:Football ]
New England Patriots vs. Denver Broncos Preview
Where: Sports Authority Field at Mile High, Denver
When: Sunday, January 24, 3:05 PM ET
Line: New England Patriots (-3.5) at Denver Broncos (+3.5); total 44.5 – view all NFL lines
TV Broadcast: CBS
Betting on the New England Patriots
The New England Patriots showed that they were over their late season hump. After losing four of their last six games to end the regular season, the Pats showed up big time in the Divisional Round of the AFC Playoffs to take a 27-20 victory over the Kansas City Chiefs on Saturday.
[sc:NFL250 ]Julian Edelman and Rob Gronkowski each returned in a big way to help Tom Brady reach the AFC Championship game for the fifth straight time. Edelman had a game-high 100 yards receiving as he was his quarterback's top target. Meanwhile, Gronkowski burned the Chiefs with two touchdown receptions.
The Pats leaned heavily on Brady's arm, considering that they have a plethora of injuries in the running game. Brady finished with 303 yards and two touchdowns; he was not sacked for the game. The Pats failed to gain ground through the rush, finishing with just a collective 38 yards on 14 carries already missing the likes of Dion Lewis and LeGarrette Blount.
If New England wants to walk away from Denver with a ticket to the Super Bowl, then they may need some semblance of a running game. The Broncos have the best defense in the league. They ranked first in total and passing defenses and third in rushing.
While the Broncos have the best defense in the league, Brady can still be confident in this game. After all, he dissected Denver's defense for 280 yards passing and three touchdowns in a 30-24 overtime loss at Mile High in Week 12. He didn't even have Edelman in that game due to an injury.
New England could explode on offense and all. But their defense will need to show up. Peyton Manning is no longer the same quarterback who once threw 55 touchdowns in a season, an NFL record. But he's still one tough out when given the chance. The Pats will need to keep Manning on his toes with their solid pass rush. New England finished the regular season with 49 sacks, second only to Denver in the league.
Chandler Jones leads the team with 12.5 sacks in the regular season. He'll have plenty of help from Jabaal Sheard (eight sacks), Rob Ninkovich (6.5 sacks) and Jamie Collins (5.5 sacks) who all had their contributions in the regular season. Jones is already well in playoff mode after getting the Pats' only sack in the postseason against Kansas City.
The Pats are 2-4 ATS in their last six games as favorites of four points or less.
Betting on the Denver Broncos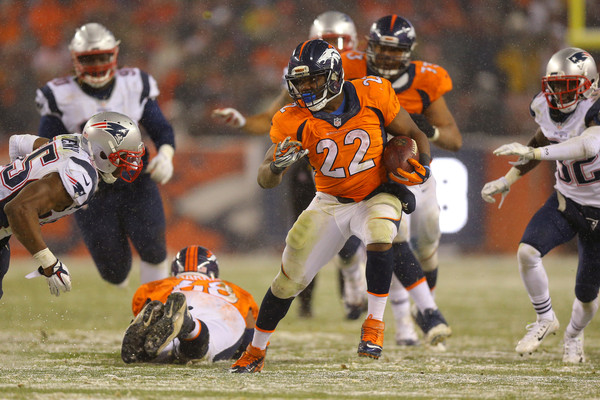 Yes. It's Tom Brady vs. Peyton Manning 17. But is anyone counting on Manning to be the same spectacular quarterback who once set the NFL record for passing touchdowns in a season? Not many.
Manning has seen better times, but he's still one good quarterback to have for the playoffs. He did everything the team could ask of him in the Divisional Round against Pittsburgh, a 23-16 win on Sunday. He threw for just 222 yards with no touchdowns. But he did have a handful big plays that ultimately won the game. One of which was a deep pass to Bennie Fowler for 31 yards on third-and-12, which helped set up a touchdown, with the Broncos down 13-12 in the fourth quarter.
Wide receivers Emmanuel Sanders and Demaryius Thomas will be there to get open as best as they could for Manning. Sanders, in particular, looked good against Pittsburgh leading the team with five catches for 85 yards. He also had a game-high 113 yards catching passes from backup quarterback Brock Osweiler in Week 12 against the Patriots.
While Manning and his receiving corps will surely have their moments, the running game and defense will be the ones that could fuel a potential victory. The last time running back C.J. Anderson saw the Patriots, he burned them for a 51-yard, game-winning touchdown in overtime in Week 12. He was splendid against New England in that matchup, finishing the game with 113 yards and two scores on just 15 carries. Anderson started the playoffs on the right foot, leading the team with 72 yards and a score on 15 carries against Pittsburgh; he also scored on a two-point conversion.
A solid running game built off Anderson could eat the clock. A brilliant game plan from defensive coordinator Wade Phillips could ensure that the ball remains with Denver for majority of the game. Phillips has had a splendid time with the Broncos' defensive unit this season, leading the team to rank first in total defense (283.1 yards per game), passing defense (199.6) and third in rushing defense (83.6).
The Broncos have the complete package to defeat what could be a pass-oriented New England squad. DeMarcus Ware, Antonio Smith, Sylvester Williams, Derek Wolfe and Malik Johnson make up a pass rush that could get the Pats' Tom Brady uncomfortable in the pocket. The Denver pass rush finished with the most sacks in the regular season (52). Denver also has a solid secondary led by Aqib Talib, who could shutdown Edelman on man-to-man coverage.
Home-field advantage could be a very big thing for the Broncos when they welcome New England on Sunday. The Broncos are 14-3 straight up and 13-4 ATS in all their home games against the Patriots since 1984.
Writer's Prediction
The Broncos (+3.5) upset New England for a ticket to Super Bowl 50.
Create a betting account now and get the most out of this blockbuster AFC Championship showdown.
[sc:NFL-AFC620 ]
3,152 total views, 1 views today
Comments
comments