The New England Patriots are exactly who we thought they were. Exactly who they always are. Or at least at looked that way last Sunday when the Patriots (4-2) put up their second-straight 35+ point game and beat the Buffalo Bills 37-22 to take the lead in the AFC East. Meanwhile, the New York Jets showed flashes of brilliance but were ultimately no match for Peyton Manning and Broncos, losing 31-17 to fall to 1-5.
On paper, these teams seem to be trending in opposite directions heading into their Thursday Night Football game this week, but the Jets have played the Patriots surprisingly tough over the last two seasons, including three games that ended within three points of their four meetings during that span. Read on for more on this game and don't miss our complete Week 7 NFL picks and predictions while you're at it.
[sc:Football ]
New York Jets vs. New England Patriots Betting Preview
Where: Gillette Stadium, Foxborough
When: Thursday, October 16, 8:25PM ET
Line: New York Jets (+10) at New England Patriots (-10); total: 45.0 – view all NFL lines
Betting on the New York Jets
The Jets are in a slide, and if it isn't turned around soon, it could mean Rex Ryan doesn't finish the season with the team.
[sc:NFL240banner ]Ryan could use a boost from his quarterback. Geno Smith has picked up where he left off last season. Through five games, Smith has completed 58% of his passes (a mild improvement from last season), while continuing to throw a lot of picks. In 2013, Smith threw 21 interceptions and 12 touchdowns. This year, he has four touchdowns and four picks, in addition to two fumbles.
If the Jets are going to get their season back on track, they need to start with an area Ryan-coached teams have typically excelled: the run game. Chris Johnson and Chris Ivory have gotten theirs at times this season, but against the Broncos the Jets rushed for a total of eight yards, their lowest first half total since 2002. This despite coming into the game as the sixth-ranked run offense in the league. The Patriots have been solid but not unbeatable on the ground, allowing 111.0 yards per game rushing.

Against a resurgent Patriots passing offense, the Jets will need to get a strong game from their secondary. Top corner Dee Milliner will miss this contest with an ACL injury, which doesn't help, but the Jets actually showed some nice resilience against Denver, holding Peyton Manning to a mortal 237 yards throwing. Milliner had six tackles and two passes defended in two starts this season prior to the injury.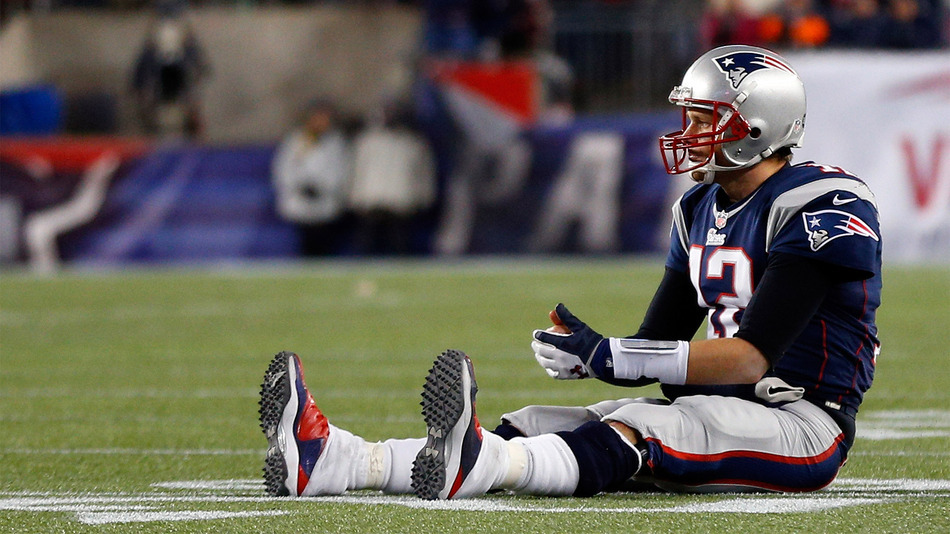 Betting on the New England Patriots
The talk that Tom Brady is past his prime has calmed down entirely after Brady went off in his last two games. Though the Pats' early season stats hold them back from ranking amongst the league leaders in passing yards, Brady has thrown for almost 650 yards and six touchdowns in the last two weeks. This team that ran over the Bengals in Week 5 and held on against the Bills in Week 6 is now more in line with the Patriots we've seen for a decade, including their position in the standings.
Brady isn't the only Pat who has picked up his game. Darrelle Revis has obviously gotten more comfortable in New England, as the elite cornerback shutdown Sammy Watkins down on Sunday, after the rookie wideout had terrorized strong pass defenses in previous weeks. Watkins had just three targets.
The running game remains a concern for the Patriots and it will be tested profoundly against an outstanding Jets defensive line. In a game they lead from wire to wire, New England ran the ball for just 50 yards against Buffalo, with Stevan Ridley finishing with 23 yards and an average of 2.3 yards per carry. Neither Ridley or fellow running back Shane Vereen have been able to consistently answer the bell for coach Bill Bellichek's team this year.
The Jets have the seventh-best run defense in the league this season, allowing 92.2 yards per game. However, the Pats were able to gash the Jets for 177 yards on the ground in their last meeting, October 20, 2013.
The Patriots are 3-3 against the spread this season.
Writer's Prediction
Chris Ivory, who broke 100 yards running in these team's last meeting, finds his best form of the season as the Jets (+10) keep it close and cover.
[sc:NFL490Banner ]
2,259 total views, 1 views today
Comments
comments