Just when the New York Jets were soaring high, they were dragged right back down to earth in a 30-23 loss to the New England Patriots on Sunday afternoon. Now they get back on the road for a matchup against the surging Oakland Raiders. The Raiders had a big return after a Week 6 bye, taking a 37-29 victory at San Diego. Can the Jets get back on the win column? Or will the Raiders take a big victory at O.co Coliseum?
Check out our complete previews for Seahawks vs. Cowboys and Giants vs. Saints after this to also be on top of the more crucial matchups about to go down over in the NFC.
[sc:Football ]
New York Jets vs. Oakland Raiders Preview
Where: O.co Coliseum, Oakland
When: Sunday, November 1, 4:05 PM ET
Line: New York Jets (-2.5) at Oakland Raiders (+2.5); total: 44.5 – view all NFL lines
TV Broadcast: CBS
Betting on the New York Jets (4-2)
The New York Jets, who were on a two-game win streak, had a chance to tie New England at the top of AFC East with a victory Sunday afternoon. But a horrible outing for running back Chris Ivory nullified a pretty solid passing game behind Ryan Fitzpatrick.
[sc:NFL240banner ]Ivory rushed for just 41 yards on 17 carries as he battled a sore hamstring against the Patriots in a game that he entered as the AFC's leading rusher. Despite the bad game on the ground, Ivory did catch a pass for a touchdown to keep his production on the up-and-up still.
Fitzpatrick, meanwhile, finished the game with 295 yards and two touchdowns, one each to Jeremy Kerley and the other to Ivory. Eric Dekcer led the receiving corps with six catches for 94 yards, while Brandon Marshall followed with 67 yards on four receptions of his own.
Speaking of Marshall, he's the one that's primarily accountable for the Jets' loss. New York kicked a field goal with 23 seconds left to get within one score before recovering an onside kick. After a short pass over the middle to Decker down at the New England 37, Marshall failed to get set on Fitzpatrick's spike, thus ending the game on a penalty.
Marshall could redeem himself in this game against Oakland, though. The Raiders are allowing the most passing yards per game this season (303.8), which should give Fitzpatrick an opportunity to find Marshall for big gains. On the other side of the ball, New York's strong secondary could keep tabs on the Raiders' stellar rookie wideout Amari Cooper.
Cornerback Darrelle Revis should draw the matchup against Cooper in this game. Going man-to-man against Revis is no fun at all, as he has the second-most interceptions (three) in the AFC. Revis also has a knack for recovering loose balls with a league-high three fumbles recovered.
The Jets are 4-0-1 ATS in their last five games on the road.
Betting on the Oakland Raiders (3-3)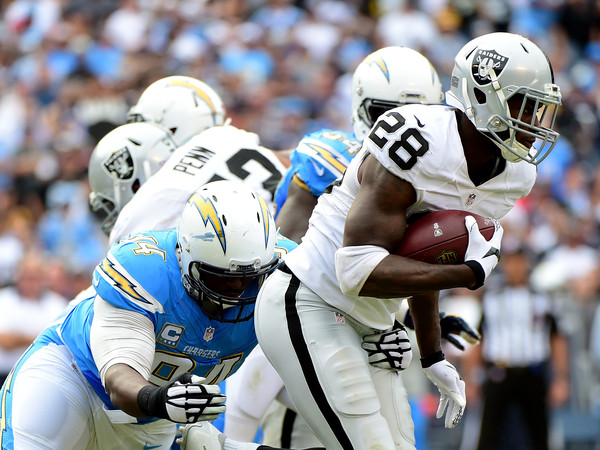 It was over in a blur. Fresh off a bye, the Oakland Raiders quickly stormed to a 30-6 halftime lead against AFC West rival San Diego on Sunday afternoon. The lead grew further to 37-6 in the third quarter before the Chargers rallied for 23 unanswered points in the fourth, but it was too little, too late for them to catch up.
Quarterback Derek Carr was excellent in that game, going 24 of 31 for 289 yards and three touchdowns, and with each of his scoring passes 20-plus yarders. Clive Walford caught a 23-yarder in the second quarter, before Amari Cooper had a 52-yard catch-and-run TD to close out the first half. Michael Crabtree then found the end zone for the Raiders' lone score in the second half, a 25-yard pass from Carr.
However, going deep may not work out too well against the Jets. New York has limited opposing quarterbacks to just pass for a league-best 5.6 yards per attempt this season. The Jets also rank fourth in the NFL in allowing just 211.7 passing yards per game.
To take some pressure off Carr, the Raiders will need to get going on the ground. Running back Latavius Murray had a pretty solid game against San Diego, rushing for 85 yards and a score on 15 carries. It was just his second game of rushing for more than five yards per carry this year. Murray will likely struggle going against the Jets' league-best rushing defense (71.5 yards per game).
While the focus will be on the Jets' stellar secondary covering Oakland's top receivers in Cooper and Crabtree, the Raiders also have a player in their secondary that could cause some timely turnovers. NFL mainstay in free safety Charles Woodson has a league-high four interceptions this season, and he'll be on the lookout for errant passes from the Jets' Ryan Fitzpatrick, who has thrown seven interceptions already this year.
The Raiders are 4-2 ATS in their last six games at home.
Writer's Prediction
Ivory's injury has him operating at less than 100 percent as the Raiders use last week's momentum to get a much-needed win at home. Create a betting account now and grab some NFL action in this exciting football season.
[sc:NFL490Banner ]
1,939 total views, 1 views today
Comments
comments