---
Ah, the NFC East. The storied NFL division where all four teams are either heavily loved or heavily hated by the media and the fans. Who can blame them, though? Nine of the last 31 Super Bowl-winning squads have come from this side of the league.
Let's move along and get some predictions going as to how well each club will do this season. Read on!
---
NFL News and Previews
---
2017 NFC East Team Win Total Predictions
**VIEW NFL WIN TOTAL LINES HERE
Dallas Cowboys
O/U wins: 9.5
Writer's Prediction: 10
There's a bit of uncertainty surrounding the Cowboys heading into the season. Two key areas of their roster got hit with a loss – their ever reliable offensive line saw the departures of longtime starters Doug Free (retired) and Ron Leary (signed with Denver), while the secondary got wiped out, as they let Brandon Carr, Barry Church, JJ Wilcox, and Morris Claiborne walk.
The pass defense will have the presence of two rookies, namely second-round picks Chidobe Awuzie and Jordan Lewis. The two were first-round talents that fell down the board, thanks to a strong class of defensive backs. It's an interesting revamp for the 'Boys, but it's really tough to gauge. Because both are rookies, the experiment can either be a super boom or a super bust.
The only concrete part of the team is the offense – it's not about Jason Witten and/or Dez Bryant, since both have been regular fixtures on the offensive scheme. What's raising some concern are incoming second-year guys Dak Prescott and Ezekiel Elliot, who had a tremendous rookie season and now in doubt of following it up with at least a similar production, partly because of that dreaded sophomore slump. Defenses from around the league can be quick to adjust, and it's still to-be-determined if they can react well enough.
Mixing all of that with how surprising they were last year, along with the coaching staff's ability to develop players, 10 wins seems to be right for the Cowboys.
New York Giants
O/U wins: 8.5
Writer's Prediction: 10
Big Blue had big upgrades on offense, which was arguably the right way to go considering that their $200 million investment on defense last off-season worked out quite well, highlighted by concluding the 2016 campaign ranking second in points allowed (17.8 PPG).
Among the guys they brought in on O is Brandon Marshall, who's practically the new ageless wonder in the current crop of veteran wideouts. The 33-year-old has eight 1,000-plus receiving yard seasons in his 11-year career, and is just one year removed from a 1,504-yard and league-leading, 14-touchdown season. Marshall joining team star Odell Beckham Jr., fearless second-year receiver Sterling Shepard, and speedy, pass-catching, rookie tight end Evan Engram in the passing attack is nothing short of exciting.
As for the defense, although the loss of starting lineman Jonathan Hankins (signed with Indianapolis) is expected to leave holes, second-round pick Dalvin Tomlinson, who was a key member of the vaunted Alabama Crimson Tide D-line, can be seen as a good replacement.
We might not see the Giants match or eclipse their 11-5 card from last season, since their schedule is deemed to be much tougher, but with a possibly stronger offense and an intact defense, 10 wins sounds just right.
Washington Redskins
O/U wins: 7.5
Writer's Prediction: 7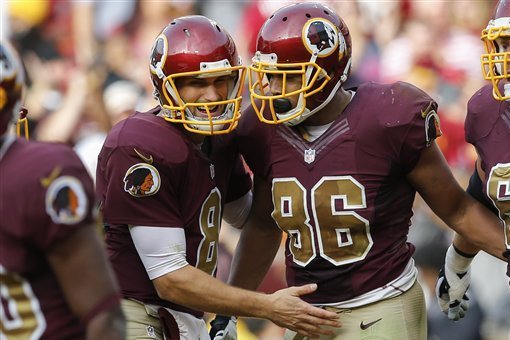 The Redskins have done what they were supposed to do this off-season. They were towards the bottom of just about every defensive statistic in the league, which includes being 28th in total yards allowed, and that's what they have addressed. During the draft and free agency, their top three key acquisitions were on defense.
The million-dollar question, though, is… will it be enough? If so, can it to bail out the depleted offense?
Their prized quarterback, Kirk Cousins, can put up awesome numbers and do amazing things on the pocket, but now that he lost TWO primary targets in DeSean Jackson (signed with Tampa Bay) and Pierre Garcon (signed with San Francisco), all he has is basically Jordan Reed, who despite being talented, has struggled to stay healthy. Jamison Crowder, Josh Doctson, and off-season signee Terelle Pryor are all good receivers, it's just doesn't make you look forward to a good amount of wins.
Cousins can still be expected to hung fantasy-friendly stats, but all things considered, 8-8 or 7-9 is looking to be the Redskins' card for 2017.
Philadelphia Eagles
O/U wins: 8.5
Writer's Prediction: 8
Though not much buzz was given to the Eagles during the draft and free agency, what they snatched appears to be a whole bunch of underrated pieces that they needed.
Derek Barnett, Sidney Jones, and Donnel Pumphrey are among the young guns they picked up in the draft, and all were touted to be one of the best in their respective positions. Veteran wideouts Alshon Jeffery and Torrey Smith, meanwhile, were the firepower Philly were thirsting for on the passing game for a long time. Jeffery had a nice five-year run with the Chicago Bears, as he had a pair of 1,000-plus yard seasons and averaged 909.8 receiving yards per season despite the injuries and inconsistent quarterback play, while Smith is a known big-play receiver, as evidenced by averaging 17 yards per catch in his career and leading the league in yards per reception in 2015 (20.1).
Finally, mack truck and two-time Super Bowl champion LeGarette Blount is also coming to town to bolster the hot-and-cold ground game. He's coming off  a season where he racked up a career-high 1,128 yards and 18 rushing touchdowns (also led the league).
With more weapons on offense, Carson Wentz should have more fun running the show under center. He will have his highs and lows, just like last season, and he'll be one of the more exciting young QBs in the NFL.
I see the Eagles being good to watch, but only ending up with an 8-8 or 7-9 win-loss card, which will mainly be to an unforgiving schedule given to all the NFC East teams.
Create a betting account now and get set for another exciting NFL season.

2,444 total views, 2 views today
Comments
comments