After losing their season opener to the Miami Dolphins, the New England Patriots rebounded with style, thrashing the Minnesota Vikings 30-7 on Sunday. Meanwhile, the Oakland Raiders are on pace for another losing season suffering a 30-14 drubbing against the Houston Texans.
This game will be happening in the shadow of Week 3's marquee game, the Super Bowl rematch of the Denver Broncos vs. the Seattle Seahawks. You can check out the preview of that match here.
[sc:Football ]
New England Patriots vs. Oakland Raiders Preview
Where: Gillette Stadium, Foxborough, MA
When: Sunday, September 21, 1:00 PM ET
Line: Oakland Raiders (+14.5) at New England Patriots (-14.5); total 46.5 – view all NFL lines
Betting on the New England Patriots
The New England Patriots breezed past the Minnesota Vikings 30-7 on Sunday, featuring a more balanced attack compared to their standard pass-heavy offense. Tom Brady threw 15-for-22 for 149 yards and a touchdown and the Pats also collected 150 yards on 37 carries on the ground. Spearheading the Pats' running game Stevan Ridley, who finished with 101 yards on 25 carries and a score to cap off his day.
[sc:NFL240banner ]Ridley has fond memories of going against the Raiders. He last torched Oakland for a season-high 97 yards on 10 attempts with a 33-yard touchdown in his rookie year. With the Oakland Raiders allowing 400 rushing yards after two games this season, Ridley will have his sights set on another 100-yard game.
Meanwhile, the Patriots also had a big game on the other side of the ball. Cornerbacks Darrelle Revis and Logan Ryan, strong safety Devin McCourty and even defensive lineman Dominique Easley intercepted Matt Cassell, who was working without the benefit of Adrian Peterson distracting the defense.
The defense also excelled in the pass rush with six sacks on Cassell. Expect the Patriots' pass rush to put that same pressure on the Raiders' rookie quarterback Derek Carr, while the secondary takes advantage of hurried passes to force some key turnovers or defensive stops.
The New England Patriots are formidable competitors at Gillette Stadium. They are undefeated in their last nine games at home.
Create a betting account now and bet to win in what is a great weekend of football.
Betting on the Oakland Raiders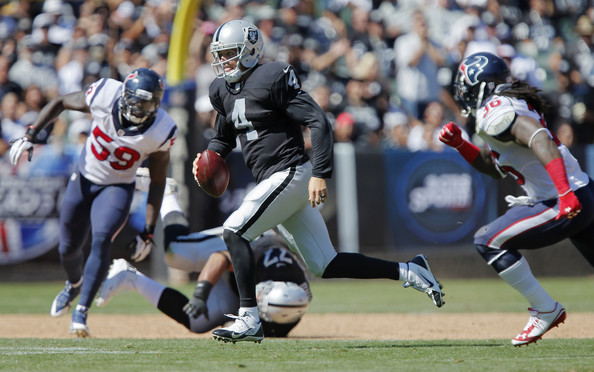 While New England had a dominant win on Sunday, the Oakland Raiders had a forgettable Week 2. After its loss to Houston, Oakland is now on an eight-game losing streak tracing back to last season.
The Raiders had four turnovers against the Texans, including three in scoring territory. Wide receiver James Jones was even stripped twice on the same play! The second one resulted in a lost fumble at the Texans 3, a costly mistake that left the Raiders without a score to end the first half.
Meanwhile, tight end Mychal Rivera fumbled a catch early in the third quarter, while QB Derek Carr negated a 41-yard run by throwing an interception. Carr ended the game completing 27 of 42 passes for 263 yards and a score while also throwing two interceptions.
After Oakland's disappointing performance against Houston, the errors may only continue against the Patriots defense, which has limited their opponents to 166 passing yards per game after two weeks.
Still, not all hope is lost for the Raiders. They can exploit New England's vulnerable defensive line with their running game. The Patriots have allowed a combined 382 yards on the ground in their games against the Doplhins and Vikings.
Running back Darren McFadden will likely be the one called upon to challenge the Pat's front seven with No. 1 RB Maurice Jones-Drew sporting a hand injury. McFadden has 63 yards on 25 carries and a score across two games. Averaging 3.3 yards per carry, the Raiders will expect more from their running back to help them move the chains against New England.
Oakland will need a lot of things going for them if they want to walk away from New England with a win.
Writer's Prediction
It's going to be another tough night for the Oakland Raiders. New England puts on a show for their home fans for back-to-back wins while covering -14.5.
[sc:NFL490Banner ]
1,883 total views, 2 views today
Comments
comments