The New York Jets (2-0) remained unbeaten after pulling off the 20-7 upset over Andrew Luck and the winless Indianapolis Colts in Week 2. Up next for the Jets is a collision with another winless team in the form of the Philadelphia Eagles (0-2) for their Week 3 showdown this Sunday at MetLife Stadium.
Which takes home the glory in this one? Will the Jets notch their third-straight win? Or will it be the Eagles getting their first win of the season? Read on further for a full breakdown of this clash.
For more Week 2 game previews, you can click here for Raiders vs. Browns.
[sc:Football ]
Philadelphia Eagles vs. New York Jets Betting Preview and Prediction
Where: MetLife Stadium, East Rutherford
When: Sunday, September 27, 1:00 PM ET
Line: Philadelphia Eagles (+2.5) at New York Jets (-2.5); total: 45.5 – see all NFL lines
TV Broadcast: FOX
Betting on the Philadelphia Eagles
Before the 2015 season began, the Philadelphia Eagles were dubbed as the favorites to reclaim the NFC East crown away from the Dallas Cowboys. But as of now that looks really far from happening, with the Eagles yet to win a game and struggling mightily.
[sc:NFL240banner ]The Eagles barely got anything going offensively in Week 2 against the Cowboys. They were limited to just 21 total yards in the first half before finishing the game with 226. DeMarco Murray can definitely attest to this as he was totally shut down during that game. Murray, the reigning NFL rushing champion, only had 2 rushing yards on 13 carries opposite his former team.
Furthermore, joining this struggle was also quarterback Sam Bradford, who missed all of last season with a knee injury. Bradford clearly still needs to shake off some of the rust as he finished 23-of-37 for 224 yards with a touchdown, a sack and two interceptions to his name. If he can't find his groove any time soon, it's safe to say they're bound for another tough loss in their Week 3 matchup with the New York Jets.
It's not only Bradford, though, who needs to come alive for the Eagles. Murray also needs to wake up from his slumber in their first two games of the season, during which he's only managed to gain 11 yards on 21 carries. But he'll also need his struggling offensive line to perform much better after two horrendous games.
Also, the Eagles will be looking to their wide receiver in Jordan Matthews to try to build on his performance against the Cowboys Monday night. He was arguably the lone bright spot in the passing game, recording six catches for 80 yards and a touchdown despite the loss.
Philadelphia is 2-3 SU and ATS in its previous five road games.
Create a betting account now and cash in on all the NFL regular season action.
Betting on the New York Jets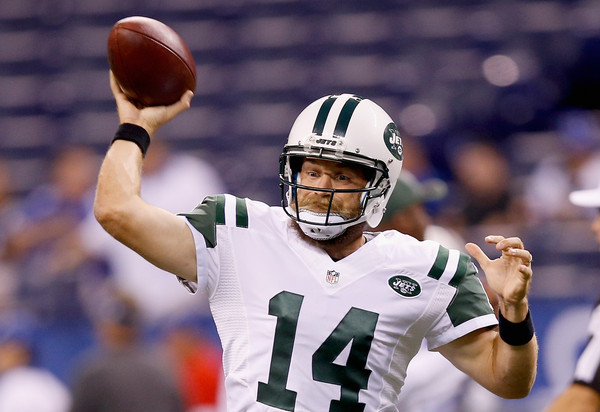 Entering Week 2, the New York Jets have won their season-opener and have lost the second game for three years straight. That streak was finally stopped on Monday night, as the Jets got the win over the Indianapolis Colts, 20-7, to start off their 2015 campaign and the Todd Bowles era 2-0.
It was the defense, defense and defense that ultimately led to this triumph. The Jets got the better of the Colts' Andrew Luck-led offense all night long, as they forced five turnovers for the second-straight week. Cornerback Darelle Revis was responsible for three and never gave Luck a chance to get comfortable.
On the other side of the field, QB Ryan Fitzpatrick did well in directing their offense and in capitalizing on the Colts' numerous errors. He finished 22-of-34 for 244 yards with two touchdown passes and just one interception to notch his first career win in at Lucas Oil Stadium, while also allowing the Jets to kick off the new season 2-0 for the first time since 2011.
That said, the Jets are in a good position to win their Week 3 date with the Philadelphia Eagles. The Jets can certainly serves as the kryptonite to the Eagles' passing game, which is averaging 277.5 yards per contest, with cornerbacks Revis and Antonio Cromartie keeping the Eagles receivers in check.
Meanwhile, their dominant defensive line, which has held both Browns and Colts running games to under four yards per carry, should be able to wreak havoc on the Eagles' vastly underperforming O-line.
Over on offense, expect New York to rely on running back Chris Ivory and wide receiver Brandon Marshall to lead the charge. Ivory is averaging 4.4 yards per carry through two games. Marshall, meanwhile, caught seven passes for a total of 101 yards with one touchdown in the win against the Colts.
The Jets are 4-6 SU and 5-5 ATS in their last 10 games at home.
Writer's Prediction
New York (-2.5) wins, 24-14.
[sc:NFL490Banner ]
1,933 total views, 2 views today
Comments
comments