The San Francisco 49ers have shown their steel and resolve this season, overcoming injuries, suspensions and a slow start to get back up near the top of the NFC West. However, a new wave of injuries couldn't have come at a worse time, as the Niners travel to Mile High to face a Denver Broncos team that is once again looking every bit a Super Bowl contender.
Can Colin Kaepernick carry his injury-ravaged team to an upset road win? Read up on this exciting heavyweight matchup between two playoff-caliber teams. For more high-quality showdowns between playoff-bound teams, check out our preview of the Bengals vs. Colts.
[sc:Football ]
San Francisco 49ers vs. Denver Broncos Betting Preview
Where: Sports Authority Field at Mile High, Denver
When: Sunday, October 19, 8:25PM ET
Line: San Francisco 49ers (+6.5) at Denver Broncos (-6.5); total 50.5– view all NFL lines
Betting on the San Francisco 49ers
The memory of a shaky 1-2 start to the season is growing farther and farther away for the San Francisco 49ers, who won their third consecutive game with a 31-17 victory against the St. Louis Rams on Monday Night Football. Quarterback Colin Kaepernick showed the passing skills he's capable of unleashing from time to time with 343 yards, three touchdowns and no interceptions.
[sc:NFL240banner ]Don't go expecting those same huge numbers from Kap every week, but the 49ers may find themselves needing to throw more against a Broncos defense that has excelled against the run this season. Kap has spread the wealth among his top targets, with his 10 touchdowns going to six different receivers. His favorite end zone target, tight end Vernon Davis, is also back in the lineup to add another big weapon.
San Francisco's running game was unexpectedly slowed by a Rams defense that was second-to-last in running yards allowed heading into Monday night. Guard Mike Iupati left with a concussion in that game, which could have a significant impact in the running game if he is forced to sit out against the Broncos.
Iupati is far from the only health concern the 49ers have at the moment. Linebacker Patrick Willis left with a toe injury while rookie cornerback Jimmy Ward also left due to a quad injury. Losing a great coverage linebacker in Willis and the team's nickel corner in Ward would be a huge blow for the 49er defense, especially against a Broncos offense that has an excellent tight end (Julius Thomas) and slot receiver (Wes Welker).
Betting on the Denver Broncos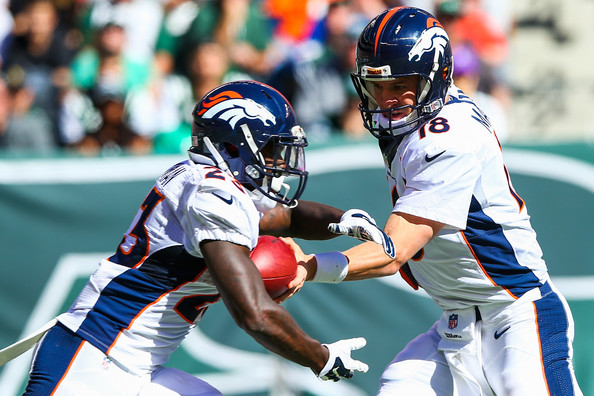 Peyton Manning and the Denver Broncos offense were so good last year that they would win simply by overwhelming the opposition with a barrage of points. That hasn't quite been the case this year, but the 4-1 Broncos are winning nonetheless, and they're winning in a variety of ways.
The first two weeks saw their defense come through with last-gasp goal-line stands against the Colts and Chiefs. The passing game finally broke out in their 41-20 Week 5 win against Arizona. And in Week 6, it was the running game's turn to step up.
With the Jets basically daring the Broncos to run, running back Ronnie Hillman stepped up for the injured Montee Ball with 100 of the team's 138 rushing yards in a 31-17 win. Manning did the rest in the red zone with another three touchdown passes. Two of those passes found his favorite target, tight end Julius Thomas, who now has a league-leading nine scores.
Denver won't be relying heavily in the running game as long as Peyton Manning is around.  However, the Broncos could enjoy more success on the ground against the 49ers, especially if run stuffing middle linebacker Patrick Willis misses the game due to injury.
The Broncos defense has had its own success stuffing the run in the past few weeks. They stopped the Cardinals cold, allowing just 1.9 yards per carry, and a competent Jets rushing attack didn't fare much better with 2.1 yards per carry.
Stopping the run is always the first priority against a 49er team built from the ground up, but the Broncos shouldn't discount Kaepernick's ability make plays with his arm. Denver's pass defense has been more than up to the task this season, ranking fourth against the pass via DVOA.
The Broncos are 14-1 in their last 15 regular season home games.
Writer's Prediction
The Broncos take advantage of San Francisco's spate of injuries to rack up another home win. Create a betting account now and get in the action with two Super Bowl-calibre teams set to square off.
[sc:NFL490Banner ]
1,544 total views, 1 views today
Comments
comments