The Seahawks are on cloud nine after taking down one of the league's perennial powers in the New Orleans Saints. They head into their next game looking to sweep division rivals, the San Francisco 49ers. But this San Francisco team is different from the one they first met as Michael Crabtree will play in only his second game of the season.
Betting Preview for Seahawks vs. 49ers
[sc:NFL240banner ]
When: December 8, 4:25 P.M. ET
Where: Candlestick Park, San Francisco, California
Odds
Money: Seahawks (TBA) vs. 49ers (TBA)
Spread: Seahawks (TBA) vs. 49ers (TBA)
Totals: TBA
| | Seattle Seahawks | San Francisco 49ers |
| --- | --- | --- |
| SU/ATS | 11-1/8-4 | 8-4/8-3-1 |
| O-U | 6-6 | 5-7 |
| Last Game | vs. New Orleans Saints (W 34-7) | vs. St. Louis Rams (W 23-13) |
| Player to Watch for | QB Russell Wilson (2672 Passing Yards, 22 Touchdowns) | WR Anquan Boldin (822 Rushing Yards, 5 Touchdowns) |
Betting on the Seattle Seahawks:
The Seahawks came up just short of bringing out the sun in shedding light on debates of which is the best team right now in the NFL after their clinical 34-7 beatdown of the New Orleans Saints Monday night. The win marked Seattle's seventh straight victory.
Seattle came into the game with one of the best rushing attacks in the league, but Russell Wilson opted to beat New Orleans in the air. Wilson had his second best passing game of the season, totalling 310 passing yards and three touchdowns.
Working to near perfection was the Seahawks' defense. Seattle shutdown the Saints' third-ranked passing game as New Orleans only managed 144 yards in the air compared to their average of 302.8 per game.
Seattle is 8-2 SU and ATS in its last 10 road games.
Bet now on the Seattle Seahawks.
Betting on the San Francisco 49ers: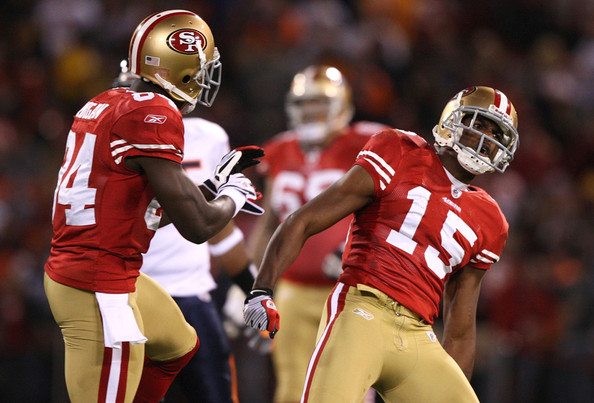 Despite winning seven of their last nine games, the 49ers are still treading dangerous waters. They're on the bubble at this point in the season when it comes to projecting which teams will make the playoffs. Winning is their only option going forward.
With the return of wide receiver Michael Crabtree, the 49ers are expecting to have an improved passing game. It showed in San Francisco's latest game – a 23-13 win over the Rams. In his first game this season, Crabtree shook off the jitters after a long layoff and received two passes for 68 yards.
With Crabtree and Anquan Boldin finally getting together on the field, Colin Kaepernick now has his best pair of receiving targets this season at his disposal. Crabtree gives the 49ers a new look offense going up against the Seahawks, who beat San Francisco in their first meeting sans the former Texas Tech standout.
San Francisco is 3-1 ATS in their last four home games. The 49ers are also 4-1 UNDER in their last five at home.
Bet now on the San Francisco 49ers.
1,928 total views, 1 views today
Comments
comments