---
SEC football still has "Alabama Crimson Tide" written all over it. That will probably be the case as long as Nick Saban is breathing and running the show in Tuscaloosa.
It's not to say that the other programs aren't on capable of upsetting the Tide, though. This division is blessed with talent and good coaching.
Let's now get the predictions going. Read on!
---
Most Recent Articles
---
SEC Regular Season Win Total Predictions
WEST DIVISION
Alabama Crimson Tide
Last season: 14-1 (8-0)
Though they lost a big bulk of their main core, we can expect the Nick Saban and his boys to continue wrecking the whole conference up – it's what they have always done in the years past.
The defense will still have defensive coordinator Jeremy Pruitt's vision and guidance, and plenty of monsters to work with, namely Da'Ron Payne, Da'Shawn Hand, Shaun Dion Hamilton, and Rashaan Evans. We should see those four headline the unit.
As for the unpredictable offense, quarterback Jalen Hurts is the man to keep an eye on. With his skill set, he is what the Tide needs to keep going early, whether it's throwing and running the ball. The backfield tandem of Bo Scarbrough and Damien Harris should be featured more than last year too.
Writer's Prediction: 'Bama goes OVER 10.5 wins.
Auburn Tigers
Last season: 8-5 (5-3)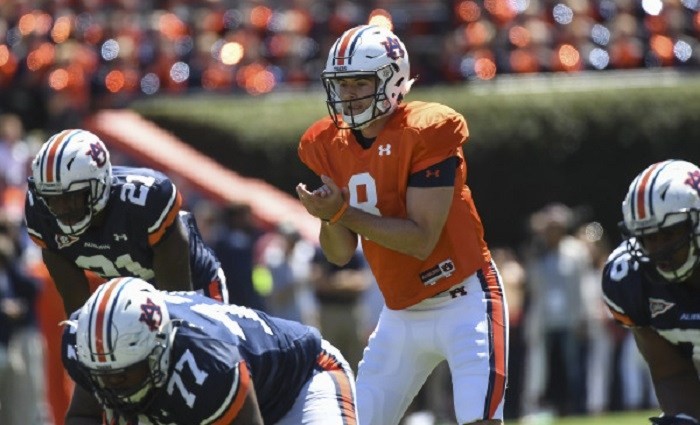 With a new offensive coordinator at the helm (Chip Lindsay), changes in the offensive scheme should be expected. The Tigers were mostly about the run last year – sixth in rushing and 112th and passing – so a pass-happy coordinator is just what they needed.
QB Jarrett Stidham, who has the arm and the eagerness to sling it down the field, will be enjoying the new style. He should also have minimal problems getting used to the loss of his number one target, Tony Stevens, since he still has all the other top receivers back. Further, he'll keep enjoying the production of their two running backs – Kamryn Pettyway and Kerryon Johnson.
The defense will have a small question mark on their backs. It's good that six of the top seven tacklers from the past season are coming back, but it's also clear that the unit will have to be better at pressuring the QB.
Writer's Prediction:  Auburn will have over 8.5 wins
LSU Tigers
Last season: 8-4 (5-3)
LSU is another team who's bringing in reinforcement in the offense's coaching staff. They now have Matt Canada as OC – the same guy who transformed the Pittsburgh Panthers into an explosive, high-scoring, squad in no time.
Canada probably won't mold the offense into the 80s San Francisco 49ers, but an increase in yardage through the air should be there. Danny Etling is also a skilled and experienced-enough signal-caller to be able to mesh well with his new OC's system. Its potentially positive effect on sensational RB Derrius Guice is also something to look forward to.
The defense will be hurting with the loss of key pieces, particularly Jamal Adams. We'll see if Christian LaCouture and Arden Key will be able to step up in place.
Writer's Prediction:  LSU goes UNDER 9.5 wins (9).
Arkansas Razorbacks
Last season: 7-6 (3-5)
There's uncertainty everywhere on the Razorbacks' offensive unit. RB Rawleigh Williams, who ran for over 1,200 yards this past season, has moved on, and the next guy in line, Devwah Whaley, doesn't look like he can duplicate that type of ground yardage. The same goes on the passing game with Austin Allen, a reliable QB that has the tendency to throw crucial picks. Also, he's almost out of proven receivers, with four his five most productive receivers gone. Jared Cornelius, who only had 32 receptions in 2016, will likely be his new number one target.
Defensively, the improvement must start on the defensive front. Much of their mediocrity in the area had them only tallying 25 sacks and giving up countless frustrating third down conversions. Now that the scheme is switched into a 3-4, which will at least mean a fresh start, we'll see if the D can show progress.
Writer's Prediction: The Hogs go UNDER 7.5 wins (7).
Texas A&M Aggies
Last season: 8-5 (4-4)
QBs Jake Hubenak, Nick Starkel, and key freshman Kellen Mond will bring different things to the table, but if the coaching staff still hasn't fully decided on who to tap for the starting job, something has to be wrong. Not only that, the pass-catching crew is also bleak – no one's standing out among the new main wideouts.
Any team who will start the season without a clear-cut starting signal-caller and number one receiver is automatically doomed. So, yes, the Aggies' 2017 campaign cannot be expected to look good. Every team can just expect Texas A&M to hand the ball to quality backs Trayveon Williams and Keith Ford.
All of that uncertainties, coupled with their problems at defending the run and mobile QBs, may equal to one forgettable season.
Writer's Prediction: The Aggies go UNDER 7.5 wins (5).
Mississippi State Bulldogs
Last season: 6-7 (3-5)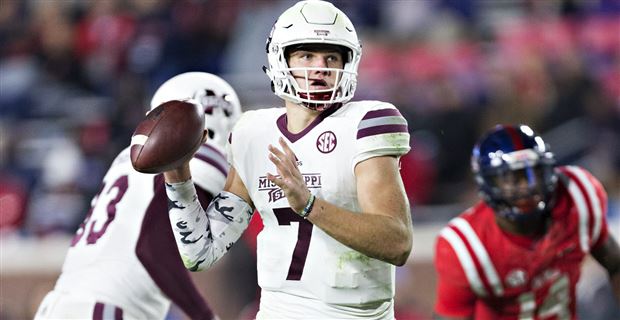 Considering the momentum that they had on offense towards the end of last season and the number of starters returning, including QB Nick Fitzgerald, things are definitely looking bright. Fitzgerald won't have a top-notch offensive line, while also having a depleted receiving corps – with no. 2 receiver Malik Dear out for the year (ACL) – but he's an elite passer whose skills appear to be NFL-ready.
Every other area on defense is decent, and should warrant a good amount of respect… except the secondary. The pass defense got toasted a ton of times in 2016, and was at fault for the team allowing 281 yards per game through the air.
Writer's Prediction: The Bulldogs will go OVER 5.5 wins.
Ole Miss Rebels
Last season: 5-7 (2-6)
It's a transitional year for the Rebels. The Chad Kelly era is over, and it's time for prized QB recruit Shea Patterson to shine on his own. He'll have the backing of the new and aggressive OC Phil Longo, who's always looking to raise the tempo of the passing game. Though the heart and soul of the receiving corps, Evan Engram, has moved on, Patterson will still be able to enjoy a good number of targets, as all the other top pass-catchers have stayed put.
Patterson, though, should hope that the ground game can rise from the dead to take some pressure off of him and the receivers (95th in rushing yards in 2016).
Also, the defense ought to show up in the clutch. They weren't that bad overall, but their red zone performance was the third worst in the country, as they allowed a score within the area 94 percent of the time.
Writer's Prediction: The Rebels will again finish 5-7, but they'll be more exciting than the 2016 team.
EAST DIVISION
Georgia Bulldogs
Last season: 8-5 (4-4)
That 8-5 card just screams inconsistency. As good as the team was under first-year coach Kirby Smart, their overall play was just serviceable at best.
It rooted to the imbalance of the two units – the defense was great and the offense was just borderline okay. Sophomore quarterback Jacob Eason's play late in the game last season was commendable, but he seems to switch modes week to week, and you can never guess which version of himself is out there on the field. Obviously, it's one of the things to look improve on this 2017. He'll have two running backs – Nick Chubb and Sony Michel – to take some of the pressure off.
The defense will be fine – probably more than fine. They have all of their best and most feared tacklers back, and should be expected to be the more impactful group.
Writer's Prediction: The Bulldogs go OVER 8.5 wins.
Tennessee Volunteers
Last season: 9-4 (4-4)
The Volunteers had a heck of an offense last year, as they put up 449.2 yards and 36.4 yards per game. While it is not wise to expect such production moving forward, given that Joshua Dobbs, Alvin Kamara, and Jalen Hurd are all gone, the new main man under center, Quinten Dormady, is giving hope that there can be a decent enough version this 2017. The junior QB may not possess Dobbs's electric skillset, but he has the accuracy you would want from a developing passer.
There's a parallel in their situation defensively – the only difference is that the guys who'll takeover aren't generating positivity. They weren't good last season when first-round talent Derek Barnett was still there, so now that he's gone, and the next best thing, Jonathan Kongbo, is pretty beaten up, how worse will the unit be?
Writer's Prediction: The Volunteers go UNDER 7.5 wins.
Kentucky Wildcats
Last season: 7-6 (4-4)
The offense is built around running, running, and more running. We should keep seeing such plays this year, even with number one back, Boom Williams, already gone. The offensive line is intact, and Williams's successors, Benjamin Snell and the exciting Sihiem King, will be good enough replacements.
The passing game ought to be more active, but don't expect it right away, especially since Stephen Johnson is a classic, dual-threat QB who likes to scramble more.
Jordan Jones, Courtney Love, Josh Allen, and Denzil Ware are the go-to guys on defense. They help power the Wildcats' respectable run defense, and should provide more impact on the coming season.
Writer's Prediction: UNDER 7.5, as the 'Cats again finish with a 7-6 card.
Missouri Tigers
Last season: 4-8 (2-6)
Excitement is quite present in Mizzou, as the team displayed some nice improvements in their 2016 campaign. New OC Josh Huepel helped guide Drew Lock into producing notable numbers – 23 touchdowns and 283.2 passing yards per game. With much of the receiving corps returning, particularly J'Mon Moore, Lock has very few reasons not to provide a good follow-up. Their 1,000-plus yard rusher, Damarea Crockett, is also staying in the backfield.
That excitement isn't present on the other side of the field, as their defense got punished a lot, especially the run defense. They allowed opponents to rack up 28 running scores and more than five yards per carry, surrendered 300 or more yards on the ground four times in the SEC.
Writer's Prediction: UNDER 6.5 – the horrible defense will probably drag them down.
Florida Gators
Last season: 9-4 (6-2)
The Gators are 80 percent defense and 20 percent offense – that or something that's more one-sided. So, they did what was probably needed: pile up talented guys at the QB position. They now have former Notre Dame Fighting Irish Malik Zaire, who'll be joining Luke Del Rio, Kyle Trask, and last year's star recruit, Feleipe Franks in the depth chart.
Whoever starts will have decent help from the backfield – the running attack of Jordan Scarlett, Lamical Perine, and Mark Thompson can be good whenever they're on – but may have some problems finding reliable targets. Antonio Callaway and Dre Massey's are in question, with the former's troublesome off-the-field antics and the latter's recent knee injury.
Writer's Prediction: The Gators will have OVER 8.5 wins.
South Carolina Gamecocks
Last season: 6-7 (3-5)
The Gamecocks are another offensively-challenged team, as they simply can't put a respectable amount of points on the board (20.8 PPG, 116th overall).
It's not QB Jake Bentley or his pass-catchers' fault, though. The o-line will have to be ten times better; they stunk it up for the whole 2016 and gave up 41 sacks and 102 tackles for loss. A blocking that awful will leave your offense looking like a couple of high schoolers no matter what.
Over on defense, the throne is a free for all, with Darius English and most of the starting linebackers gone. Bryson Allen-Williams, who had two sacks and 8.5 tackles for loss last season, can be expected as the front-runner, along with the returning Skai Moore.
Writer's Prediction: UNDER 5.5. They'll go 5-8.
Vanderbilt Commodores
Last season: 6-7 (3-5)
The Commodores are a strange bunch. They might be the only conference-bottoming team in the nation to not exactly suck at anything. They just couldn't finish off opponents consistently.
Defensively, every single area is faring well against any type of offense, which results in them ranking 64th in total yards allowed. They are even great at disrupting teams' pace by slowing the game down.
The offense is decent as well. Ralph Webb is a premiere back in the SEC, and his partner in the backfield, Khari Blasingame, just rushed for 10 TDs this past season. QB Kyle Shurmur should also be drawing a positive outlook from fans, as he closed out 2016 on a high note, garnering 264 yards per game in his last five outings.
Writer's Prediction: Vandy will have better chemistry, and will win 7-8 games.
Create a betting account now to start placing stakes on some college football futures action before the regular season officially kicks off!

1,914 total views, 1 views today
Comments
comments