The Atlanta Falcons' hype train which gained steam with a thrilling overtime win against the Saints got sidetracked on its stop to Cincinnati, where the Falcons suffered a heavy 24-10 defeat. But Atlanta has a great opportunity to immediately bounce back from that road hiccup when it face the winless Tampa Bay Buccaneers at home on Thursday Night.
The Falcons need a win to keep pace with the defending division champion Carolina Panthers, who are going for their third straight win against the Pittsburgh Steelers. Find our preview of that game here, and read on for more on this steamy NFC South matchup.
[sc:Football ]
Tampa Bay Buccaneers vs. Atlanta Falcons Thursday Night Football Preview
When: Thursday, September 18, 8:30PM ET
Where: Georgia Dome, Atlanta
Line: Tampa Bay Buccaneers (+7) at Atlanta Falcons (-7); total 45.0 – view all NFL lines
Betting on the Tampa Bay Buccaneers
The regime of new Tampa Bay head coach Lovie Smith couldn't have gone off to a worse start. It's bad enough that the Bucs lost their first two games, but it's been so much more disappointing considering they lost those games at home to the Panthers and Rams – two teams that were without their starting quarterbacks. The Rams were even down to their third-string QB Austin Davis, and the Bucs still beat them.
[sc:NFL240banner ]Starting quarterback Josh McCown has looked far less impressive than he did in the tail end of last season in Chicago. Even with a pair of tall and talented receivers in Vincent Jackson and Mike Evans, McCown has thrown for just 362 total yards and has been picked off three times this season. Davis, who has far less talented receivers, managed twice as many passing first downs as McCown.
But after facing the Panthers and Rams, two teams with pretty good defenses, in consecutive weeks, the Bucs offense will get their best chance to shine yet against the Falcons' much more generous defense.
Running back Bobby Rainey, who started in place of the injured Doug Martin, was the team's most effective offensive weapon with 144 yards rushing and 30 more yards receiving. Rainey has fond memories of Atlanta as he tore that defense to shreds with 163 yards rushing last year. After the Bengals' Gio Bernard ripped off 169 total yards on Sunday, Rainey could just be set for an encore performance.
But the Bucs could suffer a devastating blow on defense, as Gerald McCoy suffered a hand injury against the Rams and didn't return. McCoy is the best player not only on that defense but on the entire team and could be a big loss, especially against an explosive Falcons offense.
Create a betting account now and cash in on the explosive NFL games.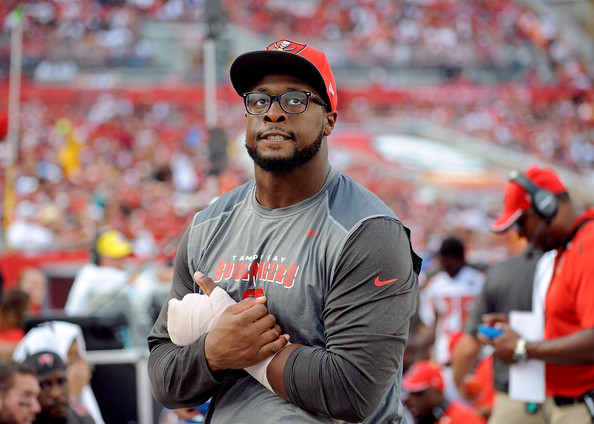 Betting on the Atlanta Falcons
After quarterback Matt Ryan's record-breaking performance in a win against the New Orleans Saints last week in which he threw for a franchise-record 448 yards with three touchdowns, the only direction he could realistically go was down. And down he went against the Bengals, with a paltry 231 yards and three interceptions.
To be fair, it was always going to be tough to beat two straight playoff-caliber teams, especially the Bengals, who went undefeated in Cincinnati last season.
Atlanta returns back home to the Georgia Dome against the Bucs, which can only help that offense to bounce back up immediately. Julio Jones was one of the lone bright spots against the Bengals, with seven catches for 88 yards and a touchdown. The Bucs have yet to come across a receiver of Jones' caliber this season, which could catch their secondary a little off guard.
Left tackle Jake Matthews should also be closer to return after sitting out the Bengals game with an ankle injury. But even without Matthews, the Falcons line won't have to worry too much about the Bucs' weak pass rush.
However, they will need to worry about their defense continuing to give up big yards. They surrendered over 300 passing yards for the second consecutive game last Sunday against the Bengals, and they did so despite not having to contend with star receiver A.J. Green, who left with a toe injury.
Thankfully for the Falcons, Josh McCown has looked more like the back-up he's been most of his career as opposed to a legitimate starting NFL quarterback. You'd have to think that Atlanta can at least be able enough to keep McCown from exploding.
Even a marginally competent performance from that defense should be enough to deliver the Falcons another home win over the Bucs. They're 5-1 with Matt Ryan at QB against Tampa Bay in Atlanta.
Writer's Prediction
Atlanta's passing offense makes some big plays while McCown continues to flounder at quarterback as the Falcons blow out the Bucs at home.
[sc:NFL490Banner ]
1,953 total views, 1 views today
Comments
comments