There wasn't much to see from the Tennessee Titans in recent seasons. They were just one of the paltry teams in the AFC. But that changed with the drafting of potential franchise quarterback Marcus Mariota as the second overall pick of the 2015 NFL Draft. Think big things are in store for Mariota? Read on for a peak into the 2015-16 Tennessee Titans season.
What exactly is Mariota up against in the pros? Check out his top opponents with the season preview of divisional rivals Indianapolis and Houston.
[sc:Football ]
2015-16 Tennessee Titans Preview
Overview
[sc:NFL240banner ]The Tennessee Titans have been a middle-of-the-pack team in recent years. But they took a big fall last season, finishing dead last in the league with a 2-14 record. The Titans aren't expected to be too competitive in the upcoming season, but they should have a peek at the future with second overall draft pick Marcus Mariota taking snaps behind center.
Despite all his talent and potential, it may be too much too soon for Mariota to become a force in the NFL. It's unlikely that he'd show 2012 Andrew Luck-type of potential, when the then-rookie quarterback led the Indianapolis Colts to a playoff spot after a rough 2-14 run in the 2011 season. But the Titans and their backers can hope; Tennessee is +1,600 to win AFC South.
Offseason Review
Tennessee used its free agency to build around their potential franchise quarterback in Mariota. They signed former 1,000-yard wide receivers Harry Douglas and Hakeem Nicks through free agency. But both of them had drop-off years last season, combining for just 961 yards and six touchdowns.
The Titans also injected some youth in their receiving corps, drafting Missouri receiver Dorial Green-Beckham in the second round of the 2015 NFL Draft. Green-Beckham caught the most touchdowns (13) among the Missouri Tigers receivers in his final playing year in 2013. He sat out the entire 2014 season due to a transfer restriction after he was dismissed from Missouri.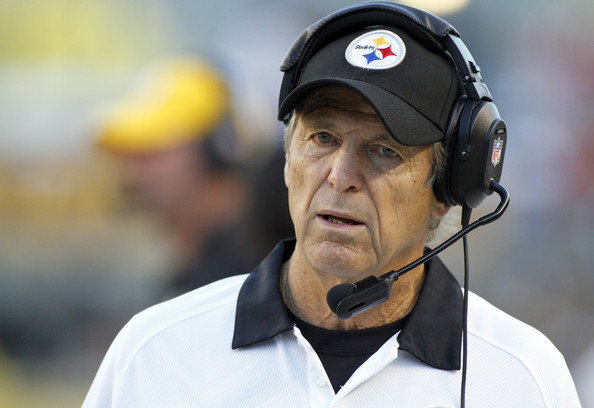 It gets more interesting on the other side of the ball. The Titans' biggest move in an attempt to shore up their defense was nabbing defensive genius and former Pittsburgh defensive coordinator Dick LeBeau after finishing 27th in total defense last season.  The Steelers finished in the top-five of total defense in 10 of LeBeau's 13 seasons as their defensive coordinator.
Tennessee gave LeBeau something to work with to aid in improving the Titans' 27.1 points allowed per game last season by signing veteran linebacker Brian Orakpo. The former Washington Pro Bowler will be a force to be reckoned with if he can remain healthy. He was at his best when he finished with 10 sacks in the 2010 season. Orakpo has played in just 24 games in the past three seasons due to injury limitations.
Key Player – Marcus Mariota
The 2015-16 Tennessee season is all about Mariota's rise as the Titans' franchise quarterback. While Mariota has all the potential in the world, he's still new to pro-style offense coming from Oregon's hurry up spread offense. He was at his best in his final year in Oregon, passing for 4,454 yards and 42 touchdowns as well as rushing for 770 yards and 15 scores as the Ducks finished national runners-up in the inaugural College Football Playoff.
It's also promising that Mariota reportedly did well in OTAs and mini-camp, showing off more accuracy and better anticipation. Everything will become faster and harder from hereon out.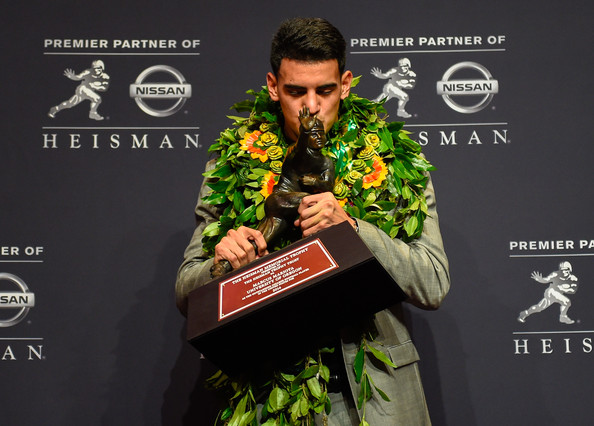 Key Game – @ Tampa Bay (September 13)
Tampa Bay and Tennessee plucked the two best quarterbacks in the draft as the first and second overall picks respectively. The Buccaneers decided to go for a low-risk approach in taking a pro-ready quarterback in 2013 Heisman Trophy winner Jameis Winston. Meanwhile, the Titans couldn't pass on a talented, young signal-caller in 2014 Heisman Trophy winner Mariota.
The two teams get to square off with their respective rookie quarterbacks in tow. Winning this game could also give the Titans momentum; they face another manageable team in the Cleveland Browns in Week 2 before heading into a four-game home stand. Taking a 2-0 record or 1-1 record into their four-game set at Nissan Stadium should give them some confidence to cause some potential upsets.
Best/Worst Case Scenario for the Season
Best Case
Mariota proves he's the franchise quarterback the Titans have been waiting for, but suffers some growing pains. Tennessee doesn't mind finishing with a 5-11 record, as the future looks bright with Mariota under center. The defense also shows some improvement with the aforementioned LeBeau at the helm.
Worst Case
Mariota's a bust and leaves Tennessee with more questions than answers. The Titans are then forced to turn to Zach Mettenberger to salvage the rest of their season. Despite his best efforts, Mettenberger won't be able to stop the Titans from going 0-16 for the 2015 regular season.
Complete Schedule
| WEEK | DATE | OPPONENT | TIME (ET) |
| --- | --- | --- | --- |
| 1 | Sun, Sep 13 | @ Tampa Bay | 4:25 PM |
| 2 | Sun, Sep 20 | @ Cleveland | 1:00 PM |
| 3 | Sun, Sep 27 | vs Indianapolis | 1:00 PM |
| 4 | Bye Week | | |
| 5 | Sun, Oct 11 | vs Buffalo | 1:00 PM |
| 6 | Sun, Oct 18 | vs Miami | 1:00 PM |
| 7 | Sun, Oct 25 | vs Atlanta | 1:00 PM |
| 8 | Sun, Nov 1 | @ Houston | 1:00 PM |
| 9 | Sun, Nov 8 | @ New Orleans |  1:00 PM |
| 10 | Sun, Nov 15 | vs Carolina | 1:00 PM |
| 11 | Thu, Nov 19 | @ Jacksonville | 8:25 PM |
| 12 | Sun, Nov 29 | vs Oakland | 1:00 PM |
| 13 | Sun, Dec 6 | vs Jacksonville | 1:00 PM |
| 14 | Sun, Dec 13 | @ New York Giants | 1:00 PM |
| 15 | Sun, Dec 20 | @ New England | 1:00 PM |
| 16 | Sun, Dec27 | vs Houston | 1:00 PM |
| 17 | Sun, Jan 3 | @ Indianapolis | 1:00 PM |
Writer's Prediction
Tennessee improves to 4-12 as Mariota shows flashes of brilliance. The Titans finish last in AFC South but the future remains bright as long as Mariota remains healthy.
Already excited for the upcoming NFL season? Don't wait any longer. Create a betting account now and show your support for your favorite NFL teams.
[sc:NFL490Banner ]
2,822 total views, 1 views today
Comments
comments