Ain't they such darlings? Former title challenger Rose Namajunas and young up-and-comer Paige VanZant are both smoke shows, but they're smoke shows that could break your face. Namajunas is a creative striker with sick grappling abilities. VanZant is as relentless as the Terminator, never failing to take a forward step to punish her opponents. These two meet in the main event of what should be a thrilling fight card.
Also on the card is 19-year old wunderkind "Super" Sage Northcutt against journeyman Cody Pfister. Meanwhile, all-action veteran Jim Miller takes on rising lightweight contender Michael "The Maverick" Chiesa. Now let's take a closer look at each match from this stacked UFC Fight Night card below.
And if you're in that raunchy kind of mood know more about MMA's femme fatales to pump you up even more for Thursday night's event, check out our list of the top 10 hottest female mixed martial artists right after this.
[sc:MultiSportArticles ]
UFC Fight Night 80: Namajunas vs. VanZant Preview
Women's Strawweight: Rose Namajunas vs. Paige VanZant
Line: Rose Namajunas (+150) vs. Paige VanZant (-180) – view all UFN 80 lines
"Thug" Rose Namajunas (3-2) made a successful return to the Octagon, putting fellow TUF 20 alum Angela Hill to sleep with a standing rear-naked choke in the first round of their October matchup. Thug Rose now makes a quick turnaround as she takes on the rising "12 Gauge" Paige VanZant (6-1) in the main event of UFC Fight Night 80.
[sc:UFC240banner ]Namajunas is an all-action fighter who relies on her flashy strikes or submissions. She goes wild with flying knees, jumping head kicks and whatnot in an attempt to knock her opponents out. However, Thug Rose really excels is in her submissions. She has sweet, highlight reel-ready flying armbars and rear-naked chokes from her young  yet already impressive repertoire.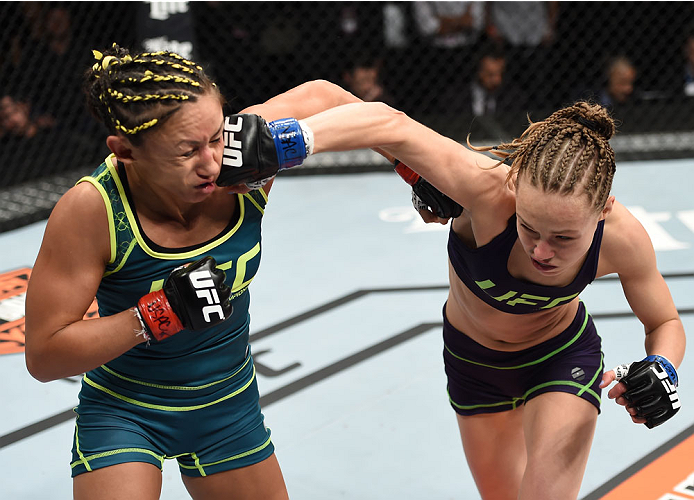 Namajunas will need to be wary of putting herself in precarious situations, though. VanZant is a pretty solid grappler for a 21-year-old. While PVZ lacks the refined technique of a veteran, she makes up for it with crazy pace. She'll force wild scrambles while applying non-stop pressure to wear her opponents out. VanZant doesn't let up standing either; she'll strike her opponents with her fists, elbows, knees or legs in an attempt to overwhelm them with blows aplenty.
VanZant is the Terminator in a sweet 21-year-old's body. She may have the perfect style to force Namajunas to crumble. Thug Rose struggled against a high-pressure wrestler in her UFC debut, tapping out to Carla Esparza for the inaugural Women's Strawweight Championship. She was also soundly beaten by a high-output fighter, Tecia Torres, earlier in her career. If VanZant dictates the pace and wears her opponent out, then this bout is hers for the taking.
Writer's prediction: Namajunas only has two rounds max in her tank to try and get the finish. With that said, VanZant (-180) puts on a cardio clinic to win the fight by technical knockout in the fourth round.
Lightweight: Jim Miller vs. Michael Chiesa
Line: Jim Miller (EVEN) vs. Michael Chiesa (-130) – view all UFN 80 lines
Jim Miller (25-2, 1NC) is your grizzled all-action veteran in the UFC Lightweight Division. He's faced pretty much everybody in the division from title challengers to former champions. But Miller will be relegated to gatekeeper duties for his next fight, taking on up-and-comer Michael "The Maverick" Chiesa (12-2).
Chiesa is also an all-action fighter. He can go on wild brawls to pepper his opponents with looping punches, knees and kicks. However, he excels on the ground by putting his opponents in sticky positions with his length. Miller also happens to be a legitimate threat on the ground being a Brazilian Jiu Jitsu black belt. Miller has 13 submissions in his 25 career victories.
Writer's prediction: Miller's pretty worn out in this stage of his career. Chiesa (-130) overwhelms Miller toward a clear-cut unanimous decision.
Lightweight: Sage Northcutt vs. Cody Pfister
Line: Sage Northcutt (-1,080) vs. Cody Pfister (+700) – view all UFN 80 lines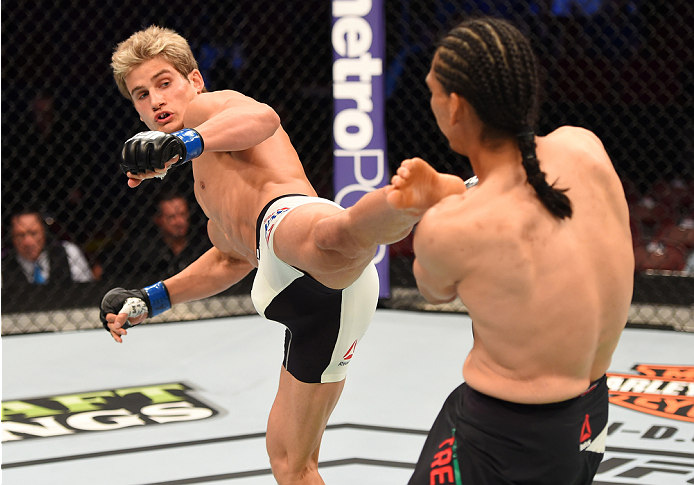 "Super" Sage Northcutt (6-0) is set for his second outing in the Octagon when he takes on grizzled vet Cody "The Fist" Pfister (12-4-1). Northcutt is a wunderkind of his own with deadly kicks and punches, which have resulted in four knockout victories in his young career. He also happens to be strong on the ground with two submission victories.
Pfister is your workman-like fighter who excels in takedowns. If he has any shot of beating Northcutt, then he'll need to make this a dirty, gritty brawl. Then again, doing so may only have him eating a deadly counter from Northcutt.
Writer's prediction: If things go according to plan, Northcutt will likely win by landing a picture-perfect counter and polish the fight off with sick ground-and-pound. But if Ronda Rousey could be upset, then a 19-year-old prospect ( anda -1,080 favorite!) could very well fall as easily just the same. Pfister actually +700 looks well-equipped enough to take Super Sage by surprise and give you a fistful of cash with an upset.
Middleweight: Elias Theodorou vs. Thiago Santos
Line: Elias Theodorou (-260) vs. Thiago Santos (+200) – view all UFN 80 lines
Elias "The Spartan" Theodorou (11-0) continues his ascent to title contention in the UFC Middleweight Division. But standing in his way is the very dangerous Thiago "Marreta" Santos (11-3), whose last five wins have all been by knockout or technical knockout. None were more vicious than his first round head kick KO of Steve Bosse in June.
Theodorou will be better served to avoid striking exchanges. And he's still a decent MMA wrestler, averaging 3.55 takedowns per fight.
Writer's prediction: Santos (+200) rams Theodorou's body with a well-placed liver kick and never lets him recover. Marreta wins by second round technical knockout.
Preliminary Quick Picks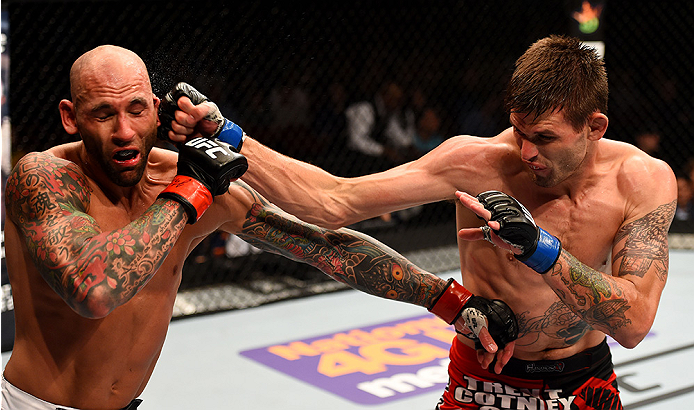 "The Dirty Bird" Tim Means (-400) overwhelms John Howard with strikes. Means wins by second-round TKO.
Omary Akhmedov (-140) controls Sergio Moraes on the ground for a unanimous decision victory.
Antonio Carlos Junior (-320) dominates Kevin Casey on the ground for a unanimous decision victory.
Aljamain Sterling's (-700) athleticism will be in full display as he dispatches striker Johnny Eduardo.
Santiago Ponzinibbio (-200) batters Andreas Stahl for a first round KO.
Danny Roberts (-160) takes a unanimous decision off Nathan Coy in a battle of UFC newcomers.
Phillipe Nover (+280) scores the early upset victory over Zubaira Tukhugov.
Kailin Curran (-340) overwhelms Emily Kagan en route to a third round submission victory.
It's going to be one wild week of fights. Create a betting account now and get truckloads of cash from on all the hard-hitting MMA action on tap.
[sc:UFC490banner ]
2,196 total views, 1 views today
Comments
comments