Pittsburgh will turn into the Wild Wild West Sunday night when Donald "Cowboy" Cerrone goes toe-to-toe with Brazil's Alex "Cowboy" Oliveira. It's going to be a wild scrap between two fighters who embody the anybody-anywhere-anytime mind set in today's mixed martial arts landscape.
The Cowboys will slug it out in the main event, but not before a several other fighters liven up the crowd. Included in Sunday's fight card are the up-and-coming Derek Brunson and Cody Garbrandt. Both would like to leave the arena with some spectacular knockouts to further continue their MMA dreams.
It's going to be one hell of a weekend. Bellator 149 starts it all up on Friday. Head over to our complete preview of Bellator's Shamrock vs. Gracie III to jumpstart a weekend of MMA action.
Sports News and Predictions
UFC Fight Night 83: Cerrone vs. Oliveira Preview
Welterweight: Donald Cerrone vs. Alex Oliveira
Line: Donald Cerrone (-300) vs. Alex Oliveira (+220) – view all UFN 83 lines
Perhaps this matchup would be better settled with a classic ten paces and turn. Donald "Cowboy" Cerrone (28-7) and Alex "Cowboy" Oliveira (13-3-1) finally settle the score in the Octagon. Cerrone has been a long-standing veteran with the UFC. He had been on an incredible eight-fight win streak, which ended with a first-round TKO loss against UFC Lightweight Champion Rafael Dos Anjos in December.

$50 Free to bet on UFC! Open an account and deposit $100 to claim.
Cerrone is a wild card. He can unload on opponents with his wicked Muay Thai. He's especially incredible with his kicks to the head or body. A headkick and a knee to the chin won him his last fight when he broke John Makdessi's jaw in May 2015. While he's an incredible striker, Cerrone is also adept on the ground. He's even won more fights by submission (15) than he has by knockout (5).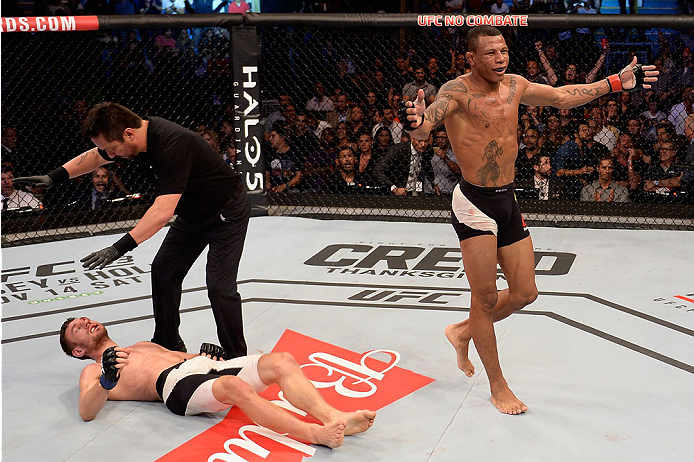 The Brazilian Cowboy may be as well-rounded as Cerrone. Oliveira has shown amazing striking ability in his short stint in the Octagon. He owns a third-round knockout of Piotr Hallman in his latest outing in November 2015. He also owns a solid grappling game, which he showcased against the likes of K.J. Noons and Joe Merritt.
Oliveira can hang in the fight anywhere it takes place. But he'll likely try to turn the fight into a grinding ground battle once he feels Cerrone's power.
Writer's prediction: Cerrone only really struggles when the pressure is high against top-flight competition. He gets to do what the American Cowboy (-300) does best in a unanimous decision victory over Oliveira.
Middleweight: Derek Brunson vs. Roan Carneiro
Line: Derek Brunson (-340) vs. Doan Carneiro (+260) – view all UFN 83 lines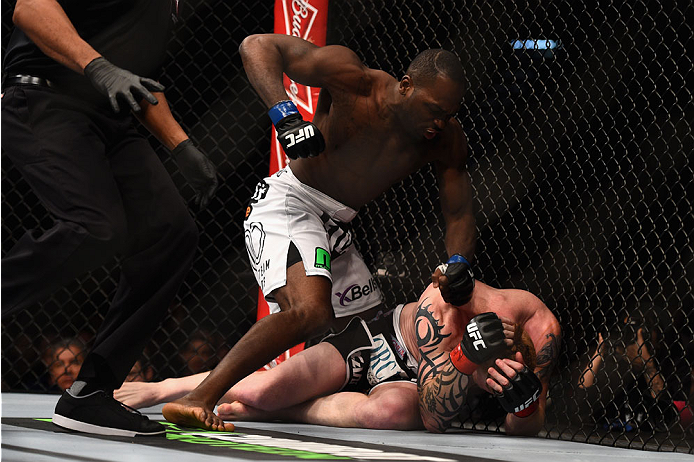 Derek Brunson (14-3) is a BEAAAAAAST. He's on a three-fight win streak, including TKO finishes in his last two. Brunson has it all; he can wrestle to grind out fights and he can unload the mean fists he has for knockouts. Brunson will likely want to keep this fight standing against Roan Carneiro (20-9). A Brazilian Jiu Jitsu ace, Carneiro announced his return to the UFC by putting Mark Munoz to sleep in February 2015. He's won 10 of his 20 victories by submission.
Writer's prediction: Brunson (-340) beats up on Carneiro en route to a third-round TKO.
Bantamweight: Cody Garbrandt vs. Augusto Mendes
Line: Cody Garbrandt vs. Augusto Mendes – view all UFN 83 lines
Cody Garbrandt (7-0) is one of the promising up-and-comers in the UFC Bantamweight Division. He has dynamite in his fists, and trains with one of the best lower-weight gyms in the world Team Alpha Male. He faces a big challenge this time around when he faces Brazilian Jiu Jitsu ace Augusto Mendes (5-0). A multiple time world champion in BJJ, Mendes is on another dimension when it comes to grappling.
It doesn't help that Garbrandt's original opponent was a knockout artist before an injury forced the change on just six days' notice.
Writer's prediction: It's a classic striker vs. grappler matchup. Considering how young each fighter is in their respective careers, back the grappler. Mendes wins by submission.
Featherweight: Dennis Bermudez vs. Tatsuya Kawajiri
Line: Dennis Bermudez (-340) vs. Tatsuya Kawajiri (+260) – view all UFN 83 lines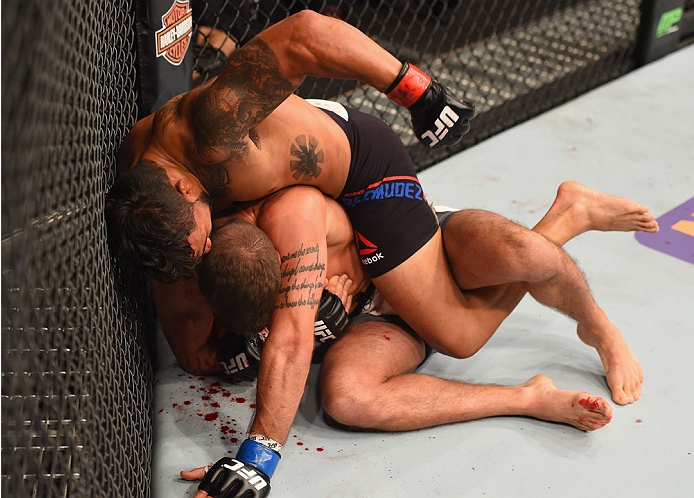 It's old school vs. new school when Tatsuya Kawajiri (35-8-2) meets Dennis Bermudez (14-5) in the center of the Octagon. Both fighters are very much alike. Kawajiri is a wreslter with plenty of power in his fists; Bermudez is the same but with much more in the kicking department. Kawajiri is solid and could certainly hold his own, but Bermudez has the advantage of youth on his side.
Writer's prediction: Bermudez (-340) grinds out a unanimous decision victory in a wrestle-fest.
Middleweight: Chris Camozzi vs. Joe Riggs
Line: Chris Camozzi (-260) vs. Joe Riggs (+200) – view all UFN 83 lines
Chris Camozzi (22-10) hasn't really impressed in his UFC stint. But he doesn't need to be impressive when facing Joe Riggs (41-16), a fighter who folds as soon as he faces a little bit of adversity. Riggs won via disqualification in his last fight after a series of clean strikes from Ron Stallings damaged his eye. But he managed to milk it as a foul enough to get the victory. Camozzi is a southpaw striker who can hurt Riggs with a solid straight or a power body kick.
Writer's prediction: Camozzi (-260) stops Riggs in the second round by technical knockout.
Lightweight: James Krause vs. Shane Campbell
Line: James Krause (-155) vs. Shane Campbell (+125) – view all UFN 83 lines
James Krause (22-7) doesn't offer much standing except for pot-shots against opponents. But he does have a very solid ground game, which has led to 14 submission victories. He has a pretty tough fight next against Shane Campbell (12-3). A solid kickboxer, Campbell does everything in his power to avoid takedowns. On the feet, Campbell unleashes all sorts of weapons from kicks and knees to punches.
Writer's prediction: Krause (-155) will be too crafty with his grappling in this fight. He cruises to a unanimous decision victory.
Fox Sports 1 Prelims
Sean Strickland (-130) outstrikes Alex Garcia en route to a unanimous decision victory.
Daniel Sarafian (-190) batters Oluwale Bamgbose for a second round technical knockout.
Leonardo Guimaraes (+110) electrifies the crowd with a first round knockout of Anthony Smith.
Jonavin Webb (-240) ekes out a unanimous decision over Nathan Coy.
UFC Fight Pass Prelims
Ashlee Evans-Smith (+150) outstrikes Marion Reneau to a unanimous decision.
Lauren Murphy knocks out Kelly Faszholz in the second round.
Shamil Abdurakhimov knocks out Anthony Hamilton in the first round.
Create a betting account now and treat yourself to a big night of fights.

Comments
comments